Good day to all here on this wonderful forum. I joined this forum in Jan 2020 and have been lurking until now so this is my first posting here. I have been restoring tube radios for about four years. Going to keep this short and make sure I can post and attach properly. About six months ago I saved a radio from a deposit of stuff at the curb of a house with a free sign on it. I have restored it to the best of my ability and have questions I will be posting about it in following posts. Here is what I drug home.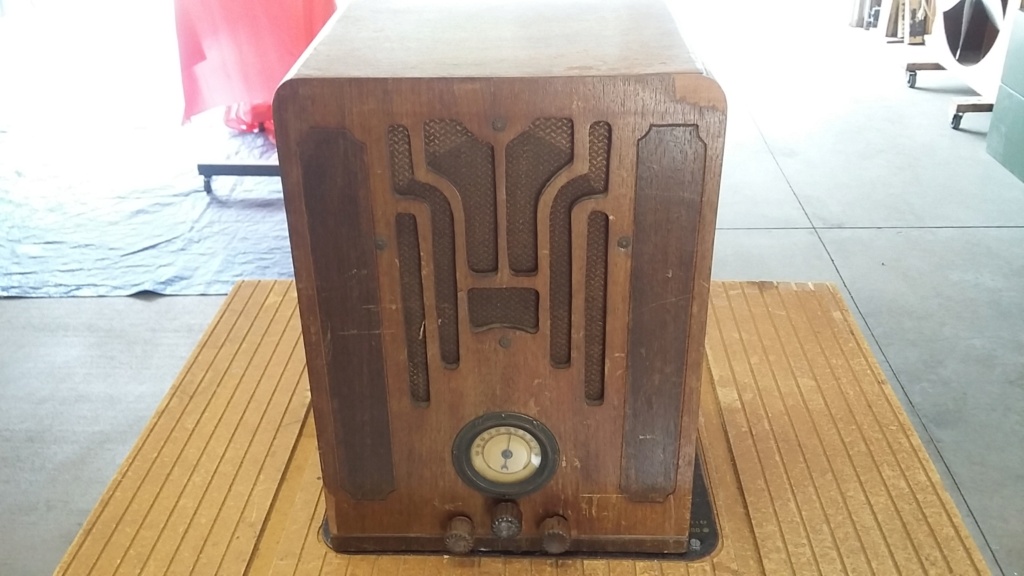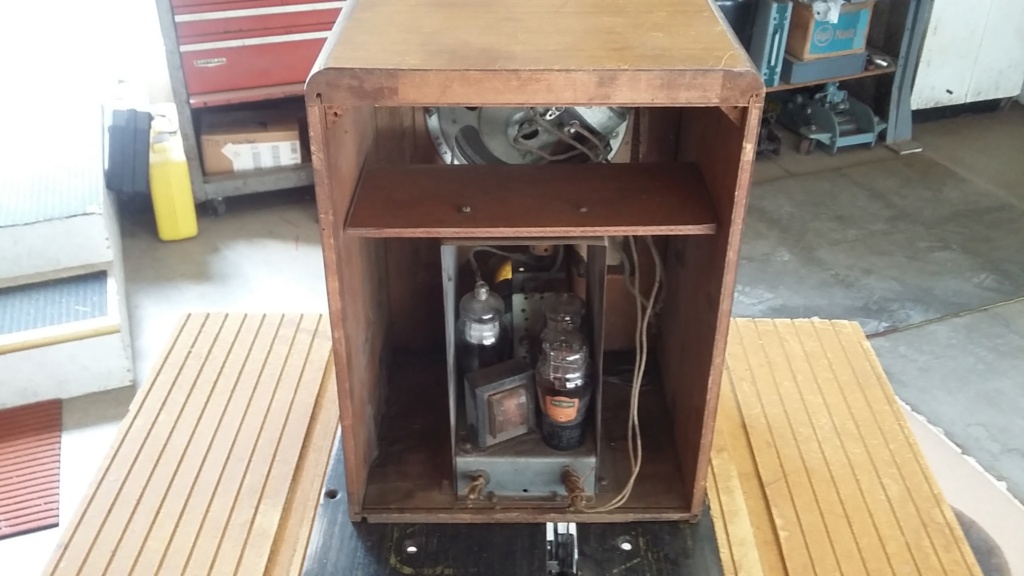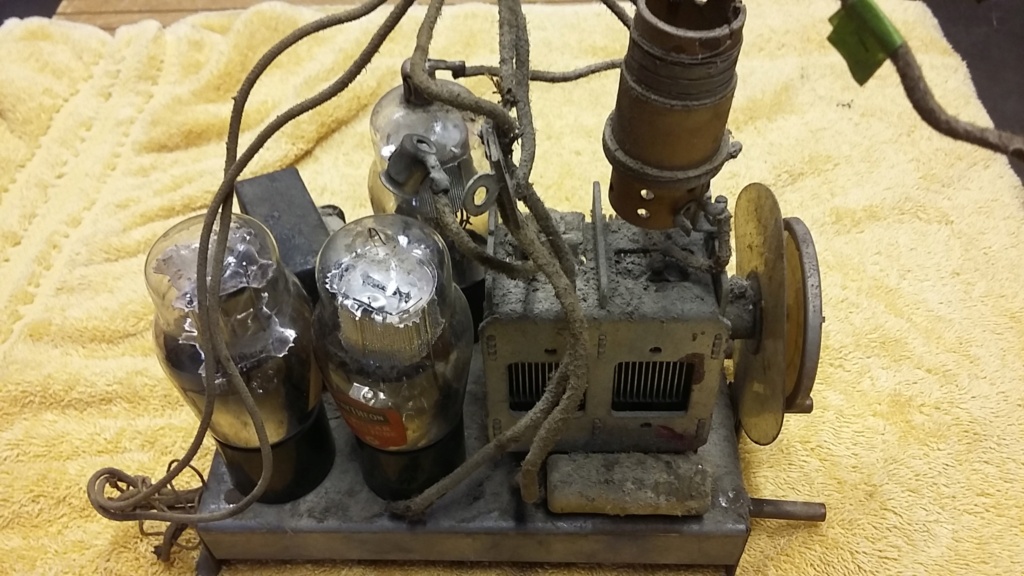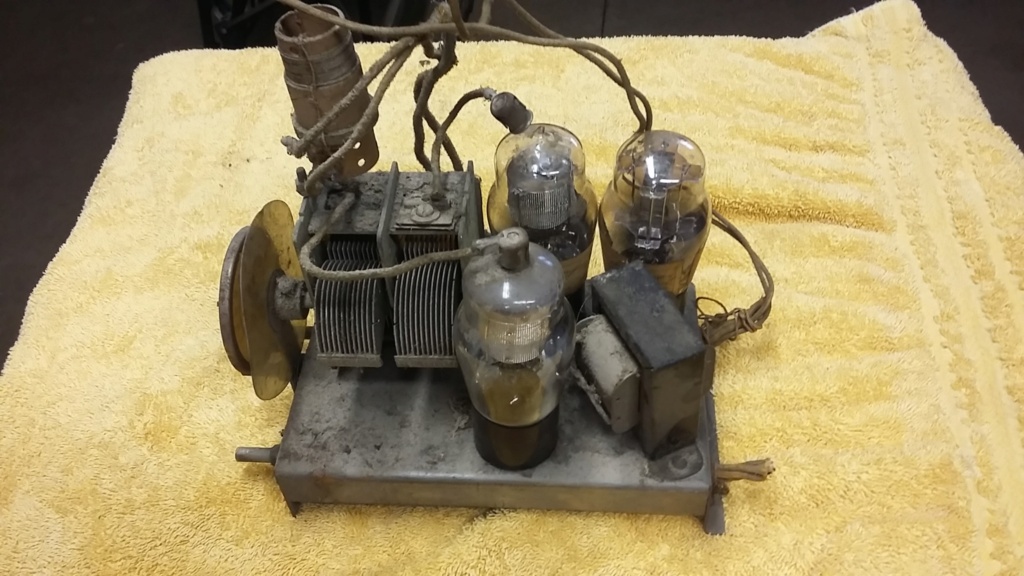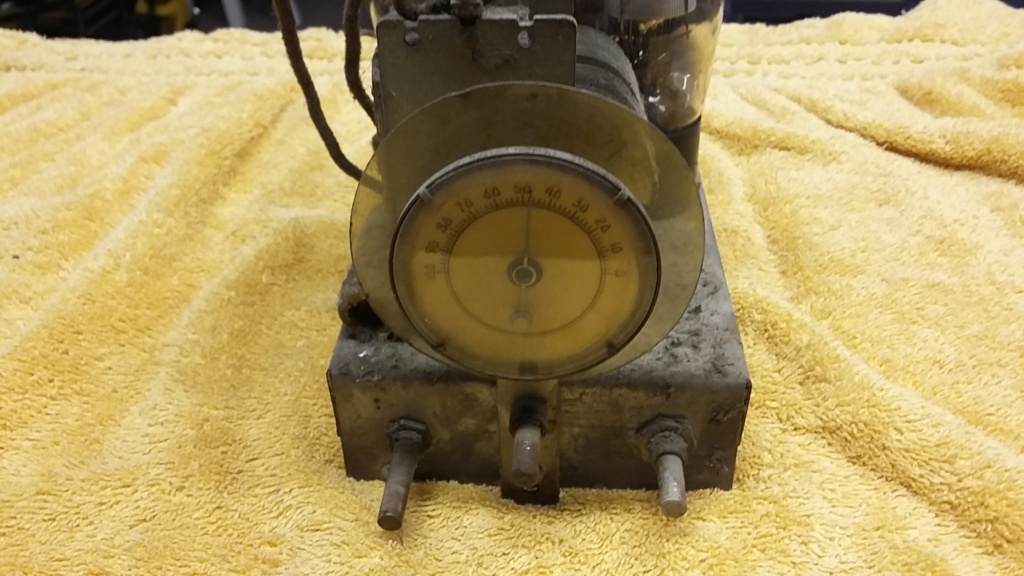 As you can see it is an interesting radio. There are no factory markings and I am 99% sure the cabinet and radio are home brewed. I first traced all the wiring and drew a point to point wiring diagram. Then drew a schematic based on this. Here is here my schematic ( rlf_schem_3)and a schematic of an Australian 35B radio that is very similar. Sorry for the poor quality.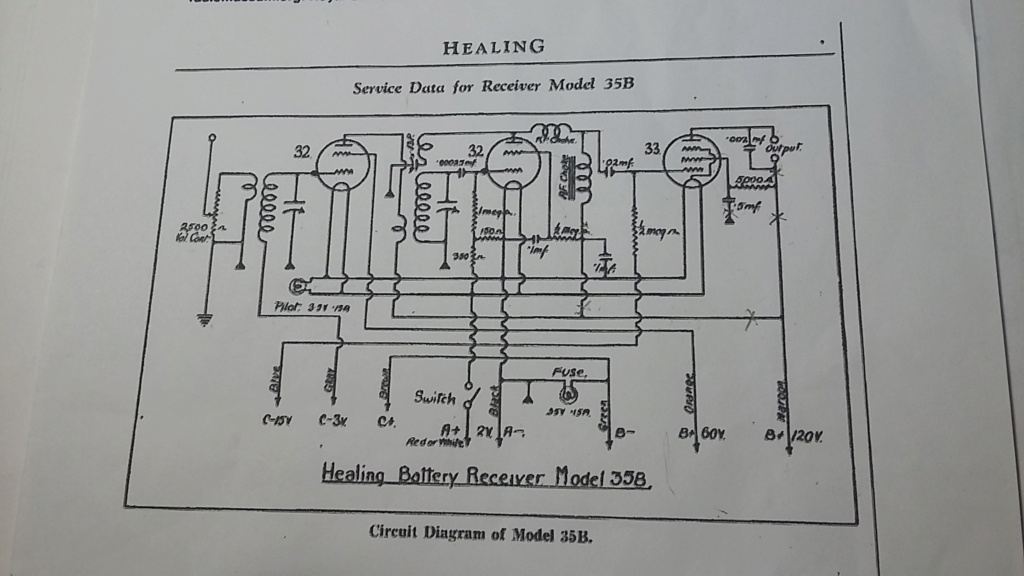 I purchased a battery eliminator from AES to use to test this radio. I had no idea what voltages to use so I started with voltages hand written inside the cabinet.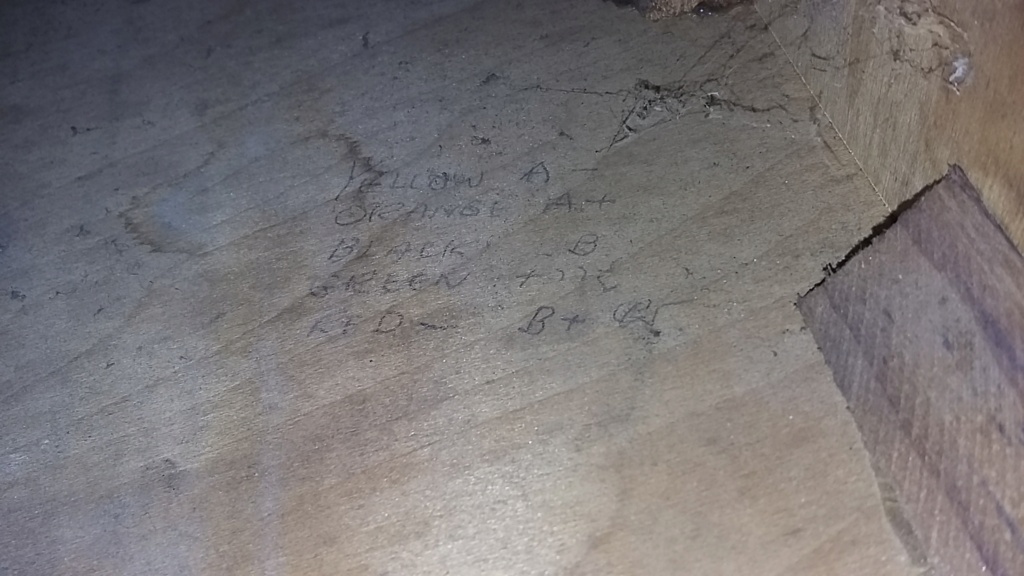 Through some trial and error I ended up with the voltages shown on my schematic posted above. This radio actually picked up one of two strong stations in my area, 1450 KMRY.  But that was all it tuned in. Also very low volume but adjustable. I moved everything from my basement bench to the dining room table upstairs and now it received the other strong local stain, 600 WMT. Still low volume but adjustable. Pretty exciting stuff. I will add more information in my next post. I would greatly appreciate any ones input on this radio as of now. Particularly in regards to the schematic I drew and any thoughts, input or changes I can make to improve reception and volume. Thank you for taking the time to read this.

rlfradio

New Member





Number of posts

: 4


Age

: 68


Registration date :

2020-01-28



This is almost certainly not homebrewed -- the cabinet quality is commercial-level, and so is the chassis. The tube sockets are riveted in, for example, which is almost never seen in a home built set. But the circuit you've traced is sort of unusual, a straight TRF but with a fine tuning cap. When I first saw it I thought it was a "throttle" cap for a regenerative detector, which is what your Healing 35B schematic shows. The circuit seems like a throwback compared to the cabinet. The cabinet is about a 1934 style, while the tubes and circuit are from a few years earlier. More experienced collectors can confirm or correct.

There's an error in your traced schematic -- the middle tube has no plate supply or load resistor. The audio choke in the gird circuit of the output tube is probably supposed to be connected to the 32 plate. It's possible that the radio was originally a regen and someone converted it to the straight TRF at some point. The connection of the audio choke in the Healing circuit might be a clue. It's a common feature in regen detectors, not so much in TRFs.

Any simple radio like this will need a long antenna (50-100 feet was a typical recommendation, and as high as possible), and a ground connection for good performance. Selectivity for simple TRFs was never great and strong local stations will often dominate. The regen detector was much more selective, but also easily overloaded by strong local signals.

I always liked these little battery ("farm") sets, though I've never seen a 3-tuber in a nice cabinet before. My experience of them is that they usually work when power is applied if the tubes are OK. But of course replacing all those leaky paper caps and out-of-tolerance resistors (which are inevitable in a ~90 year old radio) will improve performance wonderfully. Performance will never be great, though.

This looks to be a fun project to figure out!

AJ2X

Member





Number of posts

: 26


Age

: 73


Registration date :

2018-09-11



Nice looking tombstone you brought home.

Spivey

Member





Number of posts

: 60


Registration date :

2012-10-13



Good day to all here on TRF. Thank you so much for the responses AJ2X and Spivey. Yes Spivey, this was a very good looking radio I brought home.
Filthy dirty but all there for the most part. The cabinet and the chassis are now completely restored and I will be posting pictures in a later update.
AJ2X, your comment on this radio not being a home brew is well taken and one I really should have thought about when I posted here and other forums because all the components are riveted. If you zoom in on the chassis underside pic above you can see a portion of the wiring stitched into a form. These wires are the battery leads which must have been formed in a harness a head of time and installed in the chassis first? The battery leads exit the chassis through two holes and also have the remnants of being stitched together. My search for who made this radio will continue.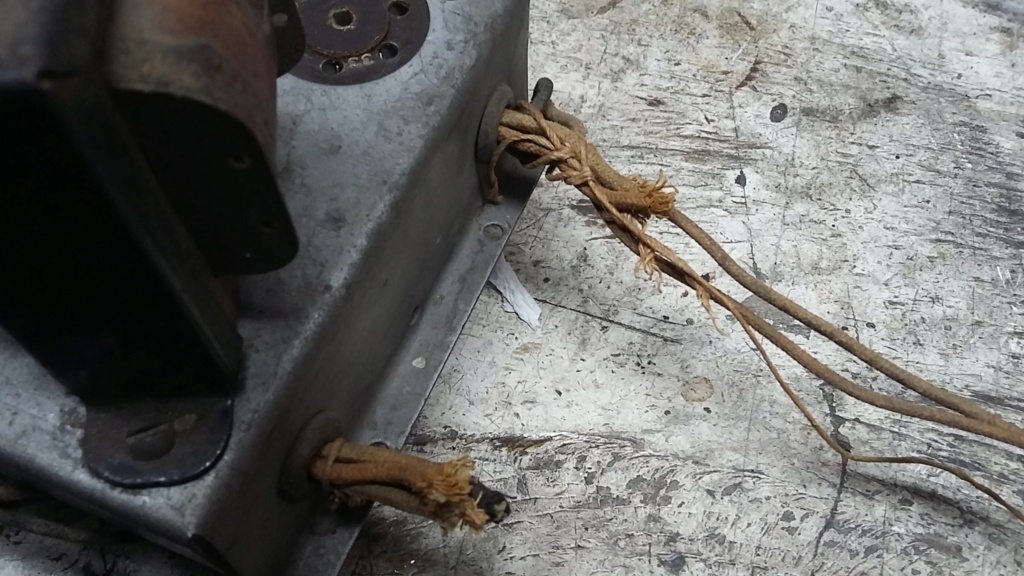 As stated earlier there are no factory markings of any sort regarding a manufacturer of the chassis or cabinet. Components I have been able to identify are:
Meissner antenna coil 14-1010
Meissner osc coil 14-1011
Thordarson choke 29C27
Utah Ortho Vox speaker
Tuning capacitor made by Reliance Stamping Co, Chicago USA
"Throttle cap" made by Hammarlund Mfg Co
Your are the third person to raise a question about B+ to the plate of V2. This confused me because with the radio on and tuned to the one strong station it receives at 1450 I read 87V on all three tubes at their plates. I guess since I drew the schematic (rlf_schem_2.pdf) I refused to see my mistake. Here is a link to my latest schematic with the correction.    rlf_sch_3
https://drive.google.com/file/d/1P9a8kUQnWD2ldWUB_7OtnhLERWQWtpej/view?usp=sharing
Choke T1, terminal 1, C5 and C9 all physically terminate on the plate of V2, pin 2, not as shown on the rlf_schem_2.pdf.
I could use some guidance on the load resistor you mentioned. Just for the information to be posted,  here are the voltage readings I have taken on this radio. All readings are referenced to chassis ground.  A- and B- battery supplies are not tied together. The filaments are in parallel starting at V3 pins 1 and 5 and ending at V1 pins 1 and 4.  V1 pin1 ties to chassis ground through R4.
V1
Pin 1   -0.730
Pin 2   87.0
Pin 3   0.0-  volume at lowest
          22.8- volume at highest
Pin 4   1.32
V2
Pin 1   1.32
Pin 2   87.0
Pin 3   35.8
Pin 4   -0.732
V3
Pin 1   -0.732
Pin 2   76.0
Pin 3   -1.83
Pin 4   87.3
Pin 5   1.32
My antenna situation is very lacking for what's needed due to the physical size of my house and the property.  I am going to try to run another wire as long as I can on the main floor,  however at best I will only be able to get about 45 ft horizontally.  I will address that soon. Thank you so much for not only taking the time to read my post but also responding with some great information. It encourages me to continue on! Have a great day.

rlfradio

New Member





Number of posts

: 4


Age

: 68


Registration date :

2020-01-28



I might have missed it but what is the tube lineup in this unit? What is V1, V2 and V3?

Spivey

Member





Number of posts

: 60


Registration date :

2012-10-13



Boy, this schematic has all sorts of things together in it! There are a lot of separate voltages required for this set, which is quite old-fashioned -- very 1920s.

V2's load is the inductive impedance of T1 (originally probably >10H). Because of lots of turns of very fine wire, these chokes have often failed after 70 or 80 years' service. Don't know if the replacement Mouser part will have anything like the original's inductance but it will likely work, more or less. I don't see that number in their catalog.

The use of a resistor to ground on the filament circuit (R2) is not common. For grids connected to DC ground, like V1 and V2, the average filament voltage (across the length of the filament wire in the tube) sets the bias. The bias for V1 and V2 is then -0.3 volts, which is a bit high for a type 32 tube. Normally they tend to be biased at -1 to -3 volts IIRC. Does R2 look like it's been added at some point? My tube theory is weak but it may have been an attempt to get more gain (higher plate current), but that doesn't really work for tetrodes. I wonder what the 90V current drain is? For a battery radio like this it should be less than 15-20 mA, almost all of that from V3.

V3's bias is suspicious also. I'm not sure where that -1.8V is coming from. Output tubes like the 33 tend to be biased at about -6 volts. The little network R4-R5-C8, where your Note 6 is, is pretty common in battery sets, but in those radios that junction is the B- connection. In those cases the resistor to ground is usually in the 500-750 ohm range, so as to get the requisite ~-6 volts. You might try connecting a variable power supply to that TS2 term 1 point and vary the bias voltage negatively to see what improvement, if any, occurs in the audio. Oh, I see your Note 3 about R4 -- old carbon resistors usually age to higher values, so it may well have been the B- connection originally.

Don't be overly concerned with the antenna length; as long and as high as you can (insulated of course), but it needn't be in straight line. A ground connection is nearly as important for simple radios like this - to a ground rod nearby, ideally, but house plumbing was the common fallback choice. That was in the days before plastic plumbing of course!

Determining this set's ancestry will be an interesting challenge. Almost all the components you mention are catalog items in the '30s, so not likely used by a major manufacturer. Again, that was a 1920s sort of thing. It might be that you have a Frankenradio - a cabinet from one manufacturer, a chassis from another, with modifications to suit the builder. There were ready-made radio cabinets available for experimenters and small manufacturers in the '20s and '30s.

Keep up the good work!



AJ2X

Member





Number of posts

: 26


Age

: 73


Registration date :

2018-09-11



Good day and thank you again for the responses. Spivey, the tube line up is: V1-32, V2-32 and V3 is 33.
 AJ2X, great information again and a lot to digest. The Thordarson choke part number I gave is not accurate. Stamped on the side of the choke housing is T2927. This is listed in their 1935 catalog on page three.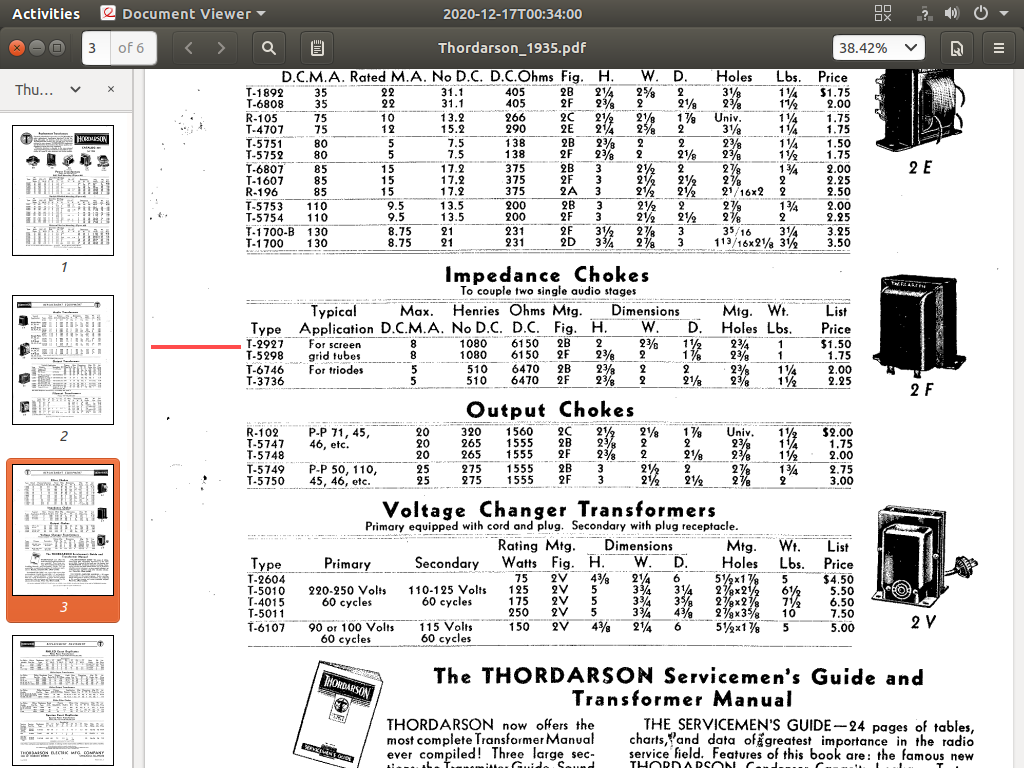 In their 1939 catalog it is listed with their new number plan as a T-29C27. Both chokes are listed as 1080H. The replacement choke is a 546-158SA from Mouser and listed as 1H.
Resistor R2 can be seen in the above under chassis picture. It is the flat metal wire wound resistor connected to the socket pin (at the top of the picture), under the tan? wire from the osc coil. I do believe it is original.
When it comes to electrical formulas and calculations AJ2X I am sorely challenged. I have restored 22 radios of various types and consider my self a good parts re placer. Bear with me from here. Here are the data sheets for the 32 and 33 tubes I have.
https://drive.google.com/file/d/1IgXhicZOIfL0SF9qEMyH3jevu3erd1fB/view?usp=sharing,
https://drive.google.com/file/d/1Xly14lMDh0lvtBWZTgxwNj5dHBaSsnEV/view?usp=sharing
In regards to the network you refer to involving R4, R5 and C8 there are two unknowns involved here.  
R4 I have no clue what the original value of this resistor is. It is all one color with no end cap color or dot color on the body of the resistor. I really can not tell if it's yellow either. I measured 1.365K when removed so I replaced it with a 1.3K. This is the best picture I have.
Capacitor C8 is mounted on top of the chassis. Once cleaned off it also had no markings what so ever. I chose a .1mf to replace it.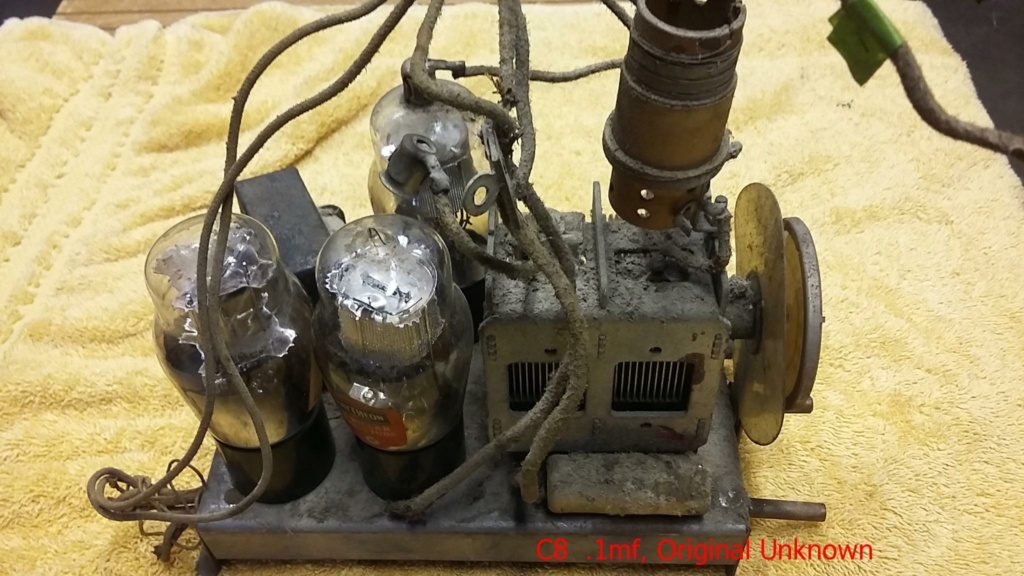 When I measured a -1.8V to the grid of V3 and seeing the 33 tube data sheet called for -13.5 (with a plate voltage higher then 90V) I carefully did some experimenting with this network. Before removing a black cloth covered wire which exited the chassis from the junction point of R4, R5 and C8 I tried B- and negative C- with no change at all. I also completely removed both R1 and R4 from their ground connections and this had no change at all in how the radio was working.
The current drain on the 90V battery is 21.65ma. The A supply is 0.84ma. In regards to the A supply I did add a #49 dial lamp connected across the V3 filaments. I made replica batteries for this radio. A 2.4V (discharged) ni cad pack for the A supply and two 45V packs for the B supply. As of this writing the radio has run for 3 hours and 15 minutes. The A battery started at 2.6 volts and it dropped to 2.4 volts after that run time.
I hope this info makes sense and helps. I would gladly answer any other questions you may have and definitely look forward to any further info you care to share. Thank you and have a great day!

rlfradio

New Member





Number of posts

: 4


Age

: 68


Registration date :

2020-01-28



I'll digest the rest of your statements later, but I wanted to address the filament supply. You are stressing your tubes quite a bit at 2.4 volts, and even at 2.2. These are 2.0 volt tubes, designed to be run off a single lead-acid battery cell. A higher voltage will shorten their life and add nothing to their performance. Earlier practice was to have an adjustable dropping resistor in series to keep filament voltage where it belongs. Ohms Law determines the value.

The 21 mA B+ drain is within reason, maybe a few mA higher than later battery sets with which I'm more familiar. I've actually never worked with 2-volt tubes.

C8 value is probably fine at 0.1uF. Personally I'd choose 1-10uF, but I doubt that the original cap was that large. It's unlikely to make much difference in performance. Increasing the negative bias on V3 will lower its plate current, which may reduce stress on the tube and the high-impedance speaker, and maybe reduce its distortion. At this point, I guess, distortion and fidelity are not major issues!





AJ2X

Member





Number of posts

: 26


Age

: 73


Registration date :

2018-09-11



---
Permissions in this forum:
You
cannot
reply to topics in this forum