Me and my brother (Acbaker, you may have seen him on the forum) recently picked up this tiny Heath branded mono audio amp with an bin of other tube stuff. It works but It has some issues, and I also am wondering if anybody can give me any info on this amp because I cant get anything on google.
I have attached pictures, but since the tag is worn it says Heath, Model: EUA-14-1, and Series NO.: 504 6566A. I have done a little bit of work to it but changing filter caps is about it.
For reference, the hand drawn schematic is of the actual device, and the second one is a schematic I found online that is very similar. As for the issues the amp has there are two main ones, first it hums like crazy, and second, at higher volumes but not super high the bass gets really distorted. I figured out that by increasing the resistance of R3 (refer to my schematic) I could get the hum to decrease a lot but I think it made the distortion worse.
If anybody has anything to contribute here that would be cool, this circuit is so simple I think it is a great one to learn with.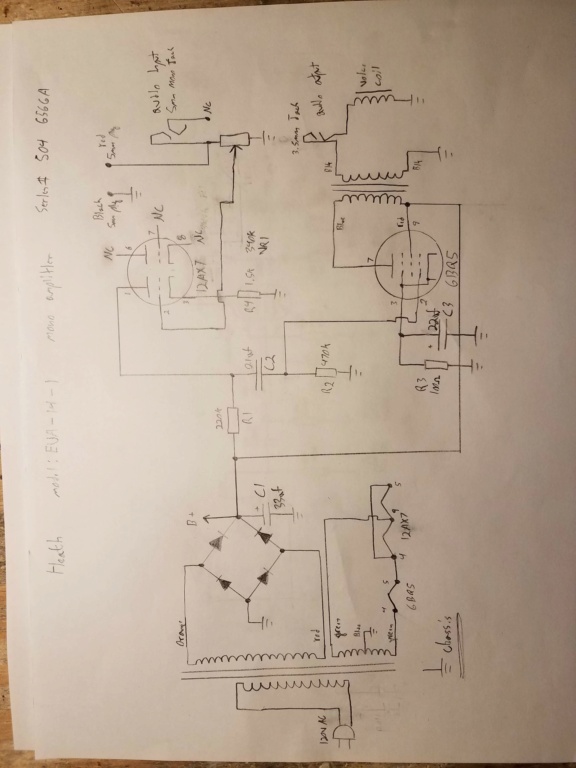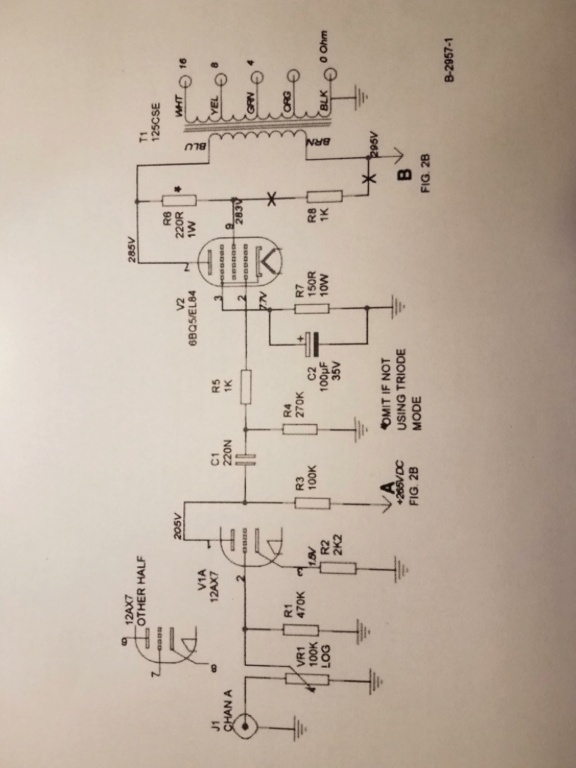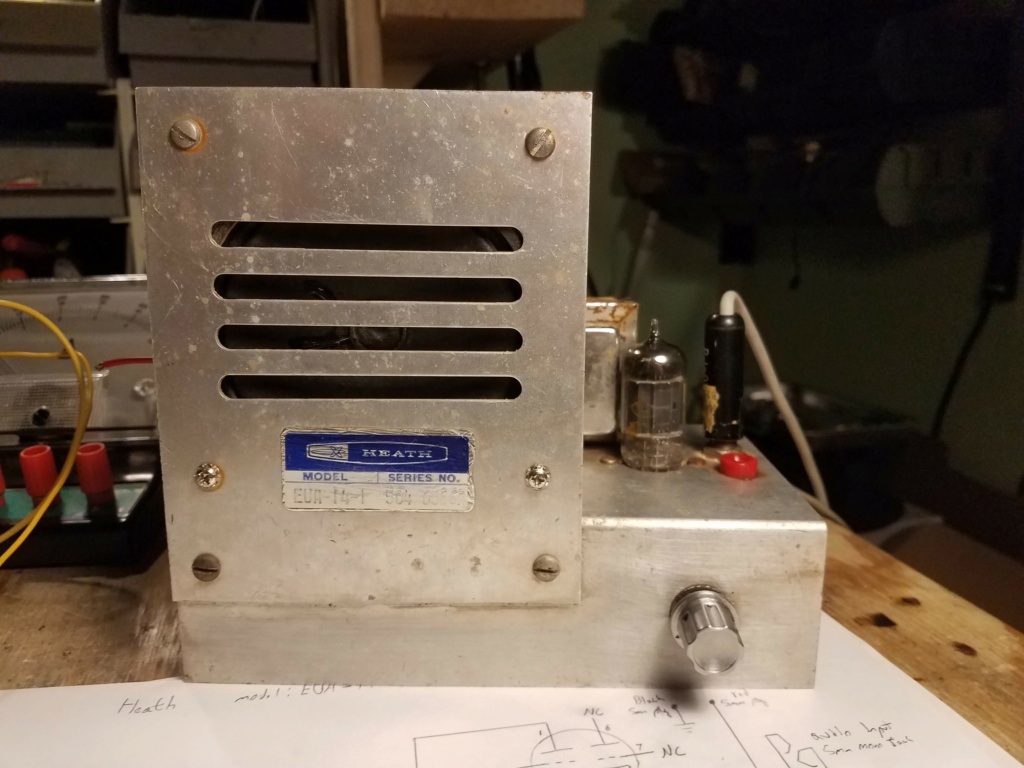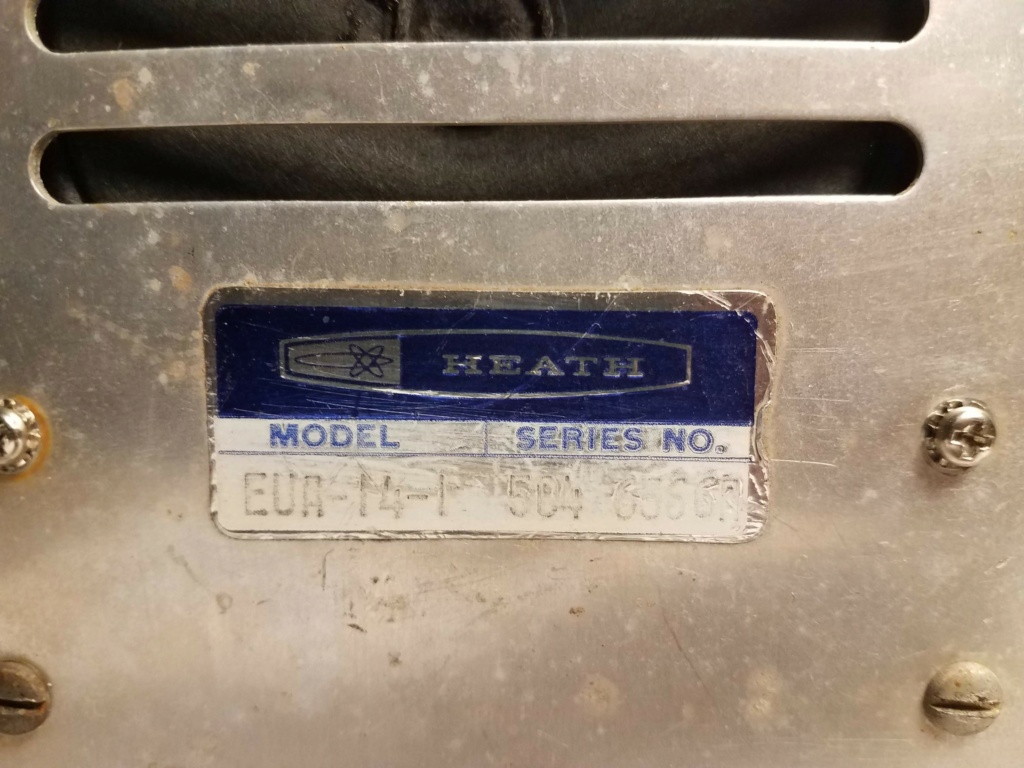 I don't know why the pics are upside down, I have had this problem before

Electr0Maker

New Member





Number of posts

: 12


Registration date :

2020-09-02



That's a useful little gadget, when working. It was considered an "experimental" device apparently. Someone else evidently thought so too, since that wiring job doesn't look like any Heathkit I've seen. As you say, though, it'll be good to learn on, since it is a pretty simple circuit.

I see one obvious error in your schematic -- R3 in the photo is a 10K, and it should be more like 100-220 ohms. That's the cathode resistor for the 6bq5 (nice audio output tube, BTW), and sets the bias for the tube. For this kind of setup, it needs about 6 volts from cathode to ground, which should give it in the vicinity of 35-40 mA of cathode current (going by memory here). Good for a nice loud output.

The input variable resistor should probably have a large resistor across it, as in the other schematic -- it's not good practice to connect tube grids to potentiometer arms as ground return. Pots have a habit of going open when worn or dirty, causing the grid to float. This makes it very susceptible to noise and hum, to say nothing of having unknown bias. Half a megohm resistor from the grid to ground assures that it will always have some reliable ground.

Depending on what you're feeding into the amp, it'd likely be better if there was a capacitor between the input potentiometer and that 1/2 meg grid resistor. Any DC on the input signal could play havoc with the bias on that input stage -- probably wouldn't hurt it but wouldn't make it work very well.

I'm puzzled by the series connection of the two tube heaters, particularly with a center-tapped filament winding on the power transformer. You should measure some voltages to help suss this thing out: AC voltages at the transformer windings for a start, and then DC voltages at all the tubes' pins (except heater of course). The power transformer may not be quite adequate for this circuit if it wasn't original to the amp. It's also mounted pretty close to the 12AX7, so it could be inducing some hum there.

Do a little more looking around for 12ax7/6bq5 amplifier circuits, and see what voltages are indicated on the tubes. It's a common combination in both homebrew and commercial amplifiers. Report back with more info and we'll see if we can get you up and running properly.


AJ2X

Member





Number of posts

: 26


Age

: 73


Registration date :

2018-09-11



You mentioning the series filaments made me realize that that is a huge error on my part drawing the schematic, I don't know how I didn't catch that, the filaments are all in paralell with the 12AX7 being in the 6V config.
The 10k resistor is like that because I was messing around with it. So a 500k ohm resistor from the pot wiper to ground with a cap in series is what you are talking about? What value do you think would be good here. There was originally a o.1uF cap in series with the audio input but I removed it because it was shorted.
With how close the 12AX7 is to the power transformer I may try some shielding and see if that helps.
Thanks for the input, as usual you never fail to come up with something useful.

Electr0Maker

New Member





Number of posts

: 12


Registration date :

2020-09-02



If you look at the link below it was sold in at least their 1969 catalog on page 93. It looks to be a expirementers type kit you could buy,similar to the old electronic 101 projects type kits Radio shack sold in the 70s and 80 geared towards kids. If you look around some of the places that you can find the old heathkit building manuals you might find a manual for it with correct diagram for a amp.


https://worldradiohistory.com/Archive-Catalogs/Allied-Catalogs/Heathkit-1969.pdf

willy3486

Member





Number of posts

: 1391


Registration date :

2011-07-02



Good on the filament correction. I assume you've checked that the voltage at the tube pins is 6.3VAC.

The 0.1uF should be fine - it's not critical for this purpose. Wire it between the pot wiper arm and the 470K (standard value) to ground at the grid of the 12AX7.

You won't need much signal into this amp to get a good output from the speaker. Probably less than 1 volt p-p will do it.

AJ2X

Member





Number of posts

: 26


Age

: 73


Registration date :

2018-09-11



I found an archived part of a manual of some sort that has a schematic of the EU-14A, which seems to be the same as the EUA-14-1. Thanks for the catalog link pointing me in the right direction.

http://www.mcmlv.org/Archive/TestEquipment/EU14A.pdf

Electr0Maker

New Member





Number of posts

: 12


Registration date :

2020-09-02



---
Permissions in this forum:
You
cannot
reply to topics in this forum