I just became the proud owner of this 1937 Zenith black dial, that unfortunately is DOA.
Information is kinda sparse on these, as pre-war and wartime models didn't come with much in the way of documentation.
So I'm hoping there are some folks out here in the interwebs that can help.
First question, did these come with a wave magnet antenna? There wasn't a bracket on the cabinet, but examining the frame it
appears there may have been one on it at some point.
Second question, was it common practice to glue the corners of the set into the cabinet? cause it looks like its going to be a little tricky getting
the set out.
Final question, is there any place online to get tuning belts for this model? The way the tuner is acting as its turned I believe I will have to
replace it (or them not sure haven't gotten it opened yet).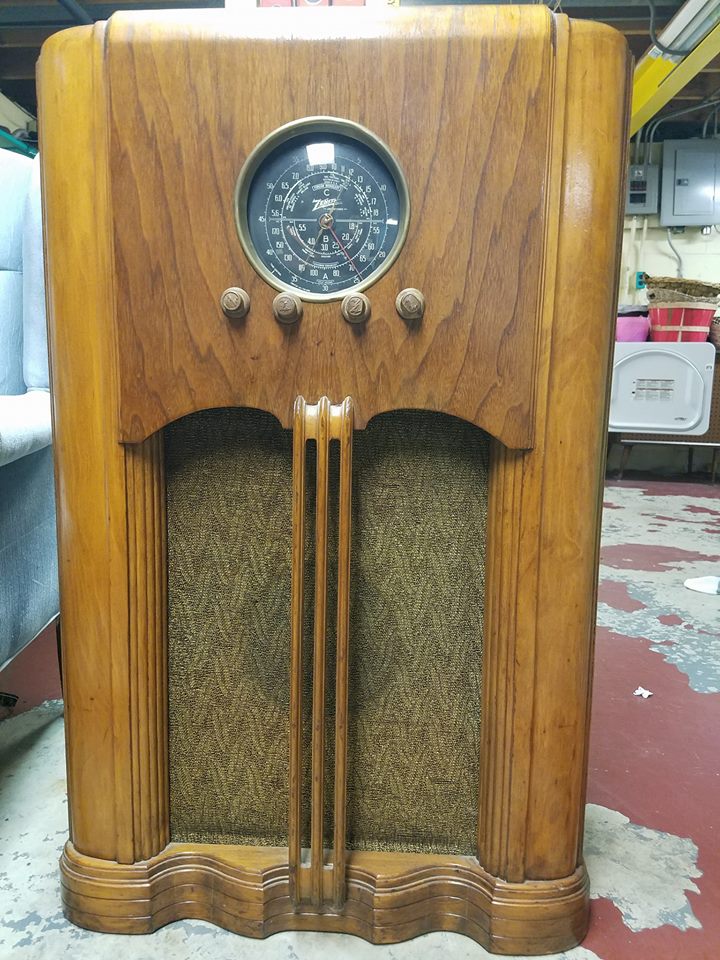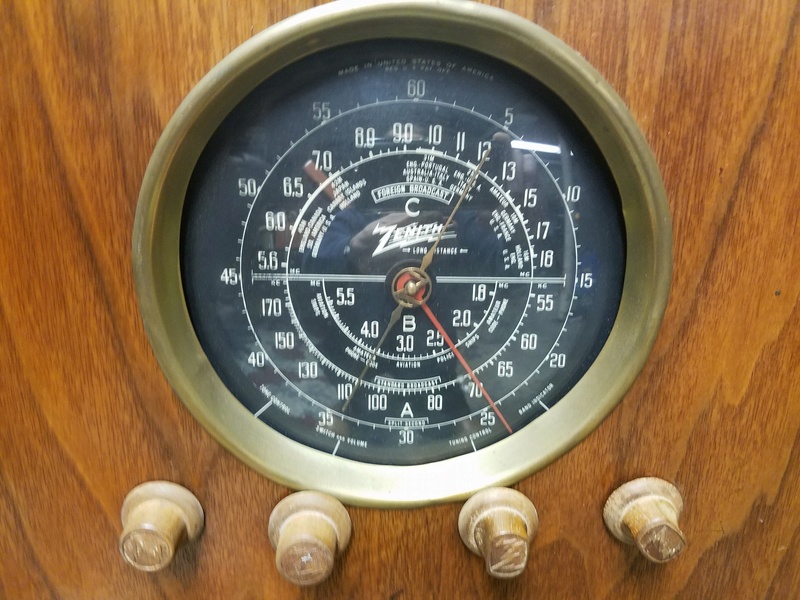 theoricus

New Member





Number of posts

: 1


Registration date :

2017-09-02



Welcome to the forum!
Let me be the first to say that I love Zenith Radios, but have never been able to get my hands on a pre-war Zenith, The oldest Zenith I've ever owned is a 1951 Zenith AM/FM Clock Radio nicknamed the "bugeye" model  Model Number J733. I did have a 1946 Zenith Console Radio and Record Player for a while when I was younger, but it unfortunately died of a shorted power supply cap which in turn burned up the power transformer and the rectifier tube, it quite literally went up in magic smoke.
Anyways as far as the chassis on this radio goes it should just unbolt from underneath where the radio chassis is sitting and then removing the knobs on the front of the radio and the chassis should just slide out, I'm not sure what you mean by the corners being glued into place, you might be meaning the rubber support feet on the corners of the chassis which often times turn to goo over the years which then makes the chassis look like its "glued" into place but its just deteriorated rubber support feet and the chassis should still just slide out of the cabinet after removing the 4 bolts under the chassis support shelf and the knobs up front.
Also your radio may not have tuning belts just a dial string because from my understanding of these early Zeniths is that the tuning belts were only used on the Shutterdial Zeniths to help change the dial itself to the different bandspreads necessary for the different band settings. But maybe a picture of the inside of the radio will give me and others on here some idea of what you're working with here.

I hope this helps.

Levi

CaptainClock

Member





Number of posts

: 73


Age

: 33


Registration date :

2017-07-13




_________________
GARY
(Jukebox Man)

jukeboxman

Admin





Number of posts

: 204


Age

: 68


Registration date :

2011-11-04



Dial belts:

http://www.adamsradio.com/

Gum rubber chassis washers:

http://www.oldradioparts.net/rubber.html

Schematic:

http://www.nostalgiaair.org/pagesbymodel/298/M0025298.pdf

Other Zenith parts, ask about users manual:

http://gn4radios.com/

Get under chassis with thin tool use a block of wood for a fulcrum and pry up until the melted gum washers give way. Scrape off old washers from chassis and cabinet. Be sure you get the right thickness gum rubber washers so the control shafts are centered in the cabinet openings.

Washers have to be a soft rubber as cabinet vibration from speaker will shake the tubes and cause a howl.

GL

Chas



Chas

Member





Number of posts

: 174


Age

: 74


Registration date :

2008-07-24



Also a gentle reminder...The Zenith's of this era used rubber wiring which is now weak and brittle. Any work under the chassis may now require you to replace any wiring that might crumble when you mess with it. Failure to do so may lead to short's and possibly fire in the worst case scenario. Not a big deal but still a pain.

Tony V

Moderator





Number of posts

: 764


Age

: 52


Registration date :

2008-09-13



jamesstack likes this post
---
Permissions in this forum:
You
cannot
reply to topics in this forum