I recently acquired this radio from my grand-father's estate.  It was found in the farm-house attic.  I've looked online for "Fiesta Radios" but the only "Fiestas" I have been able to find are small solid-state deals.  It looks like it may be from the mid-late 50s to the early 60s.  Made in Japan.

mfwatkin

New Member





Number of posts

: 4


Registration date :

2017-05-08



Sounds nice! May we see pictures?

_________________
Please also join us here; www.videokarma.org/index.php

Bill Cahill

Admin





Number of posts

: 4432


Age

: 70


Registration date :

2008-03-12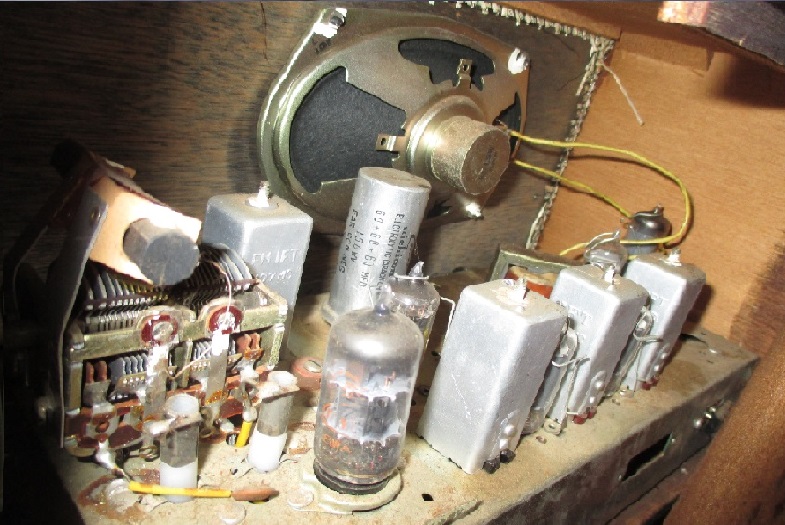 Did a little more research. Back panel says "Topp-Miami, Tokyo". Seems like they were an importer of Japanese electronics back in the day. Two nameplates under this name... "Juliette" and "Fiesta". Most "Juliette" models seemed to be table-top styles similar to the one shown...most were solid state, but some tube models existed, all of the "Fiesta" models I found were Solid State pocket models in plastic cases and looked a little newer, this "Fiesta" seems to be an exception. None of them seemed to match this one.
I fired this guy up when I got it home, it worked better than I thought it would. Volume was low, but would pick up as I would move the dial on the FM band. No luck with the AM band. There is also a setting on the band selector knob for "AFC" which if I had to guess means "Auto Frequency Control?". Its a nice piece, would love to get it fully working again and clean it up a bit, makes a nice mantle piece.

mfwatkin

New Member





Number of posts

: 4


Registration date :

2017-05-08



You are correct, AFC is Automatic Frequency Control, which is basically a way to keep your radio from drifting off the station you are currently on, this was a feature mainly used with FM Only, but Philco back as far as the 1930s utilized their own version of AFC on their 38-3 radios which they called it "Magnetic Tuning" which kept the radio stations from drifting and these radios were AM and Shortwave only models no FM back then.

As for the AM band being non-functional you might check the tubes in the AM circuits and the FM band doing what you say its doing is probably because you aren't utilizing the FM-AFC mode for the Radio which when the radio uses the AFC mode the FM Band will function 100 times better than without it.

I hope this helps

-Levi

CaptainClock

Member





Number of posts

: 73


Age

: 33


Registration date :

2017-07-13



Thanks for the info, very helpful. Yeah I agree, the FM performance is significantly better with AFC vs FM. However, the performance mentioned above is with AFC, with FM its worse. I'm thinking I am going to check the caps when I get around to fixing it. The tuner dial I'm thinking also needs to be re-strung as the needle has very limited movement.

mfwatkin

New Member





Number of posts

: 4


Registration date :

2017-05-08



OK, was just checking, because I know that in my experience when I listen to a radio with FM and FM AFC and use FM only, the radio drifts so bad I'll be tuned into the local classical station that's at the frequency of 90.7 MHz and then the radio dial will the next moment drift to another local Public Radio Station which plays world music (but was formerly a part time classical station) at a frequency of 91.1 MHz and I've even had a local gospel station thats at the frequency of 105.3 MHz drift all the way down to a local contemporary christian music station at a frequency of 104.7 MHz and these drifting issues happened when the radio tuner was pointing at the station the radio was actually tuned into (the forementioned station in each case), but then when i utilized the AFC function of the radio or stereo then the radio didn't drift at all, (excepting if there was a thunderstorm outside then for some reason or another the radio even with AFC turned on would still drift really badly whenever lightning would strike nearby).

I'm still guessing either bad or weak tubes or possibly some capacitors needing replacement, but either way its not going to be too hard to repair that radio.

CaptainClock

Member





Number of posts

: 73


Age

: 33


Registration date :

2017-07-13



---
Permissions in this forum:
You
cannot
reply to topics in this forum