Won this recently on eBay......... hope the picture uploads
First try Negative
2nd try  SUCCESS!!!!!!!!!!!!!!!!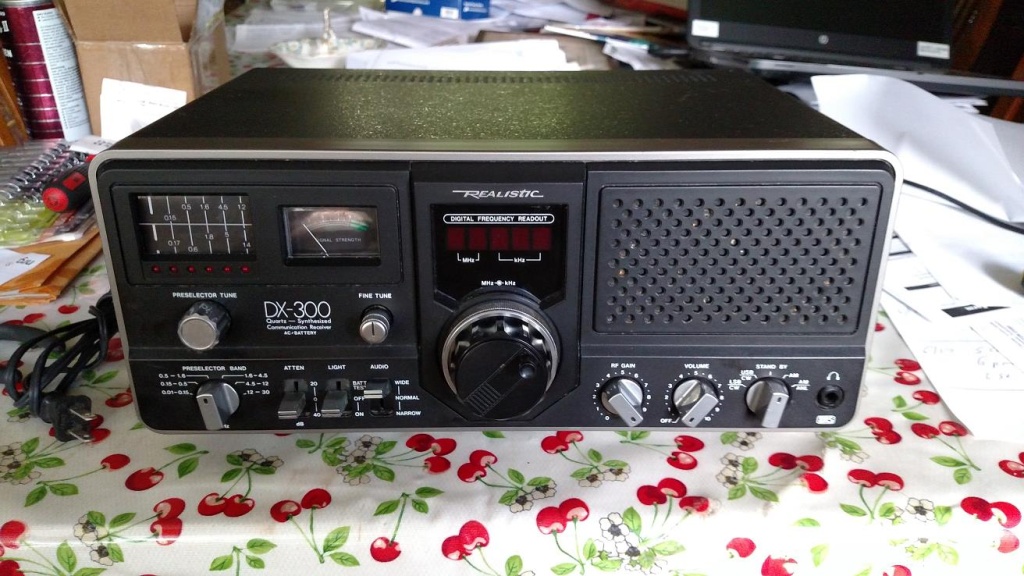 As received it was dirty and the pre-selector was not working. Easy clean of the case, but more to go, you can still see
some dirt in the speaker area. Also the lamps behind the pre-selector were burned out.
I've picked a number of these and the 302 version and everyone has had a problem or two, but that's due to age.
I think this receiver may be maligned a lot mostly due to user inexperience in using a Wadley loop design.
Also from reading other users accounts it may be a bit finicky on how the antenna is set up, this one seems to
need a really good ground system to get best performance. I will be checking this out.

LarryC

Member





Number of posts

: 73


Registration date :

2008-03-12



top and bottom with the case off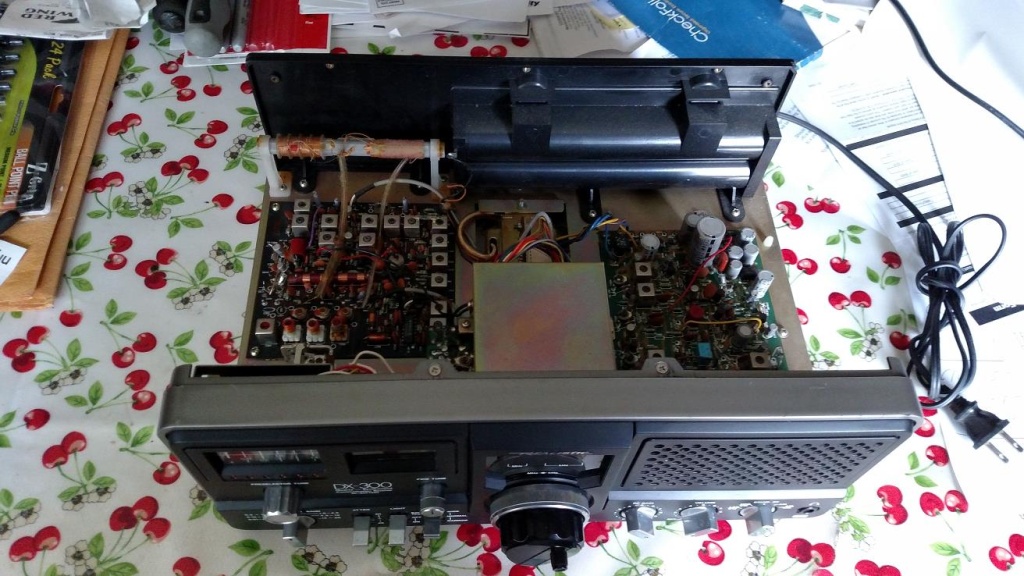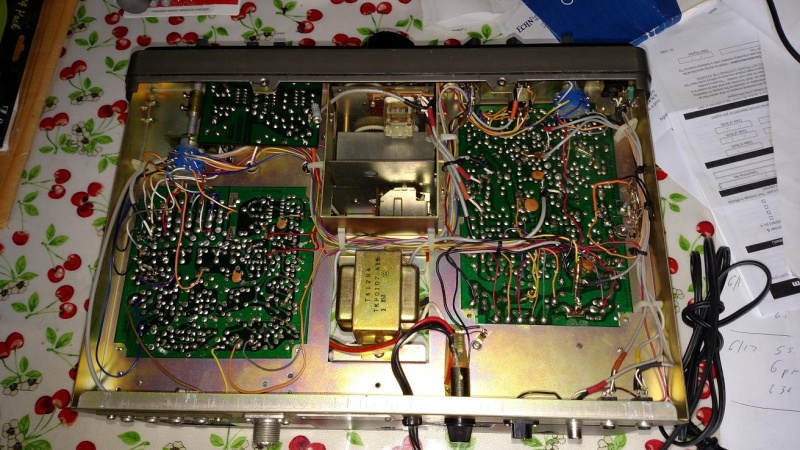 LarryC

Member





Number of posts

: 73


Registration date :

2008-03-12



As I said the pre-selector was not turning at all so I took it a part.
Here it is on the chassis back view with the small air variable capacitor: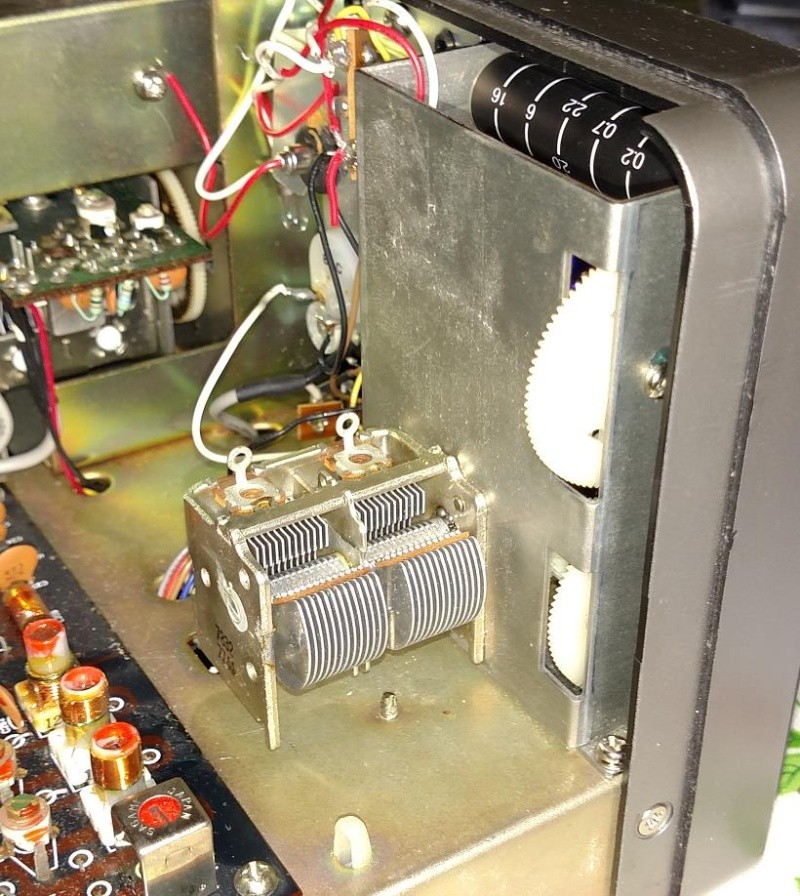 Mounting screws removed and the unit moved out to work on it: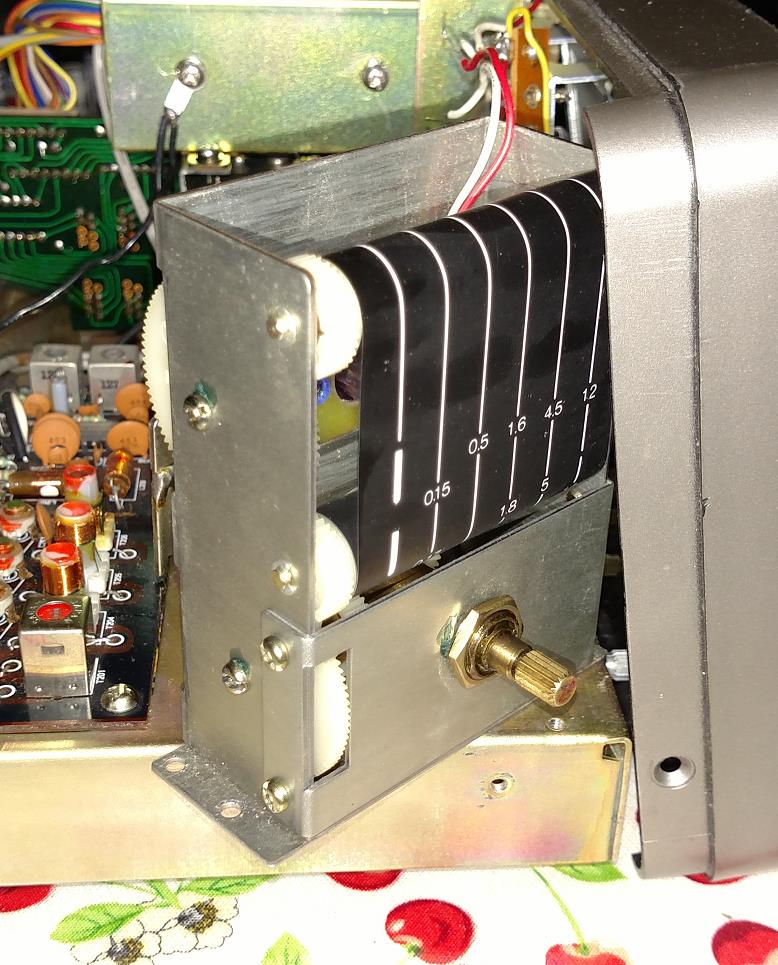 The lower white nylon gear assembly is the problem child here as the old oil/grease has hardened up over time. To get to it
you need to remove the nut around the shaft and then take out 4 screws, 2 on each side, then remove the support bracket: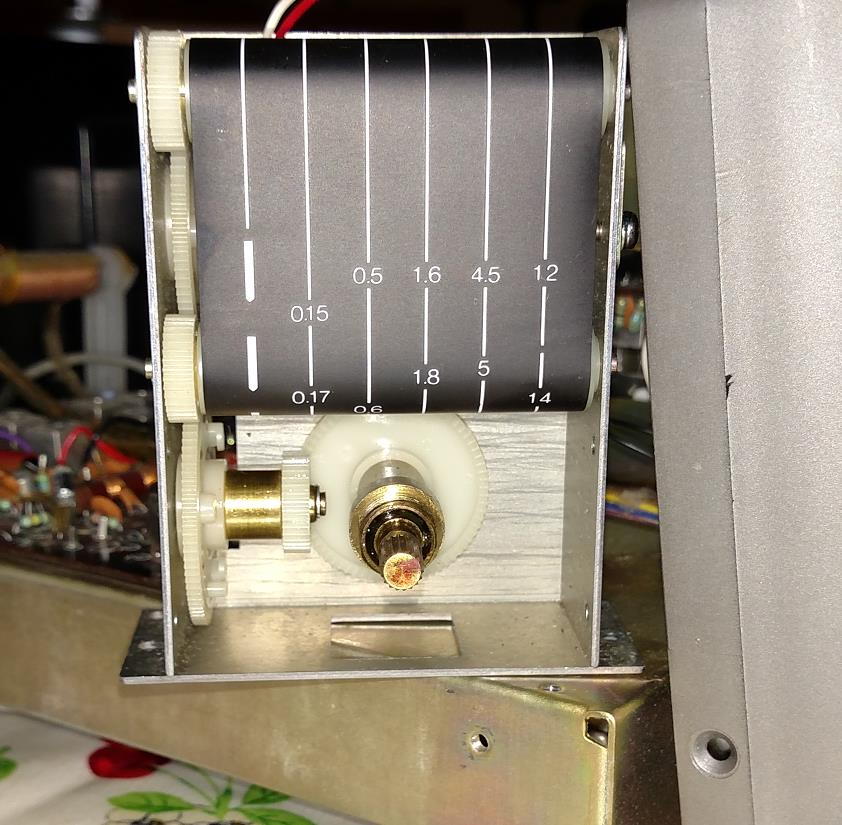 Fortunately the other nylon gears do not have any oil or grease on them and you don't need to worry about them.
The threaded portion around the tuning shaft of the pre-selector does contain a ball bearing and you should apply a little motor oil
to it and make sure it turns easily. The lower nylon gear assembly is held in by only one screw and easily taken out: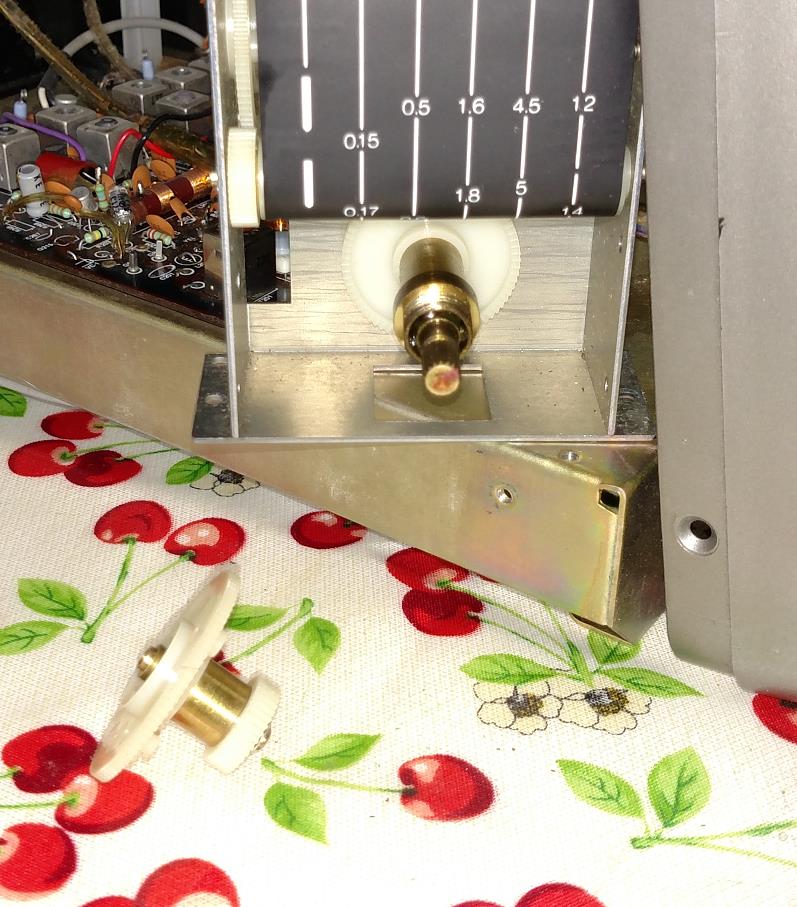 The lower nylon gear assembly has a small lock ring that comes off and then you can remove the central shaft to clean it out of the
old oil and grease: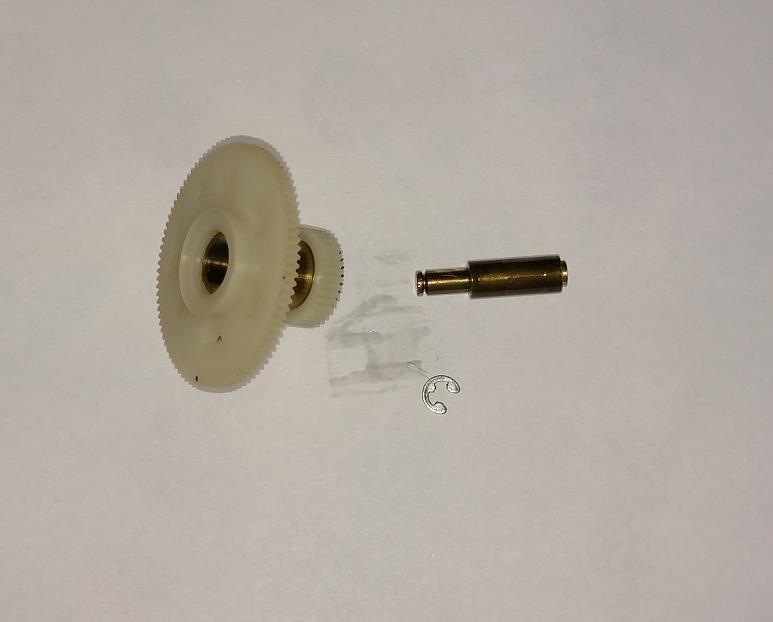 Clean off the old oil and grease then apply some fresh motor oil and re-assemble.
Also while your at it, don't forget to apply a little oil to the bearings on the variable capacitor.
To re-assemble, the capacitor should have all the plates fully un-meshed (minimum capacitance) and the rolling frequency chart should be  
aligned so the word SET will be at the same level as the white line on the front panel window for the pre-selector.

LarryC

Member





Number of posts

: 73


Registration date :

2008-03-12



Thanks,
I'll be doing a section here devoted to the DX-300/302 and the problems I find and repairs

LarryC

Member





Number of posts

: 73


Registration date :

2008-03-12



As the title says:
most of the DX-300/302 receivers you buy on eBay do not work.
Usually the seller will put in a little blurb like:
"It powers up"....what does this mean?? not very specific
" All the knobs seems to function" or " It lights up".... again not very descriptive concerning over all functionality.
" I don't know how to operate or test this"....AH HA!!!! in other words I truly don't know anything about this radio or it's broken/not operational and I don't want to say that in the eBay description because it will keep the price down.

These receivers were made back in the 1980's as a response to the Yaesu FRG-7 receiver, they both use the same Wadley loop circuit but the DX-300/302 also feature direct led Frequency readout. The Yaesu just has an analog dial scale.
On several of the units I am working on, all suffer from a number of issues.
The pre-selector sections do not turn due to old lubricants that have dried out / hardened with age and need to be cleaned and re-lubricated as per previous post.
There is a small nylon gear that is prone to splitting due to age of the gear and shrinkage of the nylon plastic but, also I think in large part due to the old lubricants on the gear trains and tuning capacitors
having dried out or hardened and placing additional stress on the gear as you try to tune the receiver outter mhz dial.
The RF front end dual gate mosfet stage Q201 (3SK45) is prone to being damaged by static or nearby lightning strikes, I know as I had one DX-300 suddenly lose sensitivity to local stations during a thunderstorm here. There is diode protection but only if your using the coax connector. If your antenna is just hooked up to the terminal strip antenna connection, there is no diode protection. So this unit and two others ( from eBay purchases ) so far have had to have Q201 replaced to get them functional once more. I believe this is a very common problem.
A good ground is necessary to get best performance as well as cut down noise into the receiver.
All of the DC electrolytic capacitors are now more than 30 years old and need to be replaced.

LarryC

Member





Number of posts

: 73


Registration date :

2008-03-12



Nice looking unit. Good luck on it.

_________________
Please also join us here; www.videokarma.org/index.php

Bill Cahill

Admin





Number of posts

: 4432


Age

: 70


Registration date :

2008-03-12



The next installment in this series concerns the nylon gears in the tuning section.
Over time the nylon material shrinks and the old oil and grease gums up placing additional stress
on the gears resulting in cracking.
First picture shows the tuning gear train and the 3 suspect gears that I have seen crack so far: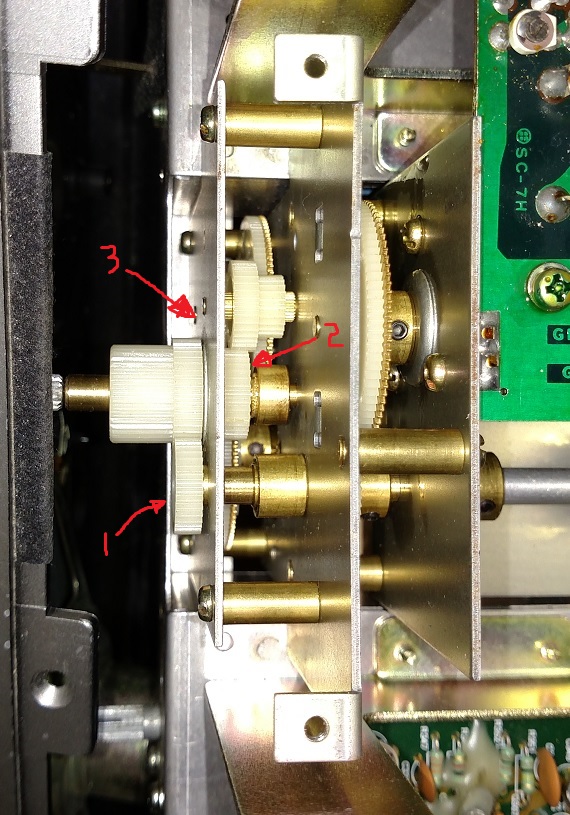 Number 3 is behind that metal partition below where you cannot see it but it is about the same size as the others.
Number 1 is the most common one to crack and it a semi tight fit on the shaft as it is supposed to be able to turn a bit when you max out the
megahertz selector dial.
Gears 2 and 3 are press fit tight on their shafts and should not turn at all.
A couple pictures of the actual split gears now: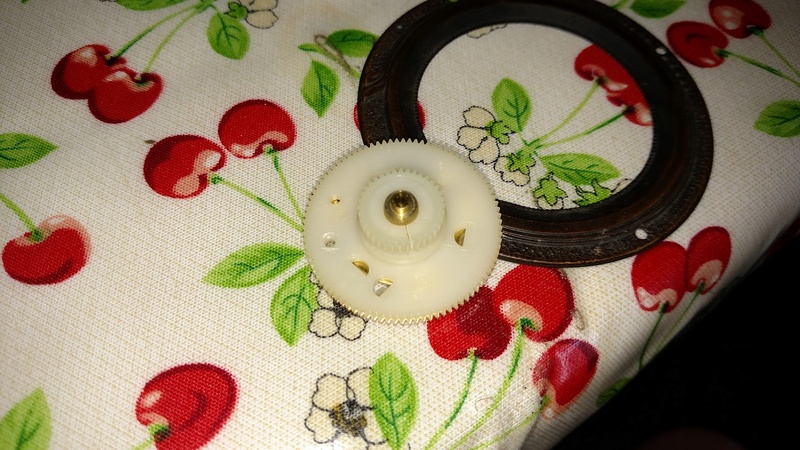 you can clearly see the splits. An indication that your radio has split gears is that as you try to tune the radio you feel
an un-eveness in the tuning and it seems to hang up or be forced to tune past a certain point in the full tuning range,
or a bumpy feeling while tuning at one spot per revolution of the tuning or mhz knob.
It is possible to repair these cracked gears.
I use sand paper, super glue, and a good epoxy ( one made for bonding plastic is good, but regular epoxy should work as well ).
Getting the gears out is a bit of a chore with a number of screws removed and the leads going to the main tuning capacitor having to be carefully un-soldered
and there's not a lot of room for doing it, but it can be done.
After the gear is cleaned, I use a small crescent wrench as a vice to clamp the gear slit closed after putting a drop of super glue on the split area:
After the super glue sets, I then sand the area around the closed split and
put a small fillet of epoxy over the split area and off to each side:
Now that your gear or gears are repaired you cannot just go and push them back onto their shafts as this will undo all of your work up to this point
and cause the gear to split once again.
On gears 2 and 3, I use sand paper wrapped around a small screwdriver and carefully sand out the holes to the point where the gear will just slide with minimal effort
onto the shaft:
Once these 2 gears can be placed easily on their shafts I get some Gorilla glue and put a thin film around the shaft where the gear sits,
and then press the gear in place, turn it around a little bit to make sure the gear is evenly turning around and then let the glue dry.
For gear number 1, you do not sand it quite as much as for 2 and 3, as it is supposed to have a friction grip on the metal shaft, so lightly sand the hole
till it can be pressed onto it's shaft with a little effort. You'll see that when it's split it will turn very easily on the shaft and just after the split is repaired
it cannot be placed / pressed back onto the shaft without quite a bit of force enough to cause the repaired split to crack again, hence needing to be sanded out a bit so it
can be fit on the shaft again. Don't mix up the gears as the center holes are of different sizes.
While you have the tuning assembly apart and out it's time to try and clean the old oil and grease from the shaft holes and mhz capacitor.
I use engine motor oil for this as it won't dry out rapidly and generally stays in place where you put it. Everything should turn pretty easily with fresh lubrication
again reducing any stress placed on the nylon gears.
Good Luck

LarryC

Member





Number of posts

: 73


Registration date :

2008-03-12



This looks very similar to my DX302. I am or was on one forum where the subject came up. I was told to replace the gear with a RC car gear. The info was:
36 teeth
64 pitch
shaft size .218 (Why was a .242 drill bit too tight?)
.596 across
.162 thick
Robinson Racing Products gear #RRP-4336
I had to drill out the hub of the metal gear to 0.242" diameter to match the DX302 shaft. This was the small gear which I think is the Mhz gear but don't recall specifically.

I have also been told that we should never put any oil on nylon gears.


Southerner

New Member





Number of posts

: 1


Registration date :

2017-09-07



Thanks Larry C. I have a DX-300 that has that "hard to turn" gear problem. Your good info/pictures are priceless.
I found mine in a recycling/junk place and it was headed where the old printers, PC's, etc go for recycling. A lucky find. Regards.

Harold

harold wright

Member





Number of posts

: 52


Registration date :

2012-10-14



---
Permissions in this forum:
You
cannot
reply to topics in this forum