Boy, does this bring back memories.  It brings tears to my eyes.  I never thought I'd hear this EVER again.......

https://www.youtube.com/watch?v=1A2YyUp0hA4

This guy was a fixture in our home for several years.  I still have the Bendix radio that sat on top of the refrigerator in the kitchen.

In the way of background, there was a thread a year or so ago on this forum about TV and radio personalities from our misspent youth, primarily in Indiana, specifically the Indianapolis area.  And to keep from hijacking any further a thread started by our own 75X11, I started this one.  I searched for the previous thread, but, typical of my limited searching skills, I could not find it.  If someone can find it, we can combine this thread as a continuation with that one.  And remember that these memories are from 60 years or so ago.  I think I'm pretty close on details, but there may be some not dead on.  That's what a discussion is for.  To put the correct pieces in the puzzle.  

My grandmother turned the radio on when she got up in the morning and turned it off when she retired for the evening.  She listened to WIBC, 1070 AM and WFBM, I think somewhere around 1300 AM. (Edit: Actually it was 1260).  The National Anthem came on WIBC at 6 am.  Fred Heckman and the news was next, then came Bouncin' Bill Baker until 11 am.  Jim Shelton with his "Pick a Pocket" show was on at 11 until noon.  Harry Andrews and the noon news lasted until 1pm.  Easy Gwinn came on at 1 until 4, then Sid Collins with "The Fox's Den" a news and sports show lasted until 5.  There was a personality whose name I had forgotten, but whose voice I remembered clearly.  I have tried to remember that man's name for 30 years probably.  I now know his name.  Jack Morrow.  I'm not sure where he fits into the WIBC lineup, or even what his job was.  I can make sense of that in due time.  Sid Collins was the voice of the Indianapolis 500 racing network for years.  

Jim Shelton's "Pick a Pocket" show was broadcast from the foyer of the Circle Theater in downtown Indianapolis.  The Circle Theater was THE social spot of Indianapolis back in the day.  THE place to be seen, THE place for all the big wheels to circulate and be seen.  My mother saved her babysitting money, and in 1939, got to go the the Circle Theater to see the first showing of "Gone With The Wind".  It is hard to imagine nowadays how high esteem this place was held in its heyday.  In 1956, Mom went to Indy to participate in "Pick a Pocket" as the result of a prize she won at work.  She won a package of 10 Columbia 45 rpm records on the show.  I still have them.  They featured current hits by Columbia artists.  Johnny Cash, Doris Day, Vic Damone, Tony Bennett, Sammy Kaye, Les Paul and Mary Ford, and others.  Mom talked about that for years....

The "Pick a Pocket" show was so hokey that it would be laughed at nowadays, but it was an honor to be on it.  Jim Shelton would have important guests on the show.  The mayor, a senator, a show-biz celebrity, a race car driver, anybody in town at the time who was in the news.  He would interview them and they would pick guests of the show at random to play the game.  The game basically consisted of Jim Shelton standing in a trench coat, even in summer, with pockets sewn all over it.  I think there were 20 pockets, all numbered.  The contestant would pick a pocket.  There would be a card inside the pocket with a question on it.  If the contestant answered the question correctly, they won the prize listed on the back of the card.  A radio, a toaster, a coffeemaker, a mixer, tickets to a show at the Circle Theater, records, things like that.  If the answer was incorrect, you got your name put into another pocket and they would draw names from that pocket for another show.  It was a big deal, very popular.  You have to remember there were no seats in the foyer.  All the guests and contestants stood up for the entire hour.  

At least for the time I was at home, WIBC would sign off at midnight.  I don't remember when it became a 24 hour station.  It was a 50.000 watt clear station giant that could be heard coast to coast and border to border in Indiana and parts of Ohio and Illinois.

I realize that these local radio and TV personalities mean squat to anyone not familiar with them. I post this information as an effort in sharing something that I have been working on for years with limited success. I don't want to bore anyone or be a pest with this. My plan is to take some of these audio clips off the Internet, put it on cassette tape, edit in recordings pertinent to the era, add commercials and make a CD that would be representative of what one would have heard in a day's broadcasting on WIBC 50 or 60 years ago. A station that no longer exists at 1070 AM. It is now an FM station. I can broadcast this to my old radios. If I can come up with some video clips, these would be cool to watch on an old black and white TV.

Wildcat445

Member





Number of posts

: 4893


Registration date :

2011-09-19



Finally, I have found an audio clip of Bill Robinson on WIRE 1480 AM.  WIRE was a 50,000 watt hard-core country music station in Indy that I could hear basically anywhere in the state of Indiana.  I have put hundreds of thousands of miles on a Mack diesel listening to Bill Robinson.  The last I heard of Bill, he was on WACF in Paris, Illinois in the late 1970's.  WIRE is long gone......WACF does not play country anymore.

https://www.youtube.com/watch?v=E4IxRrOXVpk

Wildcat445

Member





Number of posts

: 4893


Registration date :

2011-09-19



Growing up in the northern third of Indiana, My knowledge of the broadcasting scene in Indianapolis was primarily what could be gleaned from the television stations there. For radio, we primarily listened to WOWO in Ft. Wayne, WLS in Chicago, and our local stations, WBAT and WMRI FM, in Marion.

75X11

Member





Number of posts

: 4453


Age

: 64


Registration date :

2013-03-10



The good thing about finding these broadcasters is that now everybody knows they exist. I was beginning to wonder myself. The three big Chicago stations we listened to were WLS, WJJD and WMAQ. My grandparents had a cabin on lake northwest of Ft,Wayne, so we listened to WOWO when we were there. I can entertain myself for quite a while gleaning bits of audio. It has been quite the trip down memory lane.

Wildcat445

Member





Number of posts

: 4893


Registration date :

2011-09-19




75X11

Member





Number of posts

: 4453


Age

: 64


Registration date :

2013-03-10



WLS was my wife's favorite station. She could get that station like FM on the radio of her '63 Falcon.

Wildcat445

Member





Number of posts

: 4893


Registration date :

2011-09-19



I remember when I was little and at noon on the Ruth Lyons show, The studio band would sing for their supper. Remember this?

https://www.youtube.com/watch?v=vk7HCRWmmgE

75X11

Member





Number of posts

: 4453


Age

: 64


Registration date :

2013-03-10



You got me on that one.

I have a trivia question for you, Mr. Trivia.  Gunsmoke was on radio before it was on TV.  William Conrad played Marshall Dillon.  Parley Bear played Doc.  Who played Chester and who played Miss Kitty on the radio version?

Another trivia question that was on radio recently and which I knew the answer to. On "Route 66" Martin Milner played Todd Stiles. George Maharis played a character named Buzz. What was Buzz's real first name and what was his last name?

Wildcat445

Member





Number of posts

: 4893


Registration date :

2011-09-19



I Knew William Conrad did the radio Dillon The rest I didn't know so I looked it up So I'll disqualify myself on that one . Buz' last name I believe was Murdock or Murdoch. I can't remember any mention of his true first name. You got me good. On an earlier subject, I got to see S1 Ep1 of Perry Mason, in which he drove the black Ford Retractable a year before he used his Cadillac.

75X11

Member





Number of posts

: 4453


Age

: 64


Registration date :

2013-03-10



So tell us the rest of the Gunsmoke cast.  I do not know that one.

Buzz's real first name, I believe, was Frank.  His last name was Murdock.  The guy on the radio confirmed this, right or wrong. I remember an episode where Buzz was arrested by the cops. He gave his real first name.

I remember Perry Mason driving a '57 retractable.

Wildcat445

Member





Number of posts

: 4893


Registration date :

2011-09-19



The radio series first aired on CBS on April 26, 1952 with the episode "Billy the Kid", written by Walter Newman, and ended on June 18, 1961. The show stars William Conrad as Marshal Matt Dillon, Howard McNear as Doc Charles Adams, Georgia Ellis as Kitty Russell, and Parley Baer as Dillon's assistant, Chester Wesley Proudfoot.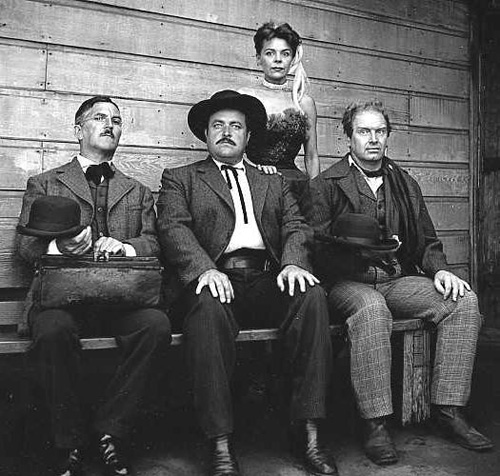 75X11

Member





Number of posts

: 4453


Age

: 64


Registration date :

2013-03-10



---
Permissions in this forum:
You
cannot
reply to topics in this forum