I came across this VGA to Composite/S-Video converter the other day while working at the ReStore. It was just going to be junked since they don't mess with computers or computer related stuff. Since it was just going to be junked, I took it home. This is a TView Micro XGA converter. It appears to be from the early 90's since it came with a 3.5" floppy disk. It uses a 5 VDC 1 amp power supply, and is so large it looks like a modern day 18-24 volt drill charger. I tried it out on my mom's computer and it works but needs 800x600 resolution to look decent. I just thought it would be neat to share it here. Sure these these kind of converters are still around but they are all cheap cheap eBay crap. I imagine someone paid lots of money for this back then.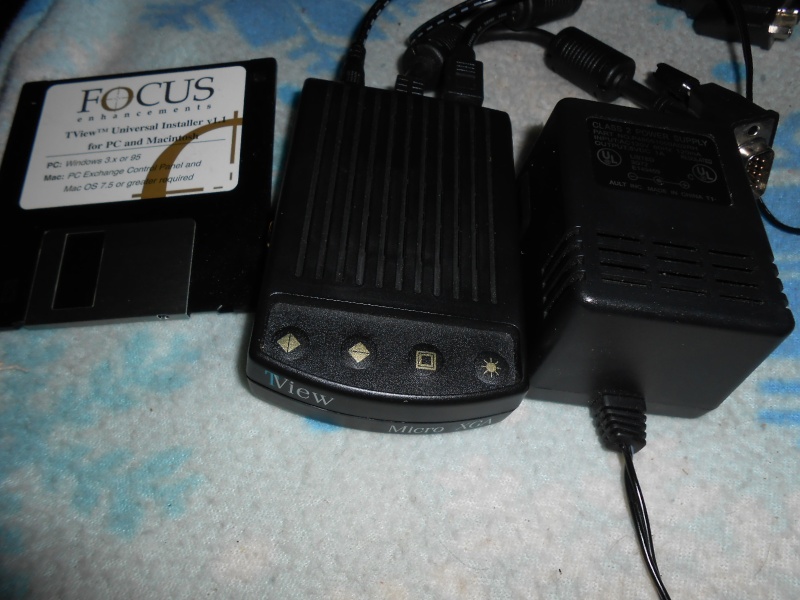 tuberadiogeek

Member





Number of posts

: 647


Age

: 39


Registration date :

2013-02-11



I remember these and yes they are from the 90s. there were some still around where I work when I came here about 2004. I think we have sent most if not all to the recycler. We have hired more on the staff here since I started and have no room to store stuff like this. I only have 25% of the space I use to have. I sometimes have to work on stuff in my lap due to having another computer on the bench. My feelings on this stuff if you have a use for it then use it. For me I have no use for one. Now a computer switch box to switch between other computers I would have a use for .

willy3486

Member





Number of posts

: 1391


Registration date :

2011-07-02



I figured. I'm just going to keep it in the event I ever need it for a computer I get and don't have a monitor for it or even my computer at some point. However I use S-Video for my machine and hopefully HDMI eventually. Stuff like this gets recycled daily at the ReStore and I do occasionally poke through the stuff to be certain nothing I can use is getting recycled. As the guys that take the electronic recycleables mainly just want it for the copper and honestly they probably throw the rest in the trash.

tuberadiogeek

Member





Number of posts

: 647


Age

: 39


Registration date :

2013-02-11



---
Permissions in this forum:
You
cannot
reply to topics in this forum