Here are a few pics taken at my repair bench.  I picked this radio from the stream of them that are sent in each day for repairs.  This one also needed the commonest repair required for this model.  The radio's antenna connector was levered to the point of separation from the main board.  They then continue to be used in this condition and it's a coin toss as to whether it's finals are still functional or not.  Here is a pic of the radio.
The board area where the RF connector is mounted usually looks mighty nasty.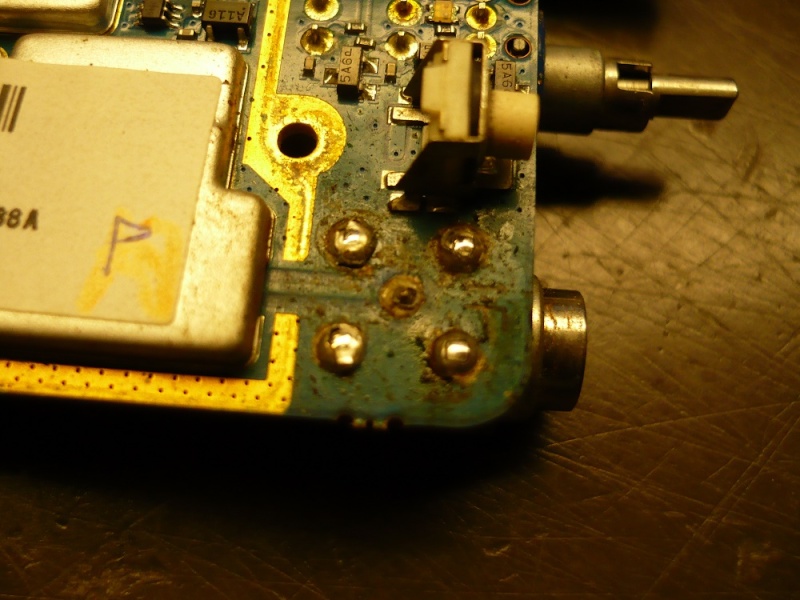 I give the board a clean off and on the connector side, carefully scrape of the coating around 3 sides of the connectors' footprint.  I then tin the area and clean the area once again.  I then heat the connector and flow in solder around the tinned area and the connectors' base.  The coating remaining allows the solder to cool without being drawn into the dielectric area, yet gives a strong mechanical joining of the connector to the board.  This shows the old connectors' base.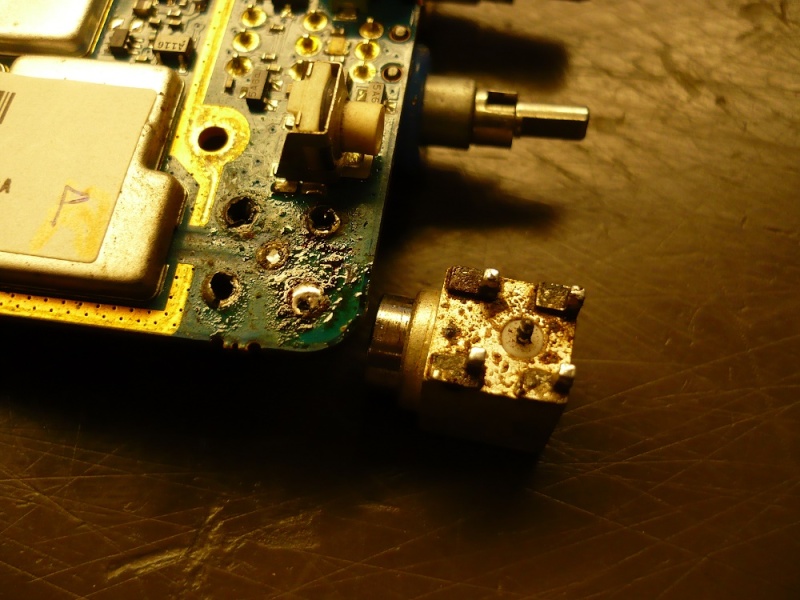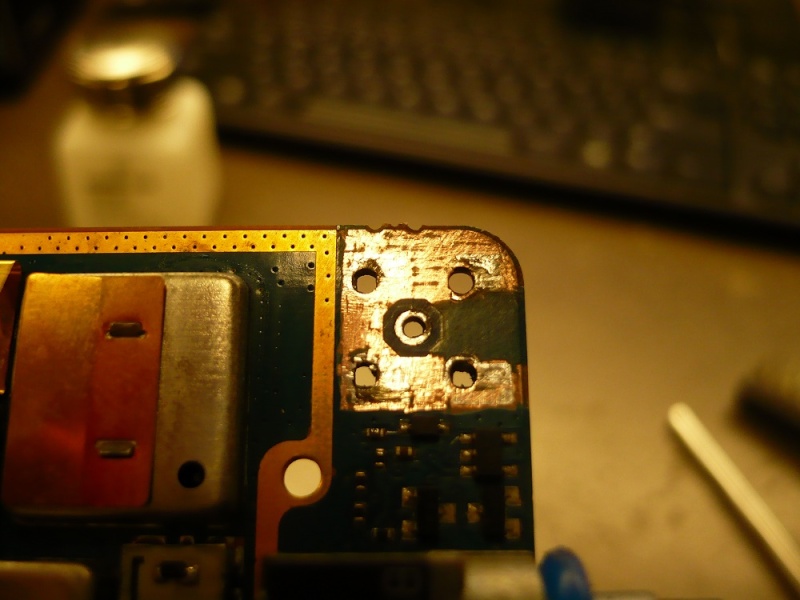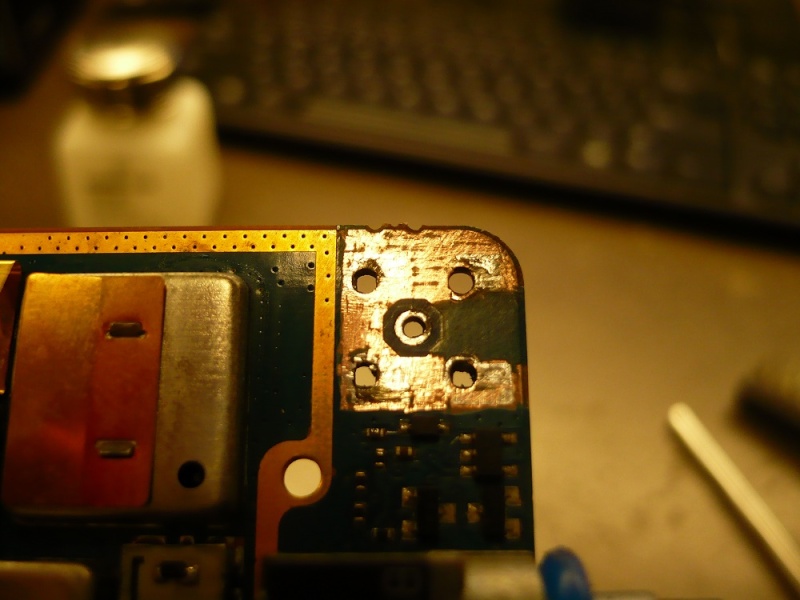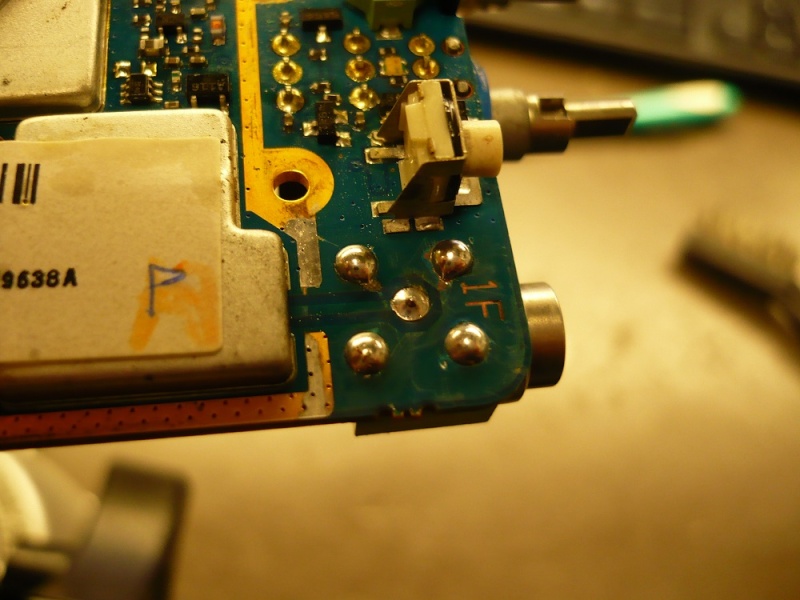 This gives a result that I have yet to see broken or damaged.

75X11

Member





Number of posts

: 4453


Age

: 64


Registration date :

2013-03-10



Nice work. Your procedures might be beneficial to folks working on old TV's with fried PCB's.

Wildcat445

Member





Number of posts

: 4893


Registration date :

2011-09-19



I've done a lot of work on lightning struck equipment. These radios are multilayer boards, too.

75X11

Member





Number of posts

: 4453


Age

: 64


Registration date :

2013-03-10



You would be right at home in the circuit boards of a fried Philco Predicta.........

Wildcat445

Member





Number of posts

: 4893


Registration date :

2011-09-19



I hate double stacked boards but can tolerate the double sided boards. I use to make quick cash on GE tvs I think. They were double sided and did not get good solder on the connections to the sides. I would buy them at yard sales not working then take an hour to solder the joints. I could sell every one I got my hands on. About a year ago I worked on one of these new type tube amps. It took an hour to to get it apart. I figed the issue on one side and IIRC it was caused by a tube that shorted. I got it to play but he needed new tubes, he had a weak tube to put back in. I told him to not put the old tube in. Guess what he did, yeah put the bad tube in the other side. He contacted me again and was in a rush to get it fixed. I told him it would be a while before I could look at it. HE took it elsewhere and I think traded it in for a bigger one. I truely hate the "freebees" like that was. They always want it fast, it usually has some unforeseen major issue and you loose money on it. Its ones like that is why I don't open up a shop again.

Now for a living I work on computers. Apple is now using tape to hold their stuff together. So as bad as double sided boards and boards stacked on each other they are not as bad as trying to get a taped computer apart. The tape holds like a really strong glue and you have to heat the glass front to loosen the tape glue but keep it cool enough to not destroy the glass or display. Folks think these Ipads and new computers are great but wait until they have to be serviced. If I got offered a job doing something else close to home that would pay the bills I probably would get out of repairs for others and just do my tubes for myself.

willy3486

Member





Number of posts

: 1391


Registration date :

2011-07-02



Here is an example of the type of multilayer board I mentioned. Some models of radio had 7 working layers laminated into 1 1mm thick board.

http://www.lpkf.de/_images/308-multilayer.jpg

75X11

Member





Number of posts

: 4453


Age

: 64


Registration date :

2013-03-10



---
Permissions in this forum:
You
cannot
reply to topics in this forum