As many of you know I live by a oil refinery and a very busy railroad and occasinally something interesting happens with both. Well the other day I was waiting for the local Norfolk Southern train to take off but it was taking too long so I start heading home which is only a few hundred feet from a good viewing point of the tracks.
I'm almost to my yard when I turn around just to see if the train is ready to take off yet and I see a large crane, which isn't too unusual since we have a local crane company. I go back down to the street to see where it's heading out of curiousity and I see it heading into a gate for the refinery. So I walk down the street to start taking photos and see what it's doing, then I start hearing a loud slow moving disel engine. I look down the road and it's a drivable trailer that went the same place as the crane. I stuck around and nothing is happening and I thought that would be the end of that.
Well the next day one of the members of a local railroad group on facebook told me that the refinery was loading up a High/Wide unit at the CSX spur track inside the gate. I was at work all that day so I thought I missed being able to see it, but luckily I was able to see it. I was able to catch it being brought down the street right as I'm leaving my back yard to wait for the bus to go to work.
Now this is a huge unit, but I have no clue what it is or what it is even for. I'm hoping someone here knows. I'll upload photos of the crane, trailer and unit.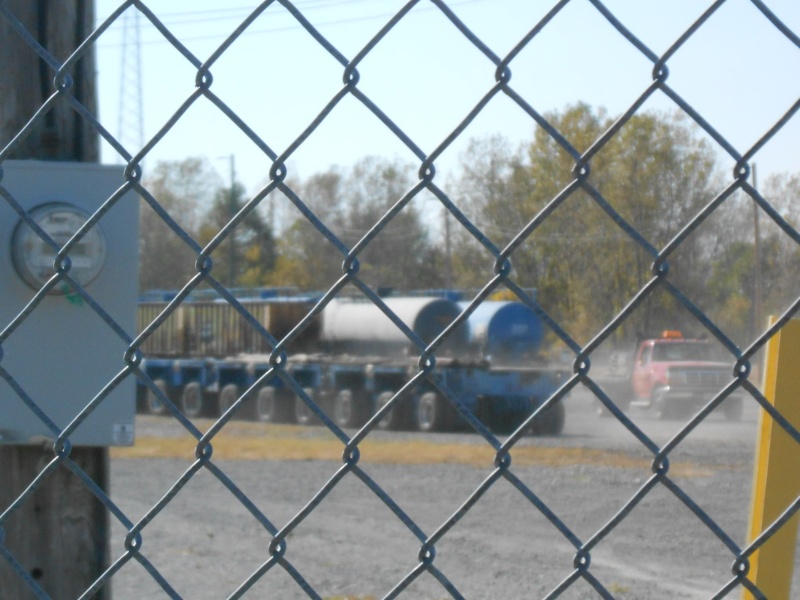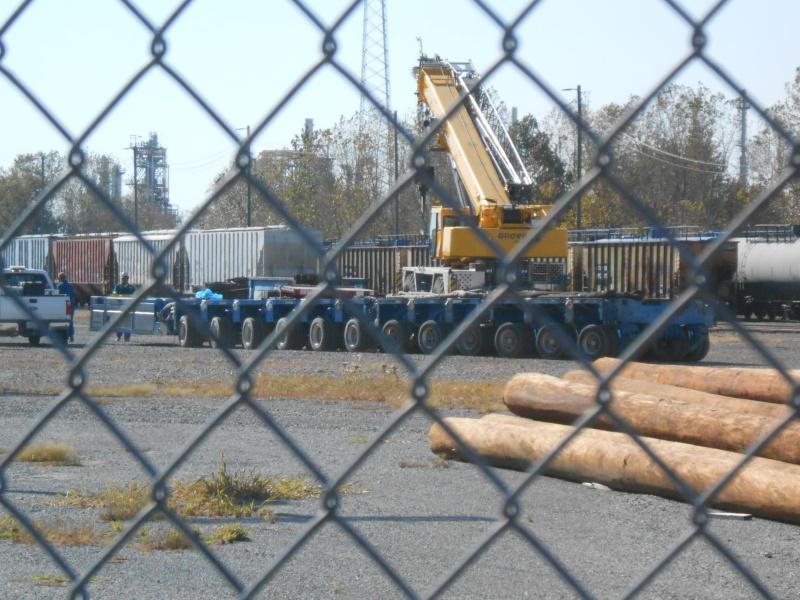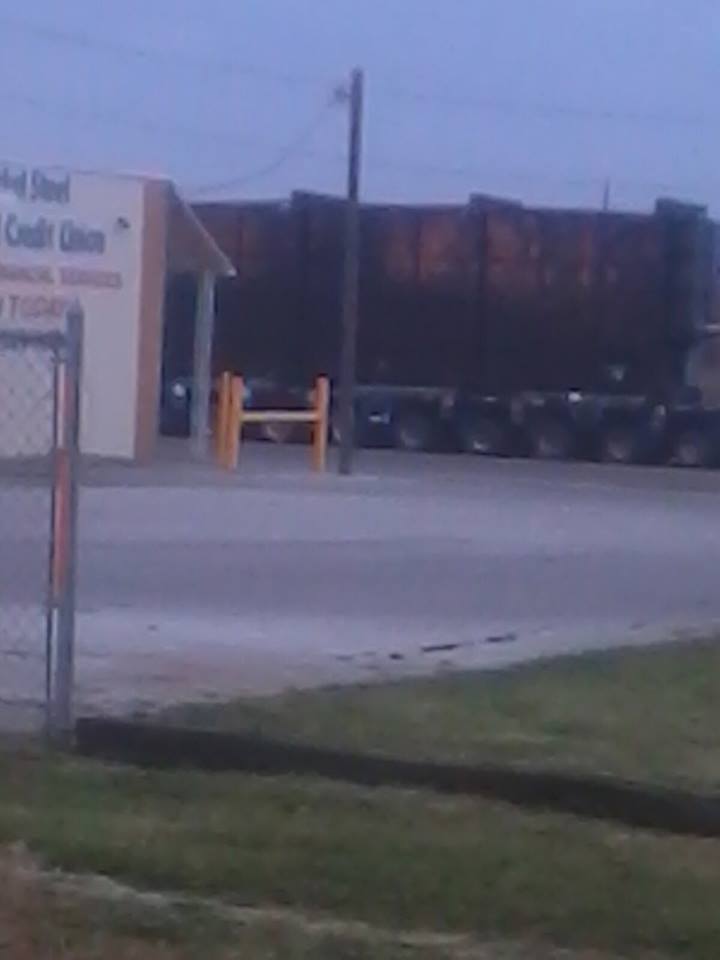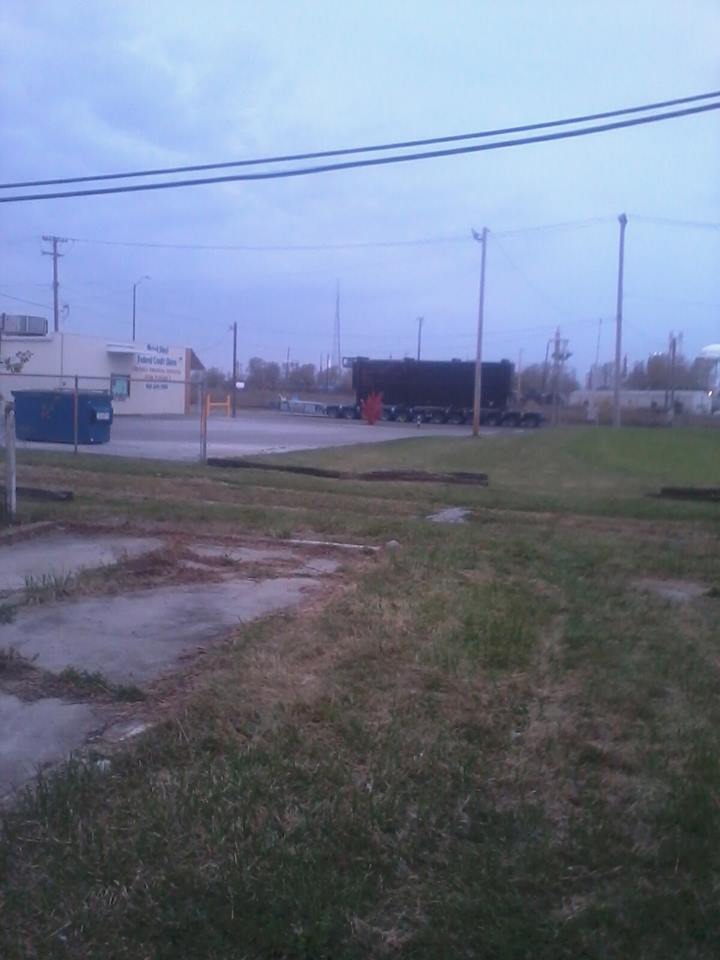 Last edited by tuberadiogeek on Thu Oct 22, 2015 9:59 pm; edited 1 time in total (Reason for editing : spelling error)

tuberadiogeek

Member





Number of posts

: 647


Age

: 39


Registration date :

2013-02-11



I can't say what it is they're hauling, but that type of platform was shown many times on the series mega movers on the History Channel.

https://www.youtube.com/results?search_query=mega+movers

75X11

Member





Number of posts

: 4453


Age

: 64


Registration date :

2013-03-10



I actually just found out it was the refinery's Iso Cracker unit. As in the one I shared the story about here back in January. The unit became over-pressurized, exploded and caught fire that morning. Apparently they finally got around to doing some maintenance work. even though I know what it is, it's still neat to share.

tuberadiogeek

Member





Number of posts

: 647


Age

: 39


Registration date :

2013-02-11



I have seen a few of the haulers like this and similar. Here is a neat video of one.


I think they are called steerable dollies or something like that. Here will give you an idea of why they are like that. A Trailer for a semi is around 52 feet if I am not mistaken. If you have ever seen one whip over to the right then back over to turn to the left they do that because they are so long. Now imagine if they were twice as long how do you turn then? The truck up front pulls and turns then the dollies in the back whip on around to help make the turn.

Thats a hydraulic crane. They use those a lot around here to lift preformed houses into place. They used one to set my MILs house next to us. This isn't the video form hers but its similar.


I got to see the house movers setup when they moved some houses for the road. They set them up with one set of wheels in the front and two sets, one on each side in the back. Neat setup. Seems like they had hydraulics that would raise up to meet the I beams supporting the house. Then after they pulled it away from the foundation they let it down.

When I worked in maintainence in a factory I saw a tow motor that was used to move machines. It was about 10 feet tall and probably 3 times as long as tow motors most are use to. It lifted a injection molding machine about as long as a semi trailer and about as wide. I got to help replace a seal in the ram assembly. The ram was 8 to 10 feet wide. We didn't have a allen wrench to fit the allen bolts as it needed one about 2 inches. I asked my boss why couldn't we use a bolt the same size,weld a nut the same size to it then use the big socket set on it toloosen it. He said that might just work, go make us one. I did and it worked fine. It took 48 hours to replace it. other shifts finished it. Check out these and other videos on youtube as they are neat.

willy3486

Member





Number of posts

: 1391


Registration date :

2011-07-02



Here is another neat video of a building being moved. This is similar to the way the houses were moved by me but not as big. They moved 10 to 20 from here where I live. I was one of the ones off the road enough they didn't get mine.



Right now a half a mile from me there are three houses up on blocks waiting to be sold by the mover. 2 of them have been there a year or more and the last one has just been lifted in the last month. when they did my BILs house they filled in the ditch line with 8x8 posts so they could drive out on the road.

When my BIL moved he gave me his 2 outbuildings. They were the 8x10 metal buildings. I took one apart to move and it took all day then another day to put it back together. I thought about how they moved the houses so on the next one I thought I would try that. I got some 2x4s and 2 of the 4x4s. I notched the 4x4s on one end so they would slide easier. I dug under the front so I could put two car jack under the front corners. I then got them up about a foot and blocked the sides to hold it up. I then did the same in the back. With it up on 4 corners I put about 5 of 2x4s across then slid the 4x4 skids under from front to back I screwed the 4x4s to the 2x4s and set it all down. I was able to pull it no trouble. I was able to move it and install it in about 4 hours instead of spending 2 days like I had on the first one.


willy3486

Member





Number of posts

: 1391


Registration date :

2011-07-02



---
Permissions in this forum:
You
cannot
reply to topics in this forum