I have been wanting to put together a tutorial on soldering for some time now and I thought I would start it on the installment plan.  I want to do this primarily for the first timer or for those who have started, but are not satisfied with their results.  I know the old hands among us have their ways and some of my advice might not be your selected manner of doing these things, but bear with me, I am trying to help those just starting.
PREPARATION
As with many things, preparation is everything.  a bit of dirt, dust, rust, corrosion, coatings or oil can ruin a solder job easily.  For the prep work, I recommend getting 91% isopropyl alcohol to clean off the objects or area to be soldered.  A retired toothbrush and maybe an acid brush to clean with.  Have plenty of paper towels and use them under the portion you are cleaning to absorb the runoff.  It may be possible to use rags but they do not all absorb alike and sometimes contain oils that recontaminate the cleaned area and they just love to snag and get caught up in some areas.  I use either a solvent dispenser with a push top with a reservoir, or a flux bottle to keep the alcohol in.  For heavier corrosion, a stainless steel detailing brush can clean corroded or coated surfaces, as well as comb and clean stranded wire ends.  To clean off stubborn paint or lacquer I use acetone.  A reliable swab to use with solvents is a folded bit of paper towel in a pair of hemostats.  For some broad surfaces, a union ink eraser makes an excellent abrasive that takes the place of steel wool.  For printed circuit work, a pencil type ink eraser does the fine work well.  I specify the white ink eraser as it contains pumice to act as a proper abrasive.   Use enough solvent to carry off the dirt.  You will know if you didn't clean things well enough when the solder crystallizes or doesn't adhere.  Do the prep.  You are not wasting a moments' tome doing so. If you abrade the surface wash it afterwards. Have some pipe cleaners.  They will come in handy to clean out tube pin sockets after soldering.
Solvent dispenser.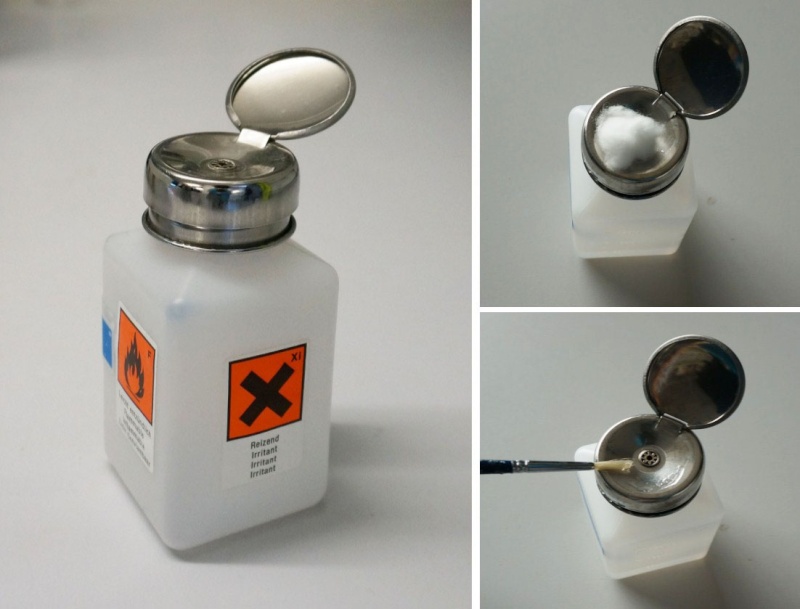 Stainless detail brush.
Hemostats.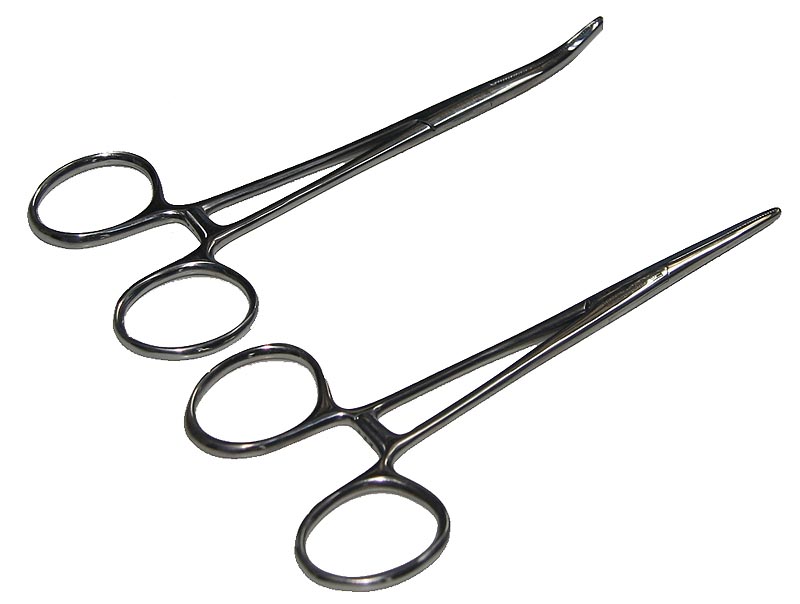 Ink erasers.
[url=https://servimg.com/view/19190532/13]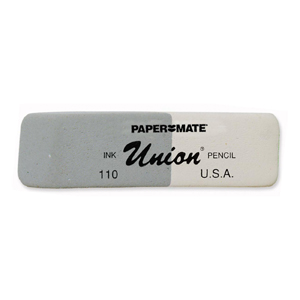 Last edited by 75X11 on Thu Jul 30, 2015 8:06 pm; edited 4 times in total

75X11

Member





Number of posts

: 4453


Age

: 65


Registration date :

2013-03-10



THE GUN
There have been many makes of soldering guns made over the years.  After you become familiar with the characteristics of the older makes that are no longer in production you can venture into obtaining a golden oldie.  Also, there are so many anonymous makes, with different price ranges and no repair parts to be had, that there are only two types I would recommend for a beginner. Both are the Weller units in the lower and higher wattage varieties.  The reason I would recommend them is the same as for any other iron.  There are spares for them.  Their tips are available.  I realize that they have been cheapened in quality in recent years, but they still work and if you drop them and smash their case, you can either find a replacement online or a parts gun on Ebay.  Shop around for your spare tips at your leisure to save.  For the lower wattage iron, they make tips that has a flattened U shaped bend for the tip.  Lay these aside and use the solid pointed tips.  they offer more mass to transfer heat.  I also recommend getting a can of tip tinner for these to get a few more uses out of unplated copper tips.  Always check the fasteners of your tips to make sure they are snug, but not tight enough to deform the portion you fasten the tip to. They loosen with heat/cool cycles.
The Weller soldering gun
The Weller pro high power gun.
Last edited by 75X11 on Thu Jul 30, 2015 8:12 pm; edited 1 time in total

75X11

Member





Number of posts

: 4453


Age

: 65


Registration date :

2013-03-10



THE IRON
There are a myriad variety of soldering irons available.  Recognizing the prime purpose of an iron for folks on this site would be to work with the robustly constructed vacuum tube tech equipment with some soldering of small structures within the chassis,  I recommend this approach to finding a suitable iron.  I would find one that uses a tip that has a 1/4 inch shank.  If you intend on doing a good deal of printed circuit board work, a finer tip with a temperature controlled station would do.  For that.  For the heavier tube type units a good single temperature iron of 60 to 80 watts should do for most point to point wiring, with heavier soldering being taken up by the gun.  I would again suggest a well known name brand iron and when you find a likely looking iron, GO ON AND FIND the replacement tips for it.  IF YOU DON'T FIND many tips at all,  you have found the wrong iron, whatever its price.  You will need a variety of tips for it to use it effectively and if it has a tip that looks like a piece of telegraph wire cut with a pair of bolt cutters and dipped in the solder pot, you have definitely found the wrong one.  Be big.  Spend the money. Get a good tool.  It will definitely reward you later.  One other thing.  Get a good stand for the iron, that has a tray for your wet sponge.  Get the kind the stained glass workers use with an iron base.  If you don't, you will spend half your time trying to put your iron in it without tipping it over.  I have performed many of these mistakes for your benefit and that is how I offer you these recommendations.  
 You will want a conical screwdriver tip and a broad chisel tip to start off with.
Weller W60P 60 Watt iron
A metal iron stand.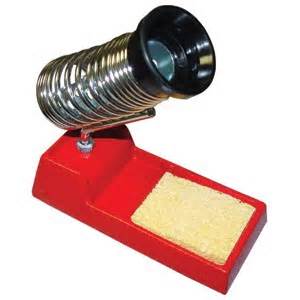 Last edited by 75X11 on Thu Jul 30, 2015 8:20 pm; edited 2 times in total

75X11

Member





Number of posts

: 4453


Age

: 65


Registration date :

2013-03-10



TOOLS AND ACCESSORIES
You will need pliers to help form your wire joints, a good set of flush cutting wire cutters,  a good wire stripper, a hobby (X-acto) knife and replacement blades, a few stainless dental picks, and some hemostats to get into the spaces where your fingers can't.  They can also manipulate wires to make up your joints prior to soldering.  I would advise spring loaded cutters and pliers.  I prefer coil springs as they last and do not develop jerky action when using them.  The dental picks are valuable for teasing apart bundled wires after desoldering.  As I am writing this for those setting up their bench for the first time and watching costs, I will also recommend a manual solder extractor to start with.  There are a number of different types available and thus far I have used the simple metal bodied spring loaded extractor.  You might also look up my thread on modifying solder suckers to see how to put a silicone rubber tip on the sucker to allow it to conform to the solder joint and extract more solder per extraction. The hemostats and picks can be gotten at Harbor Freight or Ebay for cheap.  Get 5 or 6 inch cutters and pliers as they are the handiest to work with.  You might also want a 8 inch thin needle nose plier to manipulate heavier gauge items without deforming the pliers.  Another important tool is a good flux bottle.  I strongly recommend a cylindrical plastic squeeze bottle with a one piece bottle cap that accepts "luer-lok" syringe needles. just as strongly I advise getting one that has a cap that will secure the tip water tight.  If you have ever had one of these tips to have flux dry up in it you will appreciate a good cap to keep this from happening.  Also it will keep you from picking up the bottle by jabbing the tip into your forearm when doing other things on the bench.  If worse comes to worse and the tip becomes hopelessly clogged, you can replace the tip.  a pump reservoir bottle is good for alcohol  the commonest manufacturer is Menda.  Once you see what they are, you can look up the cheapie weepie off brands of those.  A stainless steel brush as previously mentioned is also a handy tool for brushing off the tips of your gun or iron when the buildup goes beyond what can be wiped off with the sponge on your solder stand.  One other optional tool is one that I have used at home and work for nearly 40 years now.  It is my third set of hands that allow me to just worry about setting up the wiring or assembly and the item being worked on is being held.  The jaws on this open wide enough to hold a tabletop radio chassis.  I have it mounted on a bench clamp so it can be put up when not needed.  the l-jaws reverse to give even more capacity.
http://www.bing.com/images/search?q=panavise&view=detailv2&&id=B5764F4D1C1F6FB43990FE4F98A3BFFD8E886569&selectedIndex=68&ccid=FNmHRvQ5&simid=607994836630963853&thid=JN.UYHc4mDTBDKlZQHMSkkDNA&ajaxhist=0
0ne other thing that will help immensely.  a good bright light either with a magnifier or a good wearable magnifier.
The X-acto knife.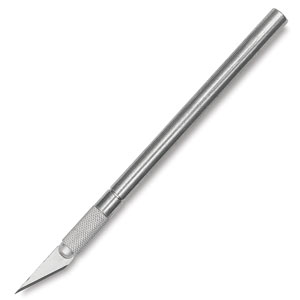 Dental picks.
Spring loaded pliers.
Spring loaded cutters.
Flux bottles with luer lock tips and caps.
Last edited by 75X11 on Thu Jul 30, 2015 8:29 pm; edited 3 times in total

75X11

Member





Number of posts

: 4453


Age

: 65


Registration date :

2013-03-10



CHEMICALS
I have already mentioned 91% isopropyl alcohol and acetone.  A vitally important chemical necessary to good soldering is flux.  in electrical soldering, it is most often rosin which is basically a refined component of pine sap.  the solder I recommend will have a center of paste flux, but it many times is not quite enough to get a good, glossy, thoroughly wetted connection. there are fluxes that will clean off after use with alcohol and types that that are intended for water wash.  Alcohol will clean off both.  I use liquid flux dispensed from a squeeze flux bottle for most point to point soldering.  For soldering such things as stranded wire and tinning, paste flux works well.  It also does well where liquid flux would run off the work.  A tip tinner is a handy chemical tool.  it is powdered solder blended with sal ammoniac, the latter being a powerful thermally activated metal cleaner.  You dip the tip of the iron into the material and it cleans the tip and instantly covers it with a coating of solder.  You will find this useful if you have a tip become "dry" and then it will heat solder maybe melt it and none will adhere to the tip.  This is where a tinner comes in.
Liquid flux.
Tip tinners.
Paste flux.

75X11

Member





Number of posts

: 4453


Age

: 65


Registration date :

2013-03-10



SOLDER

There is presently a drive in the electronics industry to eliminate all lead bearing solders from new built products.  As we are working with equipment that was manufactured before this need, and that the joints we will be making in some equipment will need to have structural integrity that the lead free alloys have difficulty in providing,  I will concentrate on the lead bearing 60% TIN, 40% LEAD ALLOY that is more akin to the solders used in the original manufacture.  I have checked a number of major suppliers, and both lead free and leaded solder are available.  If you should have concerns about this course of action, please bring it up in the accompanying comment thread and we will work things out.  For most purposes, the solder we will be using is ROSIN CORE Sn60.  It comes in a wide variety of diameters.  In my solid state work, I use .031 inch solder.  That diameter is impractical for old radio work.  Something more near .125 inch would work better.  Rosin core solder should give you a head start toward a good wetted solder joint.  I still use liquid flux on the areas to be soldered, though.  Read the specifications carefully for the solder you purchase, as you can get solid, no rosin core solder too, and that can be a pain to return with shipping charges.  If you go to the hardware store to get it, do not under any circumstances get acid core solder.  This will create a mess of your equipment and soldering tools.  You want electronic grade solder.  Also double check the alloy.  If you get the wrong stuff, remember you will be shipping a big chunk of lead back for exchange.  I would recommend MCM electronics for purchasing, as they have pretty clear spec's and sizes.  It might be worthwhile to get a smaller spool to allow you to see what your consumption will be.  There are various solder creams, glues that are solder bearing and even strips of solder alleging that you can wrap it around a wire splice and heat it with a match and it will miraculously achieve a good soldered connection.  Do not buy these.  They will usually only come so close to working correctly that they will break your heart.

Resistance Is Futile explains a bit more about the soldering materials used with surface mount components in the "comments" thread accompanying this tutorial.

75X11

Member





Number of posts

: 4453


Age

: 65


Registration date :

2013-03-10



THE SOLDER STATION

As I have mentioned before in the tutorial, a good heavy soldering station is a extremely valuable tool as it keeps your iron in a stable location and far enough to your center of work to prevent your being burned by it. It should be heavy enough to keep it from being easily overturned or scooted across your work area. It should include a receptacle for a moistened sponge that will not allow it to flop out when you clean your irons' tip on it. I have watched people try to clean their iron on a pocked burned dried up sponge to try to solder with a dry burned iron tip and wonder why they don't get better results. A sponge will clean a wetted tip in usable condition. Some think the purpose of a sponge is to cool the iron tip before soldering. Watching the readout on a iron's temperature display will show that it doesn't cool it appreciably. Trying to clean the tip on dry material is only marginally effective. You can buy cellulose sponges and cut them to fit your station, that saves money. There are tip cleaners that uses metal wool, but they shouldn't replace the sponge at the station. A temperature adjustable station can provide a stable station as an added bonus.

75X11

Member





Number of posts

: 4453


Age

: 65


Registration date :

2013-03-10



QUALITIES OF SOLDER WORK

When one heats and applies solder, there are a number of characteristics that one must become familiar with, because in performing this work the person performing is the first inspector and this work done well will last a long time.  A poor job, a short time even if for no other reason than to want to correct it.  First of all, one must clean , flux and heat the surface to be soldered.  Too much heat or heating long enough to evaporate the flux, or trying to heat and solder a contaminated surface will cause inclusions or cause the solder to take on an argent surface.  An argent surface is a grainy crystalline surface.  You will hear joints displaying such appearance referred as being a cold solder joint.  Inclusions are burst air pockets, burnt debris or metallic debris.  You do not want to do work like this.  An experienced solderer will take it that the person doing that as one with limited experience and with some practice good results can be had.  Having enough heat to melt the solder and keep the flux, but not heat the surface adequately will usually give a glossy shiny bead of solder, that is adhered to the surface on a layer of hardened flux.  It is much like the bead of water on a waxed surface and does so for much the same reason.  Surface contamination can also cause this.  If your solder beads up and will not adhere, make sure it is clean.  Sometimes chrome or nickel plating or lacquer applied to a otherwise solderable surface will cause the problem.  The stainless steel brush mentioned in the tools section will do well here.  I would advise going to a thrift store and getting some cheap electronic items to try your skills on.  Your seeing the result is very important as this is an acquired skill, not just a rote performance.  Also try soldering wire, yes, just wire. That will show you just how important cleaning and preparing and fluxing the solder joint is.  You will notice when soldering insulated wire, the longer you heat the joint, the more insulation you will ruin, leaving a small exposed area much larger due to heating.  The wire will also give you all the nastiness, argent and inclusions you can handle too.  You should try practicing making twisted wire joints until you can get a good wetted joint with only 1/4 inch or less shrinkage of the insulation and without debris nor a crystally argent joint. This will be good practical experience for what you will need to work on the old units, concentrating on the operation of it as opposed to getting through putting the connections together.  It is even legal to use sandpaper to clean the wire, but be sure to clean with alcohol too.

75X11

Member





Number of posts

: 4453


Age

: 65


Registration date :

2013-03-10



CHASSIS SOLDERING

In the old days when many of these radios were made, they used large irons with heavy large tips that were always kept at temperature on the production lines. that is not practical for the hobbyist. A heavy duty soldering gun, such as the Weller D550 can give you the heat necessary to apply and bond solder to metal chassis and to make a positive connection from other components to the chassis. This can afford you more options when wiring during a restoration. Such a tool can be a valuable addition to your tool box.

75X11

Member





Number of posts

: 4453


Age

: 65


Registration date :

2013-03-10



---
Permissions in this forum:
You
cannot
reply to topics in this forum