It has been a few years since I redid my Magnavox Symphony stereo, model 1ST655S, circa 1961.  This thing gets its wheels run off, since it is the frau's daily driver out here.  It runs every day, most all day.  We have it and the Imperial connected to a Sony 300 disc CD changer.  I normally run the Imperial, she runs the Symphony.  She has it set to her favorite FM station.  There was a burned out dial bulb that I replaced and I replaced the needle.
The Symphony had developed a noise in Channel 2 that was just a little scratching sound, once in awhile.  Very irregular at first, then became more common.  It started happening enough that I could actually have time to troubleshoot the condition.  I decided that it was the 6EU7's, so I changed two in the amp and one in the tuner.  I tossed all three of the originals, per my normal practice.  This seemed to have corrected the condition for a time.  Then it started doing it again, but different than before.  The only time it would be heard is between songs in the quiet spot.  Then it was just a little crackling or scratching, and only from Channel 2 again.  I switched 6EU7's channel to channel with no change.  I changed the 6BQ5 JJ's in the audio similarly, again with no change.  Then I started guessing.  I had replaced the crossover caps in the speakers when I redid the stereo.  When I was at AES the other day, I got a set of 33uf at 50 volt electrolytics and connected them in such an arrangement to end up with 16.5UF non-polarized 50 volt electrolytics.  My goodness, what a difference.  I'm not of the audiophile group that can "hear" the difference in components.  To my way of thinking, a cap is a cap.  A cheap one is a good as the most expensive.  I am going on the theory that, if indeed it is finally fixed, I had a bad component or a cold solder joint.  It surely sounds nice again, and the frau now has a Magnificent Magnavox replacing her Mediocre Magnavox that she was complaining about.  While I was there, I removed the speakers and dusted everything really well on the outside chance that there might have been some stray dust that had been unaccounted for.  I have pictures of this procedure, and will post them once I get them on my computer.
The hacked changer made up of three changers, none of which were any good.  It is the nicest looking piece of junk I own.  It has the unacceptably nasty habit of dropping the record on top of the tone arm.  I can't seem to get it to work right.  I have the correct changer, a Collaro S-600, "Imperial Micromatic" allegedly purchased, but it has not arrived yet.  This changer plays records manually just fine and it sounds surprisingly good for having a ceramic cartridge. There are lots of negative comments about Collaro changers of this vintage being hard on "vinyl." I personally feel these comments are unfounded.
This is the underside of the changer.  It is a later Astro-Sonic Collaro W-600 series Micromatic, circa 1965.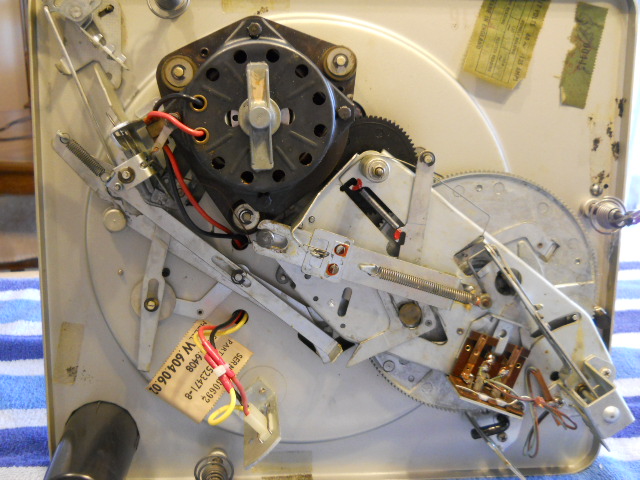 The correct platter off the original changer. The model number is typically located on the top of the platter, under the rubber mat. Many times this mat has turned to stone, and I am not aware of any reproductions currently being available. I run a felt mat on mine. It prevents record slippage, is a little easier on the record, and helps with turntable rumble, normally not a problem considering the four-pole motor and if the drive tire is in good shape.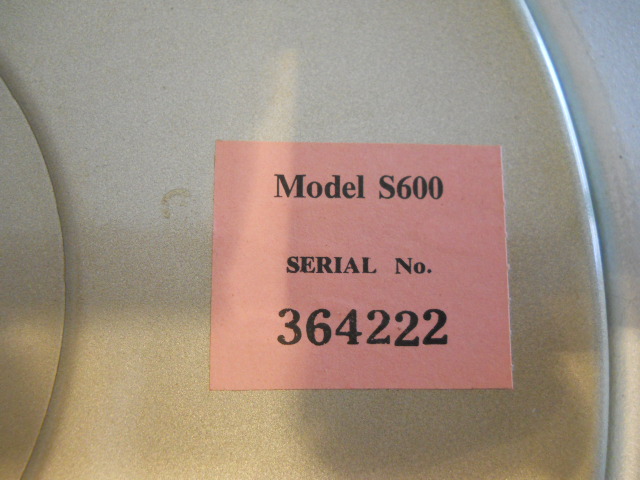 New crossover capacitors.  I needed 16uf @ 25 volts or close for the crossover capacitors.  I got two 33uf @ 50 volt electrolytic caps and connected them in series with the negatives together.  This yielded a 16.5 ohm @ 50 volt non-polarized crossover capacitor.  I left the original caps in place to give support to the new ones.  The original cap is disconnected.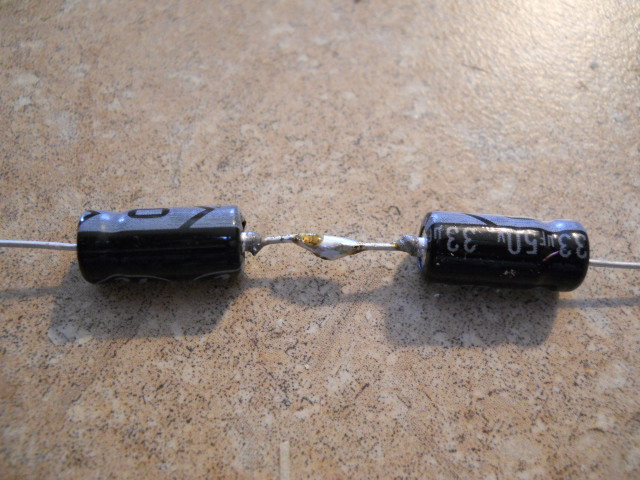 15" speakers.
The 'business end" of a Magnavox Symphony stereo.  The 93-02-00 amplifier chassis.  This particular amplifier is the darling of the console rapers and "tube amp" crowd.  Although I am not a fan of wholesale scrapping of a console stereo to rob its amp, I can certainly understand their affection for this amplifier.  In my opinion, the 9300 series of Magnavox amplifier is the absolute best performing amplifier Magnavox ever built.  Magnavox claims 30 watts output, but that would be about 15 or so per channel actual.  15 watts will make lots of pretty music in this configuration.  Notice that the inside of the cabinet is finished.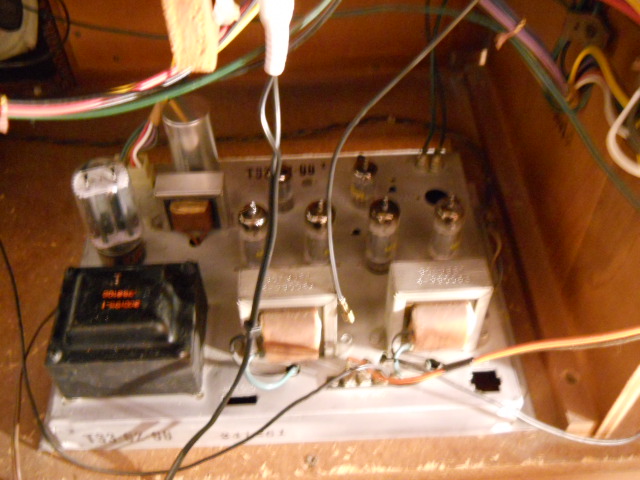 The "little" speakers in a Symphony.  A 6" mid-range and two, series-wired tweeters.  The ones you see had a blown "new" crossover capacitor.
Oops!  I should have turned that picture.  It is on its side.  Just turn your device on its side and the picture will be straight!  
The front side of a 15" speaker.  Not really much dust here since 1961.  More on this later.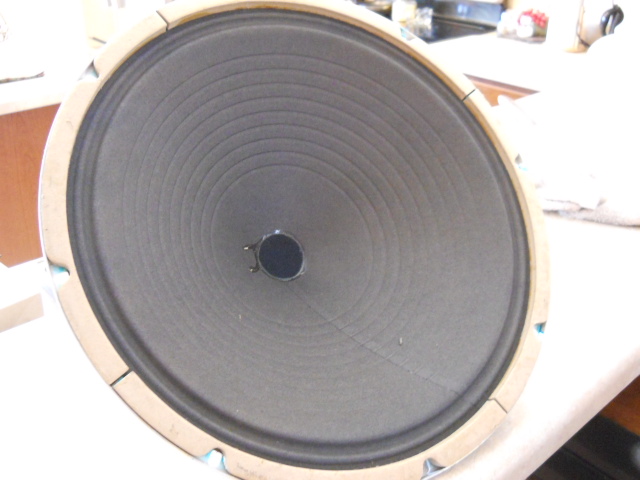 The control panel on my Magnavox Symphony.  A genuine 6-knobber.  Anytime you see a 6-knob Magnavox tuner, you know you are dealing with a top-line Magnavox, even though this one is four notches off the top of the line.  The Concert Grand, "big" Imperial, "little" Imperial are all ahead of the Symphony in the line-up.  This tuner, a 57-09-00, is basically the same tuner as the senior instruments.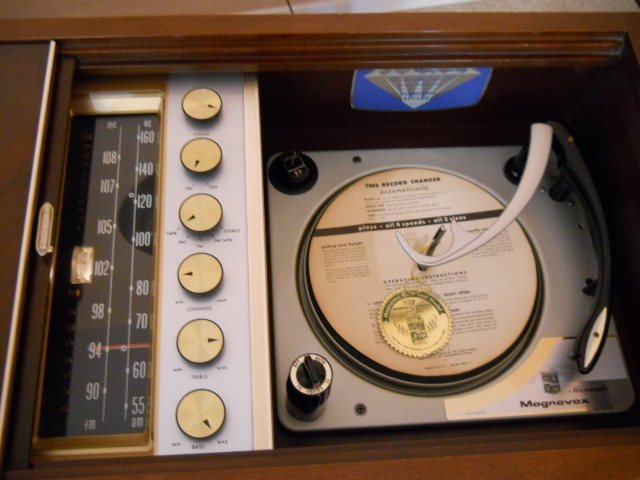 This shows how transparent the speaker grille cloth is on my Symphony.  There is a lamp for light to see how much comes thru the cloth.  You can see the edge of the rug the console is setting on plainly thru the cloth.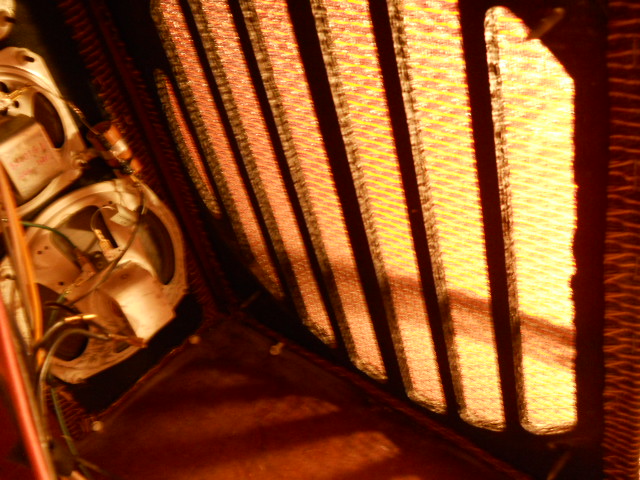 The last picture brings up an interesting topic.  The picture of a Magnavox console stereo (one of mine) was criticized on another forum for having "filthy" grille cloth.  Apparently, in the picture I had posted you could see the outline of the speakers thru the grille cloth.  A poster pointed this out and claimed that the reason the speaker showed thru the cloth was that the cloth was dirty.  I wasn't very happy about the insinuation that my stereo was dirty, but I had never really thought about this before.  What I have found is a tad less ominous than dirty grille cloth, per se.  Admittedly, anything that is 55 hears old is not new, and may be more stained, discolored, or dirty than when it was new.  What I found, borne out by the above photo, is that Magnavox speaker grille cloth is quite thin.  It needs to be acoustically transparent in order for sound to travel thru it.  The theory of the speaker cones moving and sucking in dirt is rather shot in the head by looking at the driver in these pictures.  The cloth in this instrument appears to be fairly rigid, like it was starched and stretched across the wood.  The board is painted black and the speaker cone is black.  In certain lighting conditions, or when photographing with a flash, the driver shows thru the cloth.  It was recommended that I remove the cloth and scrub it with all sorts of aggressive sauces, but I fear more harm than good using these methods.  This stereo has been vacuumed a couple times a week by the frau and it is in good enough shape to suit us.  So, the theory that drivers seen thru grille cloth is due 100% to dirt is pure bilgewater, as far as I'm concerned.  Cleaning speaker grille cloth that is 55 years old may be necessary, but any attempt should be tempered with reason to prevent damage.  
I wanted to share these pics with you.  Thanks for looking.
WC
Last edited by Wildcat445 on Mon Feb 16, 2015 9:13 pm; edited 1 time in total

Wildcat445

Member





Number of posts

: 4893


Registration date :

2011-09-19



This site is the only one that allows me to miss new threads and especially new threads that I don't want to miss! Informative and interesting thread. Info I hope I can put to good use one day!

75X11

Member





Number of posts

: 4453


Age

: 65


Registration date :

2013-03-10



Funny thing, last night I was watching "Mission: Impossible" on Metv and Mr. Phelps got his marching orders in a recording studio from a transcription disc, on a turntable that had a tonearm that resembled yours pictured, with a brush and the letter "M" at the front of the oval inset.

75X11

Member





Number of posts

: 4453


Age

: 65


Registration date :

2013-03-10



Thanks, 75. I hope we have the honor of reading a Magnavox thread started by you one of these days!
Sharp-eyed viewers may notice the original Magnavox branded tubes in pic of the amplifier I posted. That is a shot of pre-restoration condition that I took to make sure I got all the wires back where they belonged. The black wire dangling in the photo is for the AM antenna. The picture I took when I did the tune-up is not light enough, as I had the flash off. I forgot to mention this fact, and I apologize for any confusion.
I wondered why this thread did not appear at the head of the page like they normally do. I figured that I had done something wrong, as is my M.O.
WC

Wildcat445

Member





Number of posts

: 4893


Registration date :

2011-09-19



To respond to your comment about the turntable in "Mission: Impossible", I know Collaro supplied stand-alone turntables.  I'm not familiar with models and specifications to speak authoritatively, but it is my understanding that they could be equipped with magnetic cartridges, something changers installed in Magnavox instruments never had. I am not familiar with the "M". None of mine have that. All of my Magnavox Collaro changer tone arms have the brush. It gets full of fuzz and floats the needle up, just like if the needle got fuzz on it, so you have to stop and clean things and go on. If one cleans records properly, this should not be an issue.

WC

Wildcat445

Member





Number of posts

: 4893


Registration date :

2011-09-19



This record fortunately, was of the flammable variety.

75X11

Member





Number of posts

: 4453


Age

: 65


Registration date :

2013-03-10



Maybe his brush had nitro in it?

WC

Wildcat445

Member





Number of posts

: 4893


Registration date :

2011-09-19



To get back on track, I wanted to mention that I have had good results in cleaning grille cloths on some smaller units and the method may work for larger panels using a kitchen sink or gentle garden sprayer. I remove the cooth and remove it from any stiffening panels and get some polypropylene or polyethylene mesh sheets of the type sold by hobby stores to use for making pictures with cut yarn. I sandwich the cloth between two sheets and hold them together with twist ties, fishing line or ty-raps. I then take some fishing line and run it straight through the weave of the cloth securing it to the mesh pieces. This keeps the cloth from fraying or becoming distorted and helps keep it from shrinking. I use a mild cold water detergent. for smaller ones, I cut the mesh to the size of the cloth and wash it on delicate. Or it could be sprayed through until rinsed after a soak. Drip dry it in the mesh and iron.

75X11

Member





Number of posts

: 4453


Age

: 65


Registration date :

2013-03-10



Your method gives consideration to supporting the cloth to prevent shrinking or putting a lot of strain on it. That makes a lot of sense, given what I have seen with my Magnavox cloth. The frau used some kind of spray fabric cleaner on the Imperial because I did not want to remove the boards. Another advantage to your method is that it gives a person a chance to straighten and align the cloth that has sagged after 50 years. Thanks, 75.

WC

Wildcat445

Member





Number of posts

: 4893


Registration date :

2011-09-19



I received the replacement changer for this instrument.  I took some pictures to share with you guys.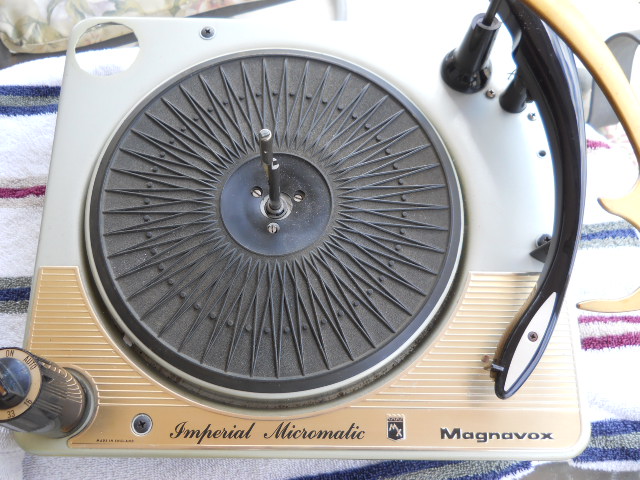 The changer was covered in a liberal coat of tar and nicotine.  I have never seen anything with as much cigarette ash on it.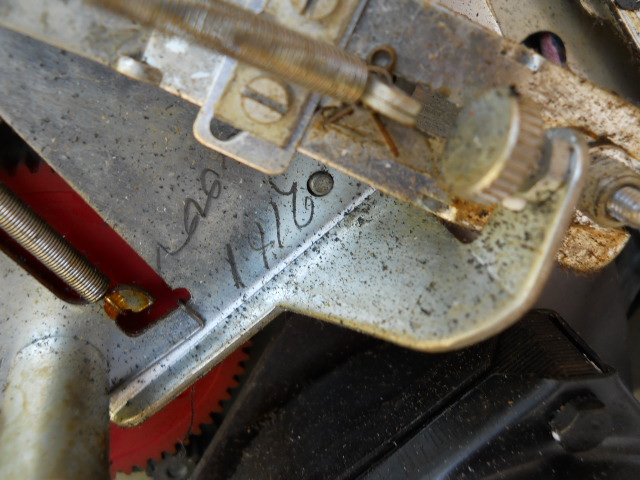 The changer had all the stickers still on it.  That is fairly unusual.  Some of these stickers I had never seen.  The correct S-600 model.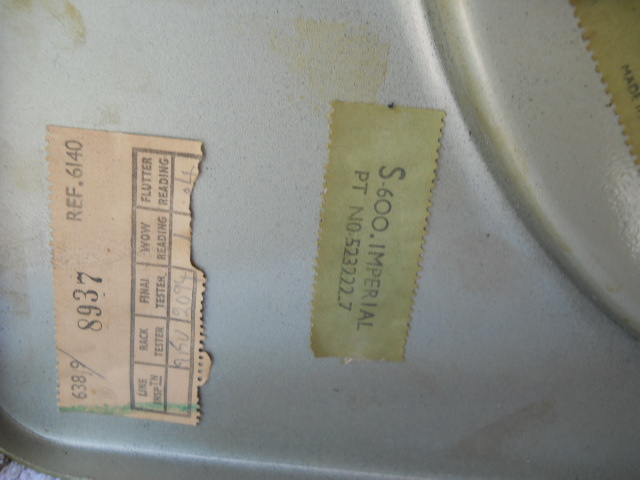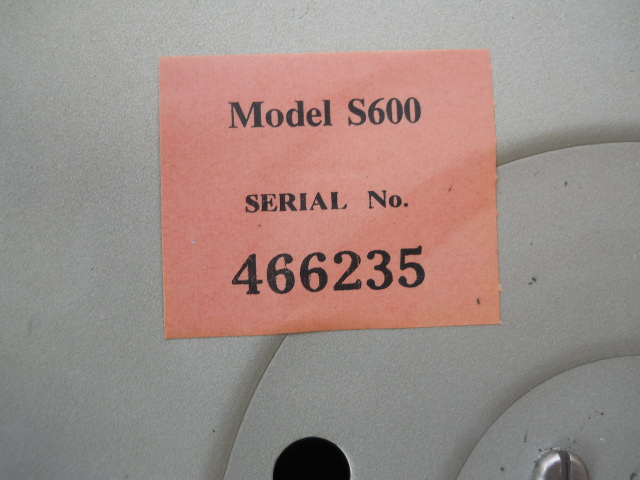 Tar and nicotine, combined with oil and gunge made a huge mess under the platter.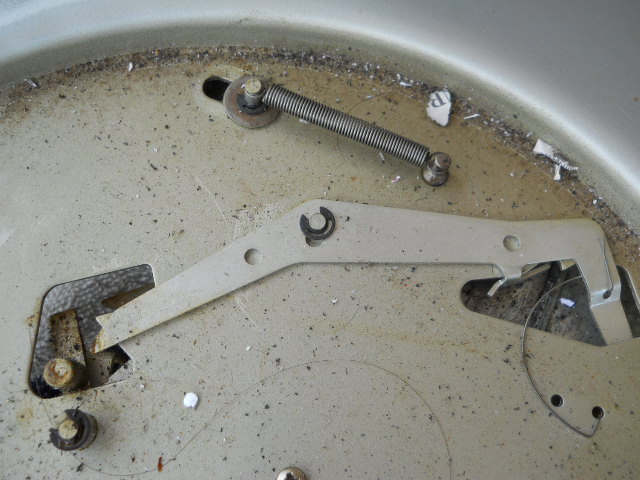 The round anchor on the speed control linkage is what was broken on the original changer.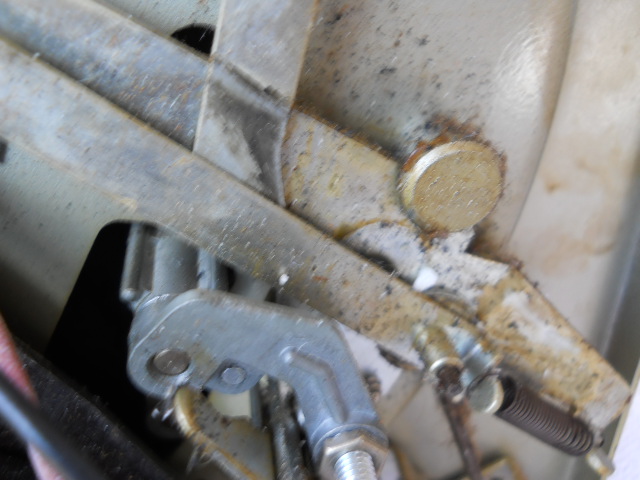 The suspension springs and clips are missing.  These items being gone may present a huge problem if you don't have spares on hand.  I knew these were gone when I bought the changer.  I have a few spares.  I'm not sure whether Gary at VM Enthusiasts has these or not.  If you buy one of these changers, make sure the springs and clips are included.  The 45 adapter is gone, too, but I have several of those.  
The pointer on the speed control is still visible.  That is normally worn off.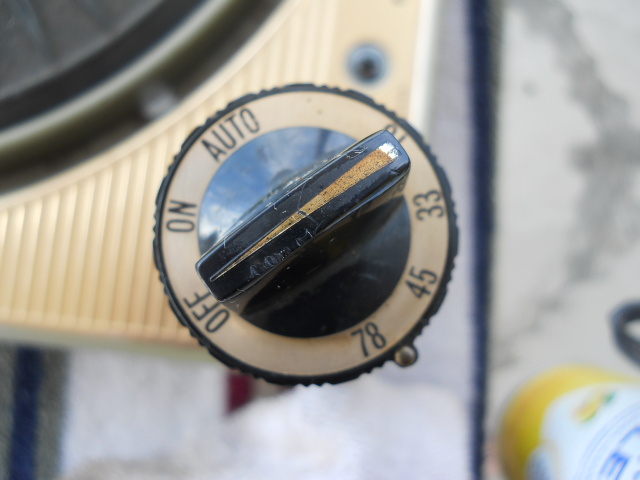 This changer is in nice shape overall.  I gave it a bath in Windex and rubbing alcohol, and got all the junk off the motor board.  The motor and changer mechanism is so covered with cigarette ash that I am going to have to use compressed air and lacquer thinner to get all that junk off.  I'm going to replace the drive tire and the changer tire due to all the tar and nicotine and oil that are on them.  The changer may never work well without their replacement.  The overarm is bent, but I knew that going in, and I have a spare.  I will have to take the motor apart and clean it up.  This changer should build out well, and be a nice addition to return the old Symphony to its original condition.  I have a spare "Imperial Micromatic" trim that may replace this one.  There is a piece of round gold trim that fits in the center of the platter pad that is missing here.  I will use my original pad.  The needle brush on the tone arm is black from nicotine and dirt.  I'm going to soak it overnight in denture cleaner to try and clean it up.  The changer has the same Euphonics cartridge in several other of my Magnavox instruments, so I should have a spare needle to use in this one.
WC

Wildcat445

Member





Number of posts

: 4893


Registration date :

2011-09-19



Nice pics and very informative.

75X11

Member





Number of posts

: 4453


Age

: 65


Registration date :

2013-03-10



---
Permissions in this forum:
You
cannot
reply to topics in this forum