I got this little wooden radio in a bunch of other stuff recently.  I have taken some pictures, and will try to get them posted.  I am performing the usual routine on these little radios, recapping, checking resistors, tubes and all that.  This is a transformer power supply set with a 6Z4 (84) rectifier and 41 output tube.  I have tested the power transformer, found it good.  An unusual occurance is that when I was testing the transformer, with the rectifier out of the set, I heard scratching from the speaker.  There was no B+ anywhere since the rectifier was out.  With no power anywhere, how could there have been any noise coming from the speaker?  I actually checked, and there was no voltage anywhere except the tube filaments.  So I am going to look for a heater to something short in the output tube.  I have had gassy 41's in the past.  I found a dead filament in the 78 If amp, so I had to change that.  There are only a handful of caps in this set, so it should be fairly easy.  I restrung the dial cord, as it was long broken.  The chassis is pretty nice with no mouse pee or other signs of vermin.  I killed a huge spider when I got this radio home, and I checked for any of his cousins remaining and found none.

WC

Wildcat445

Member





Number of posts

: 4893


Registration date :

2011-09-19



Is it like this one;
http://www.radiomuseum.org/r/philco_38_12.html
Yes. That is the one. Mine is not as nice as that one. The grill cloth on mine is original, and somewhat stained. The frau says it has to go. I found a couple wires that were cut and did not appear to go anywhere. Referring to the schematic, I have found that they are antenna wires. Why they were cut is anybody's guess. It got up to 103 here today, and my shop was rather toasty. There is nothing but football on TV this evening, so I am going back to the garage to make another stab at this one. Notice the odd pattern of the veneer on the front of the cabinet. There is another streak on the top like that. Right above the dial. Thanks, MR MEZ, for the link.

WC

Wildcat445

Member





Number of posts

: 4893


Registration date :

2011-09-19



I finally got the pictures onto the computer.  The victim: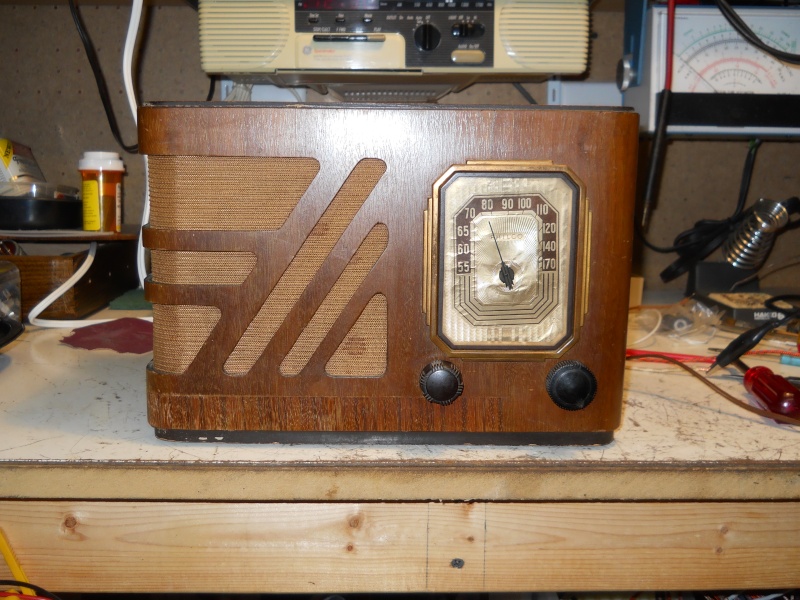 That picture was taken after I got it working.  I found a matching knob.
My cabinet is slightly different than the one MEZ linked, so here is the documentation.
The chassis is really pretty basic with lots of room to work.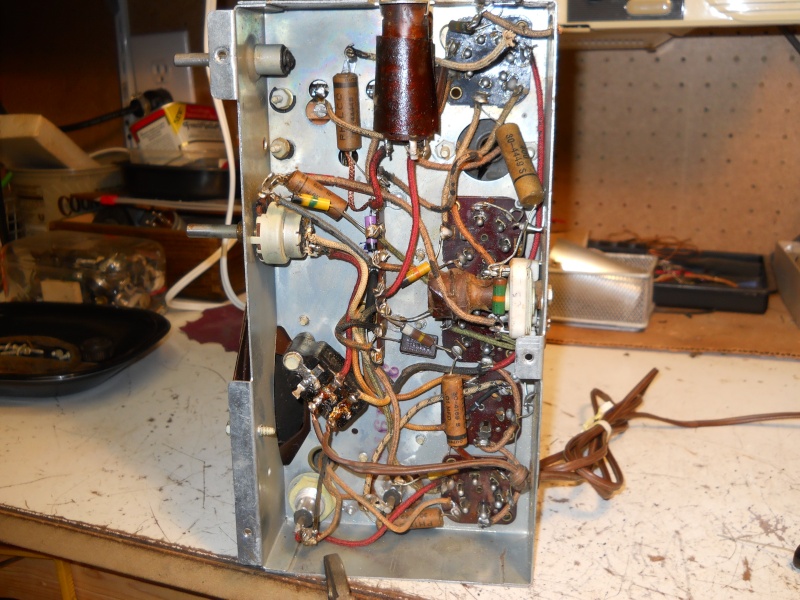 Another chassis shot.
I restrung the dial. The dial plate is still a tad off-kilter. The top of that plate is slotted, whie the bottom is not. I am going to take my Dremel tool and hog the bottom hole out a tad oblong to allow me to adjust the plate. The tuner grommets are okay, just in case you were going to suggest those. I did a thorough recap, restuffed the bakelite block, replaced the electrolytic caps with a 10uf at 450 and a 22uf at 450, which is as close as I had on hand. I put everything back together, replaced a couple tubes, the 78 which had a dead filament, and the 41 that had a heater-cathode short. I ramped the voltage up slowly on my Variac and dim bulb, saw no smoke, head nothing strange. In fact, I heard nothing except noise. No stations. More at the lower end of the dial, near silence at the upper end. I had checked all the coils, all were good. Both IF transformers checked good. I put my finger on the grid of the 75 and heard a nice buzz in the speaker. I had my trusty signal generator warming up, so I connected it to the set. I found the second IF and the second half of the first IF badly out of alignment. The RF adjustments were all messed up, too. After a thorough alignment, this little set is a pretty good performer for a five tube radio. It still needs the cabinet refinished to pass muster with the frau. That is a project for another day.
WC

Wildcat445

Member





Number of posts

: 4893


Registration date :

2011-09-19



---
Permissions in this forum:
You
cannot
reply to topics in this forum