I got an amplifier (??) plus this 1-208 signal generator (weighs about 120 pounds):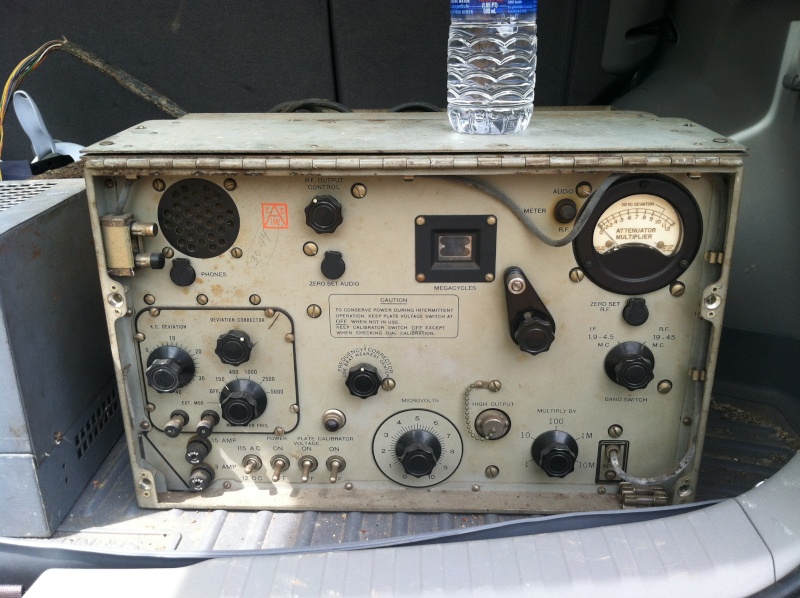 I'm pretty sure this is an amp - maybe for some type of radio? Three (3) full-wave rectifiers and 6L6-type tubes (no designation on the one tube as shown - just guessing it's a 6L6 type), and Four (4) dual-section can caps: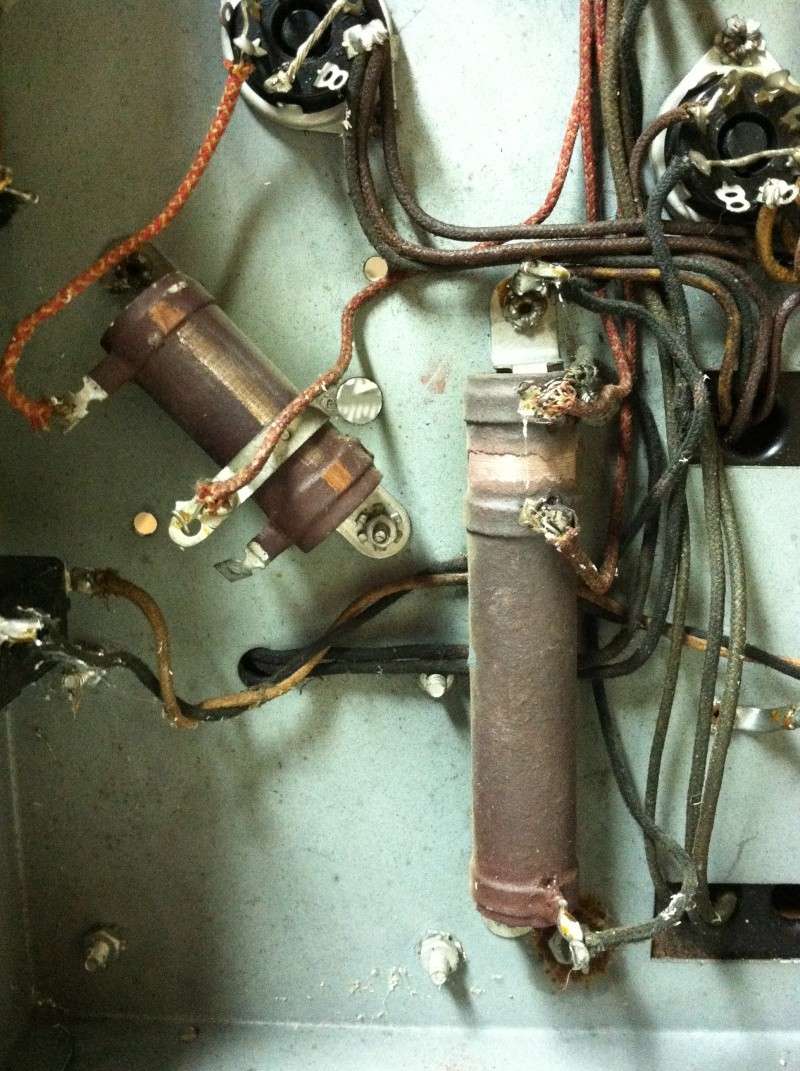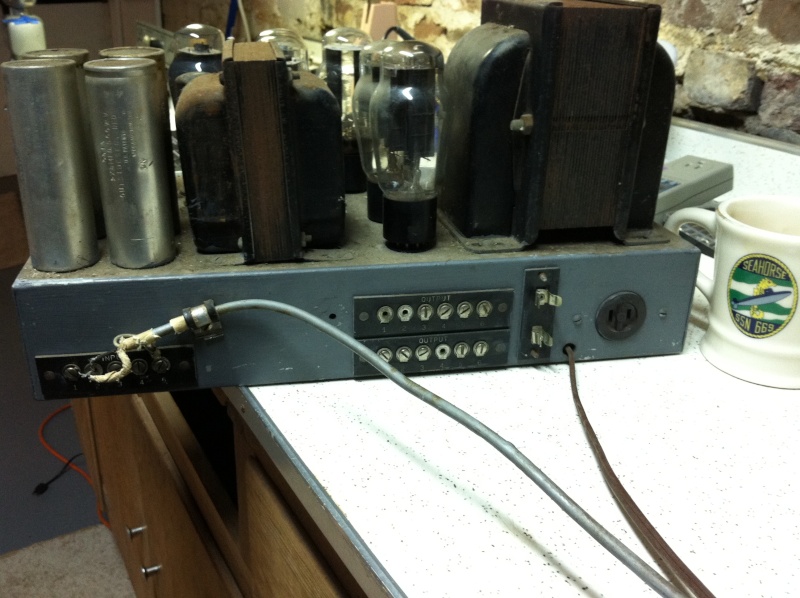 And ... that fuseholder is part of the circuit - fuse is missing.

NashvilleRad

Member





Number of posts

: 92


Age

: 56


Registration date :

2012-01-05



I wonder if that amp is a amp out of a jukebox or a external amp used for a movie theater. You might need a preamp or some kind of volume control. My 1947 seebug has a separate chassis for different parts of it. I think it and my other jukebox has a seperate volume control on the outside of the amp.

But the amps I remember in jukeboxes I remember seeing are stamped with the name. I almost wonder if it is a homemade item. That many 5u4 tubes seem odd. The 6l6 is not too off as they are amp tubes. Interesting piece.

willy3486

Member





Number of posts

: 1391


Registration date :

2011-07-02



It appears to be stereo, witness the dual output channels. One of the 5U4's should be a pre-amp or phase inverter tube of some kind. If you look at the bottom of the chassis, that seems logical. Agree that there was another chassis of some sort with the volume control on it. Note the power plug on the back of the chassis and the input layout. Doesn't look homebrew to me. The fuse holder is kinda cheesy, added on, but other than that not bad. Lots of big iron in there. The small transformer, in front, identified as an output transformer is probably some kind of interstage coupling transformer, IMHO.

Regards

WC

Wildcat445

Member





Number of posts

: 4893


Registration date :

2011-09-19



Indeed - no volume control. And the line in is a 2-prong plug and the one line out is a 1/4-inch jack. I forgot a picture showing the metal top - you can barely see it in the first picture on the left side of the frame next to the signal generator - the top looks similar to those Dynaco amps.

The chassis and the top have been painted gray, and it looks like there was a small metal billet that was taken off the front.

The guy who sold me these things just wanted them out of his store (and I obliged for 10 bucks) - he was convinced the generator and this amp thing go together, but I'm not so sure ... but that's why I posted in this category, thinking it could however be some amp for radio communication.

If I could figure out the one unmarked tube, I may be able to do a search by tube lineup.

Thanks again!

NashvilleRad

Member





Number of posts

: 92


Age

: 56


Registration date :

2012-01-05



CORRECTION - as shown in the last picture, there is one input terminal strip (with the 1/4-inch jack attached) and two output terminal strips - and as such appears to be a stereo-type amp.

NashvilleRad

Member





Number of posts

: 92


Age

: 56


Registration date :

2012-01-05



Looks more like the 6L6's are running push-pull parallel. The transformer next to the filter caps is an input transformer since it has leads connecting to pin #5 (control grid) of each pair of 6L6's. The 5U4's next to the power transformer are the full wave B+ rectifier, the 3rd 5U4 may be a bias rectifier.

mr_ed01

Member





Number of posts

: 130


Age

: 77


Registration date :

2012-03-16



The SG appears to be for FM and not much good for consumer sets.

Id expect the amp has dual PP 6L6's based upon the dual outputs and likely running as line level amps. A couple of those wirewound resistors look like toast and the construction looks typical 50's with a repair or two along the way.

The dual 150V electrolytic below the chassis sure says bias supply IMO.

Plenty of parts from both units if youre into home brew and the power transformer has to be worth something as its sure hefty enough even for a ham transmitter of 100W and more.

Carl

276merc

Member





Number of posts

: 23


Registration date :

2013-07-02



That is one beefy looking amp. I wish i could come across stuff like that for 10.00. I'd say if you cant quite figure out exactly what it is or do not want to restore it, i'm sure those 6L6G's would fetch a pretty penny on eBay.. However if you get that thing restored and working i imagine it would be quite a good sounding powerful amp.

tuberadiogeek

Member





Number of posts

: 647


Age

: 39


Registration date :

2013-02-11



---
Permissions in this forum:
You
cannot
reply to topics in this forum