Here i have what i believe is a doorbell xfmr, but am not certain bc ive never seen one with a switch tied into it or one even being tied into a load side of a outlet. I havent even seen a switch like that ever, i know its old but not sure how old it is. However i think it may be bad bc i'm not getting any voltage out of the xfmr. I'm guessing its something like a 12-15 volt one, but not sure. Its been attached to a post in the basement for many years. I know the house had a doorbell 25 years ago, thats what makes me think its for a doorbell. I'd like to install a one again(if its ok w/ the landlord) if the xfmr is still good. I started tinkering with it last night but quit bc i thought i better make sure its what i think it is.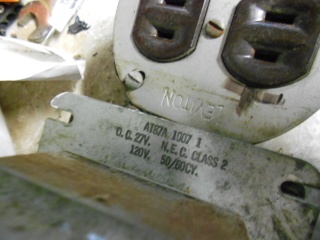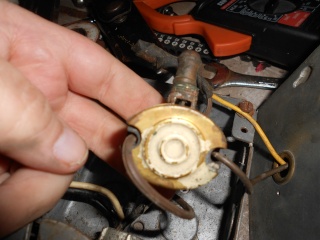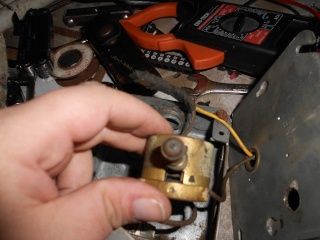 tuberadiogeek

Member





Number of posts

: 647


Age

: 39


Registration date :

2013-02-11



It does look like a doorbell transformer and should be @ 16VAC output. I have seen them mounted like that but not with a switch, it might have been used for something else. That transformer has a 2 terminal output and would be for one doorbell. Others have three terminals for two doorbells.
I am with Mezlaw on this, It looks like a doorbell transformer. But one thing is I also have never seen one with a switch. I wonder with the switch could it be to something else like a heat unit. How was the switch wired in? Wss it wired in so that it turned off the transformer? Did the transformer have wires screwed into the secondary side of it? If so and you have a doorbell button on the house you could ohm those two wires and have someone to push the doorbell. If it changes then you know that was what it was for.

willy3486

Member





Number of posts

: 1391


Registration date :

2011-07-02



Looks like it is furnace power related.



Notice R and G by the output terminals.... R is common (red) , G is fan control (green) and W (white) is return in old heat-only systems. They use 24 volts AC. What is the output rated? Looks like it says 27 volts? Can't tell from your pictures. Could also be a supply for the ignition of old oil powered burner furnace. Me thinks that isn't a switch, but a resettable circuit breaker.

We'll see if any real HVAC guys chime in.

Dr. Radio

Member





Number of posts

: 899


Age

: 40


Registration date :

2012-09-17



There is also another option. When my xfmr failed, I went with a wireless doorbell. A button remote at the door and the chime at any outlet. The button runs on a garage door opener battery. It's done fine for 2 years so far.

75X11

Member





Number of posts

: 4453


Age

: 64


Registration date :

2013-03-10



I now think Dr. Radio is correct. I didn't see the 27 volts which is too high for a doorbell.
This house never had any type of furnace besides a coal furnace many many years ago, and 2 natural gas furnaces. I guess i will bypass that switch, which is tied into 1 side if the 120VAC side of it. There is no doorbell button any longer, and the xfmr was taken out of service years ago, i just finally got curious enough to remove it and mess with it. I'm going to mess with it again later today. Say if it does still work and is 27 volts couldnt i drop the voltage down with a resistor on 1 side of the circuit? Does anyone have an idea of how old that switch is?

tuberadiogeek

Member





Number of posts

: 647


Age

: 39


Registration date :

2013-02-11



The xfmr is still alive, i removed the switch and tied the wires together and checked the voltage and bam, 26 volts even. I'd like to drop the voltage down to between 18 and 20 volts to run a general purpose bell for a doorbell. The guy that i'm going to get a bell from said he tested it 24 volts but idk if it could take 26 and i dont want to chance it.. I rather keep it below 24 if i can, so i dont damage the coils on it. I just am not sure what size resistor i need to drop the voltage.

tuberadiogeek

Member





Number of posts

: 647


Age

: 39


Registration date :

2013-02-11



You can purchase a new doorbell transformer at most hardware stores for next to nothing. I wouldn't mess with that old one.
The whole reason i wanted to put a doorbell back in was due to already having a transformer, which is still good. I seen menards has a 16 volt for 10.00, but i'm not trying to spend alot of money on putting one in. I found a nice large bell for 10.00 and will probably spend 5-7.00 on wire. I probably wouldnt even have to spend money on a resistor as i likely have one in a junk radio chassis.

tuberadiogeek

Member





Number of posts

: 647


Age

: 39


Registration date :

2013-02-11



---
Permissions in this forum:
You
cannot
reply to topics in this forum