I can't believe I did this, but I got saw dust in my eye on Saturday and had to go to the emergency room. This was very foolish and stupid on my part. I have eye protection waiting for me everywhere. I have them in every one of my shops and in both garages and both homes and I ALWAYS use them. Well,....... until this saturday when I went to make one more cut and didn't put on my eye protection.
Please.....don't take the chance I did, it's why I haven't been posting for a few days. I'm fine now!
One thing I've found is that with as little vision as I have, my eyes are still precious to me. I enjoy seeing things. Notbody should ever take their eyes for granted. Even with the little I can see I know keenly well how important my eyes are to me.
And, yes, I make mistakes, also. Oh, boy! Do I make mistakes!
Bill Cahill

_________________
Please also join us here; www.videokarma.org/index.php

Bill Cahill

Admin





Number of posts

: 4432


Age

: 70


Registration date :

2008-03-12



Excellent topic! Molten solder gets around like mercury under a hammer. The cleaners we use can get loose easily too. They make a lot of comfortable eye protection these days and they can even magnify now. It's a good investment.

75X11

Member





Number of posts

: 4453


Age

: 64


Registration date :

2013-03-10



I know all about sawdust in the eye, as i've done it twice. The first time i was on a jobsite chipping up brush from a tree that was removed. I was at the chipper doing what i was supposed to and some saw dust flew out from there and right in my eye. I tried and tried to get it out but ended up going to the ER and they flushed my eye and checked my cornea with that orange dye and a black lamp, and i had slight abrasions on it.. it was not fun.. That was oh probably 6 or 7 years ago. The second time involved trees again, except i was helping my family split fire wood and the wind caught a tiny bit of saw dust from splitting on the hydraulic splitter and right in my eye. It wasnt as bad as the first time and flushed my eye myself so much the skin under my eye was rubbed raw. I couldnt stand anything bright in that eye for 2 days and had to keep a moist towel on it for a day and a half.. It was not fun.. That was just back in November.. I'm going in get a good quality pair of safety glasses soon. I have to find good ones that fit over my prescription glasses.

tuberadiogeek

Member





Number of posts

: 647


Age

: 39


Registration date :

2013-02-11



Yes eye protection is very important. It's just our attitude about "Just this once"!
I too have had experience while working with the Safety Office in the Shipyard. Safety Glasses were mandatory. However one person decided since he wasn't involved in any work and was only passing a from distant area where rotary wire brushing was being done He was safe. Two days latter His eye started to hurt. Come to find out He had a wire from the wheel inside eyeball, got infected and almost lost His eye.
saftey goggles would work with glasses.
You can be doggone sure of that!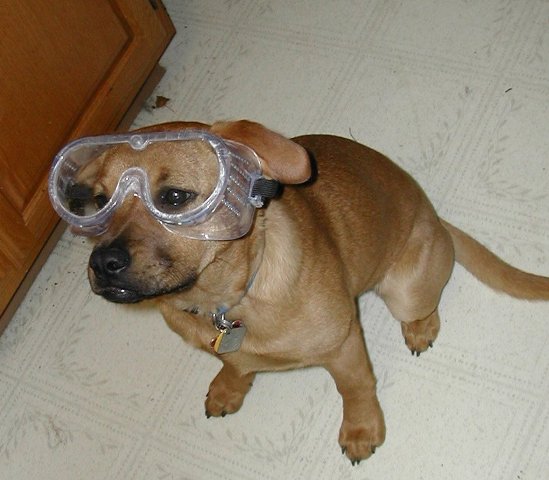 Exit stage right!

Resistance is Futile

Member





Number of posts

: 913


Registration date :

2008-03-12



A wire from a wire wheel in the eye would hurt for sure.. luckily ive never had a wire in my eye,(and i dont want to either) but i have in my fingers before and that hurts enough.. My only issue with safety goggles are they always fogged up my glasses. That makes it much more difficult to do anything.. Ive thought about getting prescription safety glasses from wal mart since they are fairly inexpesive but i dont know if they would stop stuff from getting into my eyes..

tuberadiogeek

Member





Number of posts

: 647


Age

: 39


Registration date :

2013-02-11



having good vision in only one eye, yes wear your protection. I don't always because I forget. Take one acorn to the eye while weed whacking and you will put your goggle on.

simplex1040

Member





Number of posts

: 299


Registration date :

2008-03-14



Just a little follow-up. My eyes are fine.

While money is not as important as my eyes, the mistake on my part did cost me a little. I recieved my emergency visit bill today, it was $505.90!!!!

Maybe it's a good thing I've that much taken out of my backside, I hope it will help me to remember to take better care of myself.
Again I am very grateful it was so minor an injury.
---
Permissions in this forum:
You
cannot
reply to topics in this forum