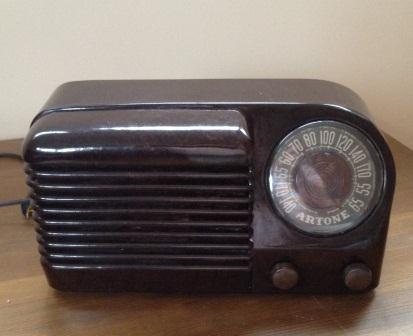 [/url]
OK - I think I have solved the mystery of how to post pictures - I just wanted to share this cute little Artone R-1046-U AA 5 radio (made by Olympic Radio) - it arrived covered in 3 layers of latex paint, finished off with matt black for that 'Mad Max' look !
The rectifier tube filament on one side and associated pilot lamp were both open but beyond that it was not hard to recap and get going. However the speaker was completely smashed so I replaced it with another one and grafted the original audio transformer back onto it. It plays very nicely - does not hum at all - and puts out a cheerful sound all day when required !
It is nothing special whatsoever but there's always something nice about something simple that does it job well with no fuss.
I originally planned to re-paint it but I like the bakelite finish so I'll keep it like that for now.

chrisc

Member





Number of posts

: 25


Registration date :

2012-08-29



Nice job and a big improvement.

N7ZAL

Member





Number of posts

: 493


Registration date :

2011-11-05



Wow big difference! Looks great!

stringbender31

Member





Number of posts

: 44


Age

: 50


Registration date :

2012-02-14



Cute radio. Sometimes these cheapies do the best.
Bill Cahill

_________________
Please also join us here; www.videokarma.org/index.php

Bill Cahill

Admin





Number of posts

: 4432


Age

: 70


Registration date :

2008-03-12



Thanks for the kind words - I have other radios which can easily out - perform it but I like it's 40's style and somehow it has 'personality'.

It does work better than I thought it would - pefectly fine for local stations - and it's often the one I choose if I just want something playing in the background.

chrisc

Member





Number of posts

: 25


Registration date :

2012-08-29



Performance is certainly limited to the stronger stations but I think mine probably works as well as it ever did.

One interesting quirk is that there is only a small gap between the rectifier and audio output tubes and the top of the cabinet so it gets pretty warm to the touch after a couple of hours !

chrisc

Member





Number of posts

: 25


Registration date :

2012-08-29



Hi Chris,
I have had the same model for at least 25 years. Found it in the trash, and it was in perfect condition. Simple recap. This cabinet is almost the same as the Olympic models, just a slight variation at the bottom feature lines. I think that this dial glowed too, check it out in the dark. It's not too bright, but a darker glow. Maybe a radium paint, I don't know.
You should have great reception, so perhaps it is a weak tube, or in need of a very tiny tweaking of the alignment. Don't attempt it if you have never aligned a radio before. You have done an amazing job of removing the junk on that cabinet.

GaryRabbitt

Member





Number of posts

: 95


Registration date :

2008-07-04



Thanks, Gary ! I did do a quick alignment 'by ear' , not measuring the voltage, but maybe I'll revisit it and see if I can find some more 'oomph'. It's not bad like it is unless I'm straining for distant stations.

I'll also look to see if its radio-active !

chrisc

Member





Number of posts

: 25


Registration date :

2012-08-29



---
Permissions in this forum:
You
cannot
reply to topics in this forum