Page 3 of 3 •
1, 2, 3
This is a section of the schem that I am using.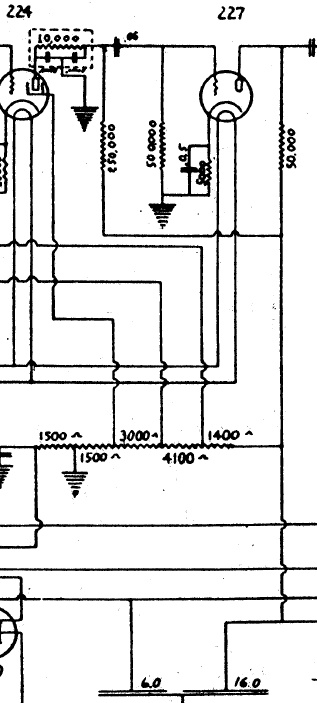 datsun280

Member





Number of posts

: 30


Registration date :

2012-07-30



Well, maybe I read you wrong. But, you still have a short. What if you just check that resistor in that can by itself? What resistance do you get?
Perhaps one of your micas is shorted?
I also agree with someone who suggested perhaps the volume control at antenna was wired wrong? I don't see how it could not work. It's simple. When you turn down the volume, it shorts out the antenna. That should knock the volume substantially down. Another possibility is maybe the antenna coil is open? But, I don't see how it can even work that way..... I lean in the direction that the control was wired wrong. I can see why the wirewound control would work better than a carbon control there....
Sorry, but, yuour descriton of your wiring didn't sound right. Then, again, I did have to go back to bed this morning due to lack of sleep.
Bill Cahill

_________________
Please also join us here; www.videokarma.org/index.php

Bill Cahill

Admin





Number of posts

: 4432


Age

: 70


Registration date :

2008-03-12



Early in the vc problem project we had changed the connections at the vc taps to all possible combinations with no change in the vc problem.
Even disconnecting the antenna lead and grounding the antenna while connected to the vc did not stop the reception and resultant high volume only condition.
Without any apparent way to control the situation, the next steps used were to move the vc circuit.
The carbon resistor that is currently installed is 10k ohms. Haven't taken the wirewound resistor caps off to value the wirewound.



datsun280

Member





Number of posts

: 30


Registration date :

2012-07-30



i have used linear taper pots for these sets with success.they are usually in the 2k to 10k range .ocean state electronics used to have them but i haven't done any in years.butch

butch

Member





Number of posts

: 27


Registration date :

2008-05-09



Finalized the set with the vc within the screen circuit. With the addition of a 30k resistor, the performance smoothed out very nicely.

Thank you Bill and everyone else that helped to get this dilemma solved.

datsun280

datsun280

Member





Number of posts

: 30


Registration date :

2012-07-30



Disregard. I didn't realize this was a multi-page thread.

- Leigh


Leigh

Member





Number of posts

: 22


Registration date :

2012-10-09



Page 3 of 3 •
1, 2, 3
---
Permissions in this forum:
You
cannot
reply to topics in this forum