Does anyone here know where or how I can get a good clear copy of the schematic for my Stromberg Carlson 61-H? I've purchased on DVD copies of Beitman's and Rider's but the image for this particular radio is blurred for too many values such as cap and resistors. A parts list would also be great. I've been comparing the schematic I have downloaded  from the Radio Museum web site to Model 62 (1936) from Rider's. I'm just beginning this hobby of radio restoration so I will have more questions.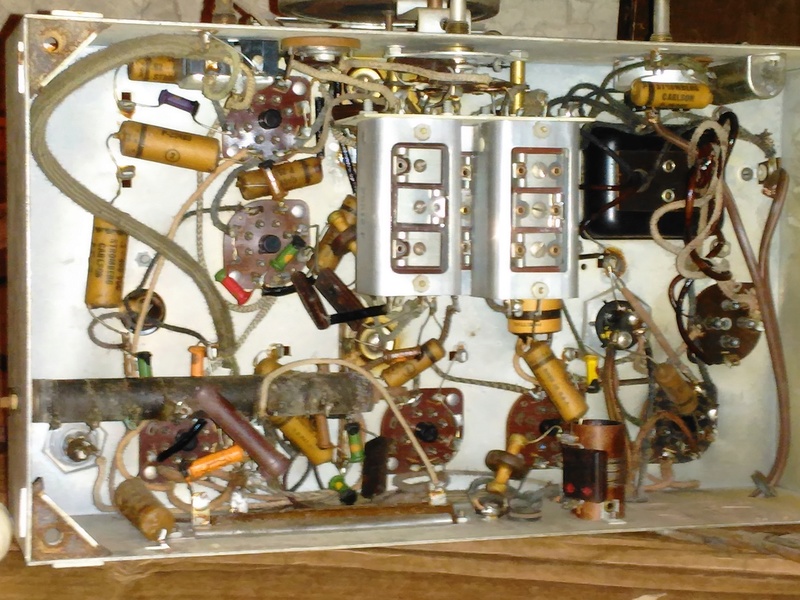 In the above picture of the chassis the long power resistor appears to be several resistors together on a rod. What wattage is this type of resistor? Where's a good source for replacement? If it's made of several discrete resistors why didn't they just use what they needed? Also the resistor attached to the chassis wall I've seen this type talked about in some Youtube videos but I'm still not sure of whether to replace it and with what?
Did I post the above picture correctly?

Radiola214

New Member





Number of posts

: 2


Registration date :

2017-09-14



Need to cajole someone into scanning at hi-rez the Riders pages involved. Be aware that some Riders are poor to begin with as that is the data that was supplied to Riders, back "then". Riders did not customarily redraw schematics as does Sam's' currently.

If the resistors shown are not open or shorted to chassis leave them be.

They can be replaced with tie strips and individual resistors or aluminum potted resistors that are bolted to the chassis.

All are available from Allied, Mouser, Digi-Key, Newark, Farnell, etc.

Wattage can be calculated from published voltage and current flow on tubes. Generally, power resistors are from 5 to 25 watts depending how much current is flowing. Most stages of the radio are about 5-10ma but the power output will be about 50ma for single ended. All approximate unless some concrete figures can be found.

There are no "gimmies" if the data isn't published so measurements and calculations have to be made.

Ohms law applies. E/RI

Some large potted resistors, can still be measured if they fail by gently cutting into the ceramic at the very en to get a probe on the resistance wire. Most fail at the ends.

The voltage divider resistors are usually custom values so a compromise must be made in selecting a standard value. Most will be within 10-20%.

YMMV

Chas

Chas

Member





Number of posts

: 95


Age

: 71


Registration date :

2008-07-24



The long resistor on the 'rod' is not original to the set.  It's probably replacing an open section of R13, the 'candohm' resistor mounted on the back of the chassis.

mr_ed01

Member





Number of posts

: 99


Age

: 74


Registration date :

2012-03-16



Thank you very much for the info on that resistor rod being non-original to the radio. It looked like the tabs on it had been connected to something at one time. I did some more research and found that this type of resistor attached to the chassis wall is a Candohm Resistor and found a link to their replacement courtesy of Canadian Vintage Radio.

Radiola214

New Member





Number of posts

: 2


Registration date :

2017-09-14





Similar topics
---
Permissions in this forum:
You
cannot
reply to topics in this forum