Hello everyone, I know of someone who has fallen on hard times and is needing to sell some stuff and one of the things he's wanting to sell is a Marantz 2226 Stereo Receiver, and he wants to know a little more about the unit and what he could possibly get out of the unit if he tried to sell it.
Some of my research has turned up that this is a lower end model but not bottom of the line, and that it is a desirable model and that the price collectors are willing to pay for it is between $150-$300 give or take (but most of these forum posts I found this info in were 10+ years old and I'm sure the prices have fluctuated some since then whether it was up or down I'm not sure as I'm not up on the Marantz Collectors market). So if anyone on here can give me some information about this receiver and what it is currently going for I would appreciate it.
Also I told the guy when he first showed me a picture of the receiver (which the picture didn't include the model number of the unit in the picture) I kind of told him that the receiver could be worth as much as a $1,000 but of course that's for the really high end Marantz Recievers though and like I said when I first saw the picture of the receiver I didn't see what model it was and of course today the guy brought the receiver over for me to look at for him and I saw the model number and did a google search for it and that's when I found the information stating that it was a lower end model and was worth about half of what I told him it was worth initially because like I said at the time I didn't know what model it was or anything. The guy told me the receiver kind of has some sentimental value as it was his mom's receiver originally and his mom passed away 3 years ago and he really doesn't want to have to sell it but with him being in the poor house so to speak he's been desperate to get money to cover rent and stuff because he is currently jobless because no one will hire him because he's a transgendered individual so he's basically living off welfare and whatever he can get from the stuff he has that he can sell.
Like I said any help would be appreciated on this matter.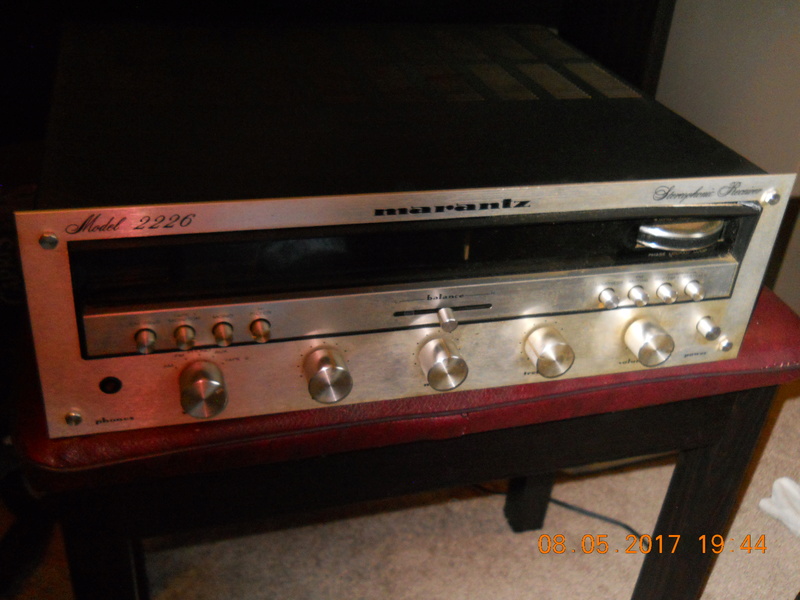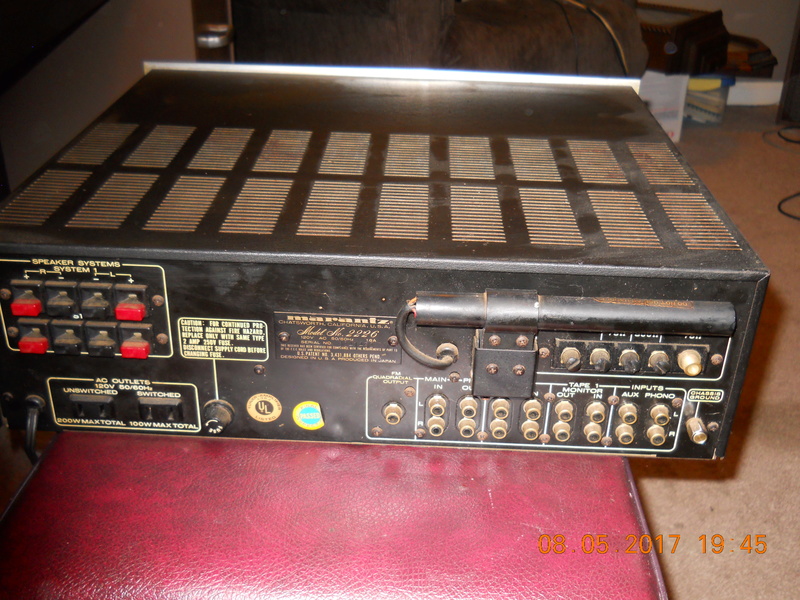 Last edited by CaptainClock on Sat Aug 05, 2017 9:24 pm; edited 1 time in total (Reason for editing : forgot to insert images)

CaptainClock

Member





Number of posts

: 81


Age

: 29


Registration date :

2017-07-13



Also I'm sorry if this post is breaking any forum rules, seeing as I'm new here I'm not exactly up on what's considered kosher here post wise.

CaptainClock

Member





Number of posts

: 81


Age

: 29


Registration date :

2017-07-13



Concidering this one isn't a high end model, $150 to $300 is a fair estimate for one of these. I had one that i sold for $200 a couple of years ago. Of course you know it all depends on it's electronic and cosmetic condition to fetch the higher end of that estimate. These had trouble with burned out dial lights and dirty control's and contact's but otherwise were pretty reliable. I dont see where you are violating any rules so your fine. I'm glad your trying to help your friend out. These are tough times for everyone.

Tony V

Moderator





Number of posts

: 657


Age

: 49


Registration date :

2008-09-13



Thanks, I wasn't sure, but anyways I kind of thought what I researched was fairly close to what these were going for still but wasn't sure seeing as all of the forum threads I saw out there on the internet concerning this particular model of reciever were over 10 years old or approaching it anyways and I wasn't sure if the market had changed since then for these. As for this receiver I'm checking out for this guy his has burned out bulbs of the 8v fuse variety, also the FM Stereo bulb is burned out on it, and also the tone control and mode switch and volume control pots are dirty and intermittent which means I'll need to get some De-oxit and clean the contacts, if he wants me to do that for him, and then see about getting some new bulbs for it also for him, again if he wants me to, which if he wants top dollar for this unit he'll probably want me to do some work on it to get it up to snuff for him. Anyways thanks for the help.

CaptainClock

Member





Number of posts

: 81


Age

: 29


Registration date :

2017-07-13



So how unusual is it for all of the fuse style backlight bulbs in these marantz receivers to burn out all at once? I'm wondering because when I powered up this receiver to test it out to see if it was working right or not all of the backlight bulbs are burned out on it and assumably they all burned out at once also the FM Stereo lamp was burned out as well the only pilot lamp that worked still on this receiver was the one for the pointer for the tuner dial. I was thankfully able to replace the FM Stereo Bulb with a spare one I had laying around that was spare parts from an old AM/FM/8 Track Stereo Receiver that I had parted out because it wasn't working right but the pilot lamps on it were still good so I salvaged those out of it and so I was able to use those for replacement FM Stereo bulbs in old stereo receivers that had bad FM Stereo Bulbs because they were all 12v bulbs which is what the bulbs are rated at usually for the FM Stereo lights. The Bulbs that this receiver uses are I guess 8v 200mA fuse style bulbs which I can see are only available on Amazon it seems and nobody has them locally (there are two electrical supply houses near me and both of them don't seem to have them from their suppliers the only Fuse Style Lamps they have are 12v and 14v lamps but no 8v ones it seems).

CaptainClock

Member





Number of posts

: 81


Age

: 29


Registration date :

2017-07-13



Not to uncommon for all of the lamps to be blown. I used to see that all the time on Marantz receivers. I don't know what causes them to blow except for maybe age and a short service life. These lamp's were hard to find back in the day so if you found them on Amazon i would suggest you place an order for this one and get a few extra for future project's.

Tony V

Moderator





Number of posts

: 657


Age

: 49


Registration date :

2008-09-13




---
Permissions in this forum:
You
cannot
reply to topics in this forum