Hello friends,
I am looking for information, even pictures, drawings, descriptions of any Zenith mechanical Automatic tuner that has silencing switching or "squelch" contacts. Zenith schematics show a couple of variations of connections as open ended leads from the amplifier or detector. Such connections, if shorted or grounded would safely silence the audio when the Automatic tuner is manually activated from one station setting to another.
NOTE: There are two "open" pins on the Autotuners pilot light cable that would seem to indicate that this may have been an option for some of the most highest end models. FWIK there are no Riders documents and the Zenith manual vol 1 & 2 condensed that I have shows only the flying wires in the schematic. Careful examination of at least two models of the "Automatic" tuner do not show how a switch and activating mechanics were applied. There is an area of tabs in punchings on the side-plate the may hold a "special" switch. No common switch appears to fit. I have been slowly progressing with assembling such a model in this series Zenith, I am down to this Automatic tuner and would like to include the silencing option if I can.
Anyone familiar with these Zenith Automatic tuners and have information to share?
I have noted of the two variations of Automatic tuners I have, there are two different lengths of universal couplings.
Below are two images of the Zenith Automatic tuners.
The first is a complete Zenith 52 with the Automatic tuner to the far right. Note the side panels so the Automatic tuner can sit further back in the cabinet and not collide with the access door.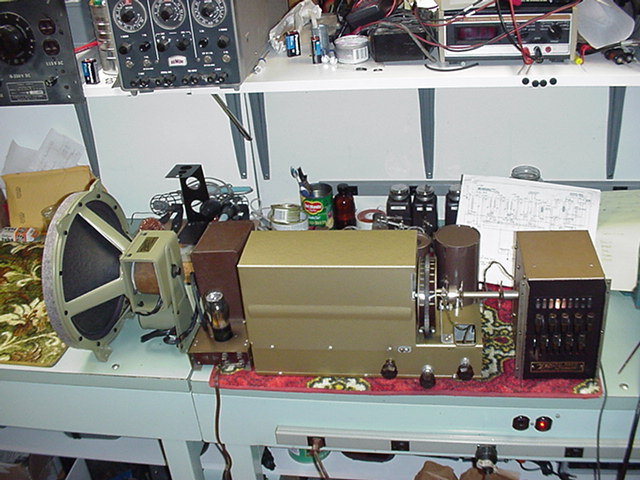 The second image below, is of a Zenith 54 Automatic tuner, note, no side panels, a mechanical "Red Dot" memory that shows the last station set and the broken universal joint. There are plans to remove, replace the universal coupling, tooling is on order.
To help anyone else: There is a steel rod that extends from the side to side that is covered with gum rubber now hardened after 80 years. That is the return cushion for the tuning levers. If a lever is released smartly, it bangs against this rod. The rubber covering is replaceable with gum rubber surgical tubing and once replaced, the lever no longer slams loudly...
Chas

Chas

Member





Number of posts

: 33


Age

: 70


Registration date :

2008-07-24




Similar topics
---
Permissions in this forum:
You
cannot
reply to topics in this forum