Hey guys,
Working on the 1937 Howard 400x. Not more to go on than a schematic. Checked the output transformer and found the primary is open. Now, Im not good at this so, I need some input as to make sure Im headed down the right path. Attached is a picture of the schematic of the output amp. Here is the data I know.
12 inch 25 watt Jensen speaker
Voice coil reads about 5.4 ohms
Push pull 6v6 amp
Where Im calculating,
Input impedence should be about 8000 ohms for PP 6v6's
The 5.4 ohm speaker voice coil x1.25 is about 7 ohms. Lets say its an 8 ohm
That makes the impedance ratio 1000:1
The impedance ratio is the square of turns ratio making the winding ratio 31:1
Questions I have
What is the actual wattage of the circuit, in other words how much wattage should the transformer be rated for.
Based in the physical size of the transformer, Im betting its 15 watts or less.
What would be a good replacement electrically and physically
Thanks guys, attached are the schematic and pics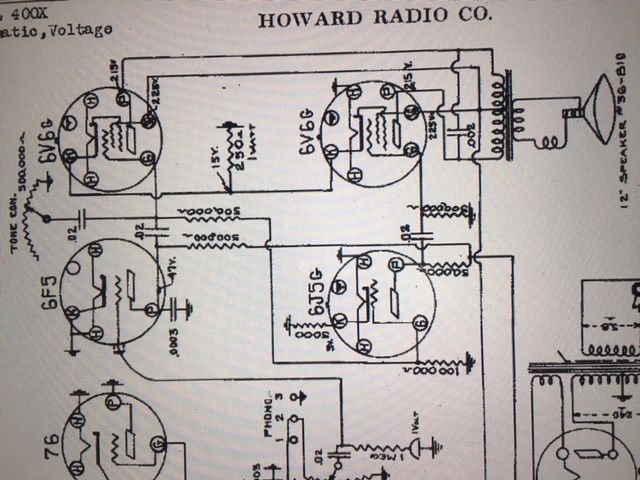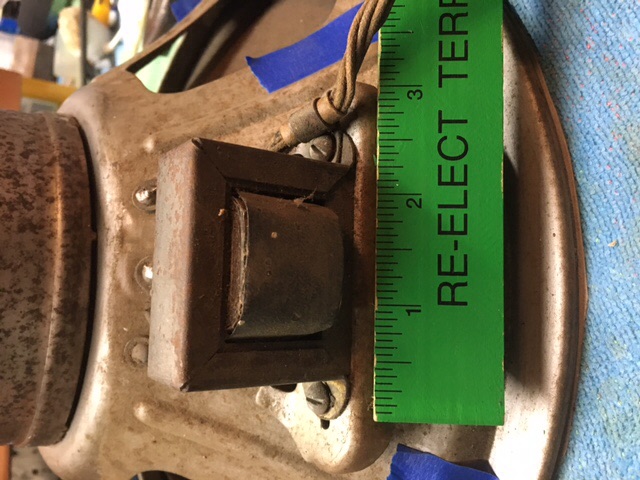 lhlyda

Member





Number of posts

: 50


Age

: 63


Registration date :

2017-01-17



Tube data for SE and PP 6V6 : http://www.r-type.org/pdfs/6v6g.pdf

Based on a plate voltage of 215v ... output is less than 10W?

Just one of probably several choices? : http://www.edcorusa.com/gxppseries#/specFilters=7m!#-!53!-#!9!#-!259

Probably also a good idea to wait for some other opinions ...

cheers

John

John Bartley

Member





Number of posts

: 147


Registration date :

2013-04-21



Thanks John,

I was thinking on the order of 8 watts. How did u calculate that? Im sure with experience, you can probably have seen about the same circuit.

Thanks again!

Larry

lhlyda

Member





Number of posts

: 50


Age

: 63


Registration date :

2017-01-17



My audio experience is very limited, hence the suggestion to wait for other opinions. All I did was use your values, but ....

I think if it was me I'd use a 10k primary load, given that your plate voltage is down around 215? and the screen is at about 225? according to the schematic, and then by comparing that to the tube data in the linked PDF I'd come up with the 10k primary and less than 10 watts.

Probably best to digest that info and wait for someone who really knows....

cheers

John Bartley

Member





Number of posts

: 147


Registration date :

2013-04-21



Ok, the best I can tell from other comments on another forum, Im on the right track. Plate should be about 219 v. Best I can figure about 8 watts.

Hammond T125c $49 and $51 shipped two places

AES p-T291 $28.44 shipped

The AES is closer physically than the Hammond- actually rechecked not that much different.

Hmmm,

Any opinions
Last edited by lhlyda on Sat Mar 11, 2017 4:41 pm; edited 1 time in total (Reason for editing : Added comment)

lhlyda

Member





Number of posts

: 50


Age

: 63


Registration date :

2017-01-17



I think it's pretty close, and for a universal transformer either will work. Given that mains voltages tend to run a bit higher these days than when the set was built, I'd budget for slightly higher plate and screen voltages than are spec'd on the schematic. That would drive me toward spending a tad extra and go for the 10 watt version.

However .... if you are only going to use it intermittently and no all day like they were originally built for, then either would probably do just fine. Also ... I doubt you are going to drive it to full power all the time.

cheers


John Bartley

Member





Number of posts

: 147


Registration date :

2013-04-21



Eight to ten watts. Hmm. It's a car radio. Probably 6-8 watts. Id guess 8 K actual resistance.
Bill

_________________
Please also join us here;  http://videokarma.org/index.php

Bill Cahill

Admin





Number of posts

: 4590


Age

: 67


Registration date :

2008-03-12





Similar topics
---
Permissions in this forum:
You
cannot
reply to topics in this forum