I currently have a multi-disc CD player sitting on the cabinet of my Magnavox stereos. What I would like to do is wire the house for line-level signal. That way, I could have my CD changers in one place and connect whatever stereo I wanted. Or all of them if I wanted. Whole-house transmitters are out of the question. Too much noise and no stereo on AM and no clear frequencies on FM. I am considering rewiring the house for more electrical outlets, and wondered if whole-house line level would be practical. I could use my reel-to-reel deck, or a cassette deck or whatever other device I would care to, or at least that would be my goal. What do you guys think about this?

Wildcat445

Member





Number of posts

: 5164


Registration date :

2011-09-19



It seems to me that line loss might be an issue, especially since it's such a low level signal to begin with. Plus, if you have multiple receivers connected to the same input, that may load down the signal even more.

Motorola man

Member





Number of posts

: 375


Age

: 42


Registration date :

2010-02-06



I have kinda-sorta tinkered a bit with that very issue.  I have simply "Teed" the output of a CD changer to at least three stereos at a time.  No real loss there that is objectionable.  I did not use more than 12' patch cords, though.  Wiring a whole house may be a different kettle of fish.  I need to know about signal loss.  Or distortion.  The wiring would need to be shielded, I reckon.  Is wiring appropriate for this even available anymore?  I appreciate your input

If a whole house line level signal is not practical, how about ideas how to "hide" big old clunky CD players. I know, I know. NOBODY uses CD anymore. Since I am still a member of "everybody", I will admit that I do. So somebody still uses CD. And also do many of the DJ's who work car shows. The things are huge. They are not bad looking by themselves, but do nothing for the beautiful hardwoods used in Magnavox stereos. The frau is not happy with them, either. We get lots of enjoyment out of our old records on CD, though.

Wildcat445

Member





Number of posts

: 5164


Registration date :

2011-09-19



I have three possible suggestions:
1. Hide the changer inside of a gutted radio cabinet (it would be a pain to access, but if it's a high capacity player it probably wouldn't matter much). Just make sure there's some sort of opening for the remote sensor.
2. Embrace the world of virtual media & burn your CDs to your computer (that is, if you have a laptop).
3. Bluetooth transmitter & receivers (see link below)
http://www.amazon.com/Miccus-Home-RTX-Bluetooth-Transmitter/dp/B00713RSE0/ref=sr_1_8?s=electronics&ie=UTF8&qid=1457464867&sr=1-8&keywords=bluetooth+receiver+transmitter

Personally, I use my cellphone or tablet to stream to a Bluetooth receiver, and from there to either my AV receiver or AM transmitter. It doesn't quite have the sound quality of CD or Phono, but it's plenty good enough for listening to 40's - 50's era music.

Motorola man

Member





Number of posts

: 375


Age

: 42


Registration date :

2010-02-06



Here is my cd changer.  it has my goodly sized cd collection on it and will set up groupings of cuts I select from any of them.  It plays from a 3.5mm stereoplug to twin rca jack cable.  For this unit I combine them to 1 input.  It is lightweight and easy to take from unit to unit and is easy to read when in use.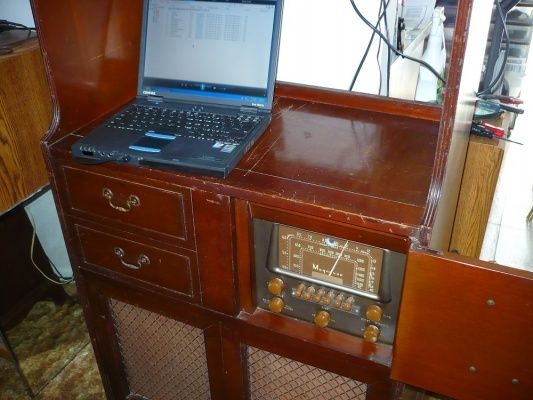 75X11

Member





Number of posts

: 4894


Age

: 61


Registration date :

2013-03-10



What's this CD you speak of old-timer?

Don't worry, I still got plenty.

I'd envision building a system where your jacks in the wall have a "sense" circuit, so when something is plugged in, the "master control" would recognize this and send the signal to the appropriate jack location(s) in the house.
With something like this, you'd have Left channel, right channel, and shield...
http://www.homedepot.com/p/Southwire-500-ft-22-4-Gray-Stranded-CL3R-Shielded-Security-Cable-57572444/202316269?MERCH=REC-_-PIPHorizontal1_rr-_-202316268-_-202316269-_-N

Dr. Radio

Member





Number of posts

: 937


Age

: 37


Registration date :

2012-09-17



I'm sorry, but I like CD's. I see now why you never see this done. Time for Plan B, I guess.


Wildcat445

Member





Number of posts

: 5164


Registration date :

2011-09-19




---
Permissions in this forum:
You
cannot
reply to topics in this forum